The 10 Best Albums of 2013: #9 Treetop Flyers – The Mountain Moves
Onstage Magazine Presents: The 10 Best Albums of 2013
#9 Treetop Flyers – The Mountain Moves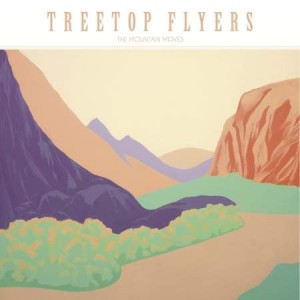 With a band such as Radiohead or The Stooges you can quantify them, break the sound into reasons for why someone should dig them, but then you'll have a Neil Diamond or The Minutemen and you know it is futile to even try, you either get it or you don't, Treetop Flyers fall in the later, it is as simple as that, making them without a doubt the hardest band on The Best Albums of 2013 list to explain what makes this album so great.
There's something familiar, everything that was great (and terrible) about the late seventies/early eighties "rock" defines Treetop Flyers yet it feels new. Every track reminds you of a familiar song off in some fading memory that you just can't place, I guess that is where the magic lies. Every song on The Mountain Moves reminds me of those few moments as a kid riding with my father in his pickup truck and a song would come on that we both loved. Treetop Flyers should have existed thirty years ago.
In case you haven't noticed, the arena rock Elvin Bishop/Louisiana's LeRoux sound came back big in 2013, if you told me three years ago that I would welcome the sound, especially from a band out of London no less, I would have scoffed, but here we are. Brooklyn bands with keyboards have pounded the once glorious chillwave into submission, EDM reached commercial awareness and self-imploded more epically than Screamo in 2004. What other choice did we have but to get down to the heart of what we love and build it all back up? I've been saying this has been probably the strongest year for music I've been alive for, though if you do not have respect for sixties garage or seventies arena then things probably feel just as dire as ever, tough break for you I guess, hopefully you are holding out for Disco and not for anything 90's related (I'd like to keep having respect for you), me on the other hand, it's like that dude from Genesis said, "I've been waiting for this moment for all my life."
Treetop Flyers sound as if John Fogerty or Stephen Stills grew up listening to Ha Ha Tonka, it's weird. Think of one or two great softer rock bands from the late seventies and imagine without hindrance of age that those bands had been able to progress continually up to this point, there is a fairly solid chance they would sound very similar to Treetop Flyers, that is what I'm trying to say. For once a band has been able to accurately pay homage to their influences without losing integrity or self-expression in the process.
Many of the songs on The Mountain Moves (Loose Music/ Partisan Records) make me think of the years in my teens where I spent sneaking into bars to play open mics, every now and then you'd find a group of older gentlemen who would come with their wives and sit talking between sets like long lost friends, then for fifteen glorious minutes they would open their guitar cases and bring a hushed calmness on the room that felt incredible just to bathe in, ordinary dudes with no ambitions or fool-hearted ideas of labels and record sales, those dreams had long ago died, just playing from their souls in three-part harmonies with post-folk lyric structures, it was glorious. Treetop Flyers make me think, "what if those guys had managed to take that sound from those filthy stages of broken hope and transcended all they had expected to define them in life and somehow made a record," that record would be The Mountain Moves, I'm sure of it. Stream the entire album here.
The Best Albums of 2013:
#10 Night Beds – Country Sleep
Comments
comments
Powered by Facebook Comments