Review: Steve Poltz, St. John's Newfoundland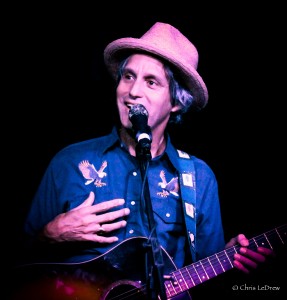 There is really no way to write a conventional review as such on California singer/songwriter Steve Poltz. It is better described as an experience. Calling Poltz a singer/songwriter is even somewhat presumptuous, because we sometimes associate that title with someone who is introspective and self-serious. Steve is a performance artist in the truest sense of the term, and anyone who attended his show at the cozy Ship Pub in St. John's on Tuesday night would readily agree.
Bopping into the club around showtime dressed in a fitted grey suit, western shirt, fedora, and Chuck Taylors, Poltz came right over to the bar and show promoter Tony Murray introduced us. He thanked me for coming, hugged a few people who were obviously delighted to see him, made a few jokes with comedian Mark Critch (who's a big fan), and went to the dressing room to get ready.
Armed with just an acoustic guitar, tenor guitar, and a pedalboard featuring effects hooked up to his vocals (more on that soon), Poltz hit the stage around 40 minutes after the time printed on the show ticket – which is perfectly acceptable in a bar. Poltz doesn't use a setlist, nor does he announce the titles of many of his songs (or they get obscured in the midst of his delightfully spontaneous rants). Therefore, I was left either jotting down random lyrics or asking Mark and Tony the names of the songs throughout the show. Poltz is new to me; therefore, even a crash course in his music and history leading up to the gig could not prepare me for trying to negotiate a completely unpredictable show. But then, that is why Steve Poltz fans are usually huge Steve Poltz fans. They get something different every time. And the true beauty is you do not have to be a Steve Poltz encyclopedia to enjoy the show. His main goal, it seems, is to make everyone as comfortable as possible so each person can concentrate and engage with him – regardless of fandom level. And the rewards for that engagement are rich.
The only comparison I could draw as I heard Poltz's voice live for the first time is to John Lennon. Not particularly in the tone but more the articulation of his delivery. And when you have zany, incredibly funny lyrics, this is a great asset to have. One of his first tunes, "I Want All My Friends to be Happy," is a fingerpicking folk ballad that features a mixture of true sentiment and crass humor ("I want all my friends to go travel, and see the world for what it is. A beautiful place to inhabit, a big melting pot full of jizz"). The audience responded with laughter and silence at all the right times, showing almost absolute attentiveness despite the challenging environment of a pub where there are invariably a few chatterboxes throwing off the vibe.
A few more songs into the set, Poltz acknowledged a fan in the audience who had brought first-timers "Monty and April" to the show. Poltz wrote a rap about Monty and April right on the spot, utilizing his pedalboard which has a recording unit to loop back vocals so he can sing and play along with himself. He also has a vocal harmonizer with an autotune effect often heard on pop radio vocals today (the one that sounds like you're karate-chopping your esophagus). Building up a series of recorded tracks off the cuff, Poltz had the audience in hysterics with his brand new hip-hop composition about Monty and April – no doubt fans for life now.
Before finishing his first set (which ran about 45 minutes), he picked up his iPad and read a lengthy spoken word piece about growing up in southern California and meeting Elvis at a local airport when he was nine years old. The audience howled at the anecdotes throughout the memoir. He then left the stage for intermission and went straight into the crowd to hang out. Most performers would bolt directly to the dressing room, but Poltz seemed totally content to just mingle with the audience on his break.
Going back after about a half hour, Poltz started off with a side-splitting song called "Cold German," with lines such as "she's screwed every friend I have in every time zone," "She's colder than the ice cubes that she shoved up my ass," and the lyric that made me spit out my beer: "cold as the pink thing on the dick of a dog." I officially became a fan after that line.
I assumed that Poltz would just do another 45 minutes again for the second set, but after the hour mark it was obvious he was just warming up. Treating the crowd to another spoken-word memoir, this time he recounted first meeting Jewel – with whom he had a relationship, co–wrote the song "You Were Meant for Me," and starred in the song's video. The story weaved its way around coffeehouses, Mexican drug deals, and Neil Young's ranch before seguing into the song itself. Poltz does a very poignant version of his own that displays the writer's initial vision. As an added treat, he once again layered on the harmonizer and autotune for a hilarious, "2013" version that had people in stitches. Not many performers would take this chance with the obvious high-profile song of the night, but it seems that Poltz would naturally pick that moment just to mess with the audience. (He told me after the show that it was the first time he had done the song with that treatment, and that he planned to keep doing it.)
If my stomach wasn't already sore from the hilarity, Poltz decided to do an acapella mock-Irish ballad that had me in tears. He was inspired by hearing a guy sing in a Dublin pub, so he tried it out himself. I thought I was going to lose my breath. But there was more. He plugged his iPhone into his pedalboard and went on a rant with himself and a pre-recorded version of himself, and ended it with a custom-made Siri tirade with Newfoundland content. It is truly incredible how much effort Poltz puts into customizing his show to the venue, audience, and show location. He announced in between songs that despite Tony's warnings that Poltz won't ever get rich coming to Newfoundland and playing the Ship, he will keep coming back again and again until he builds his audience here because he simply loves the place. This elicited a huge round of applause.
After what must have been two or more hours of songs and stories, Poltz bid farewell after announcing that his flight was leaving in five hours. His publicist had arranged for a quick post-show chat with him, so Tony took me to the dressing room shortly after the show ended. I expected a few minutes of semi-formal conversation about his career, latest recordings, etc. Nope. Within five minutes we were excitedly comparing our favourite '80s bands, and then ended up in each other's faces singing Foreigner's "Dirty White Boy." If I hadn't had to piss so bad a half hour into the conversation, we'd still be talking and he'd never have made the gig in Albuquerque booked for Thursday night. Before he left the bar, we traded CDs and loosely made plans to do a phone interview on Monday for a one-on-one piece. I predict that will be a similarly off-the-rails yarn.
I texted Steve today to send him a photo and thank him for a great show and chat. His response: "So fun talking with you. Dirty White Boy. We didn't talk [obscure '70s band] Foghat!" I have a feeling we will get the chance to chat in person again, because I will never miss a Steve Poltz show if he's ever within a large radius of my geographical location. I suggest you follow suit. This dirty white boy is a must-see.
Comments
comments
Powered by Facebook Comments