Macklemore and Ryan Lewis, Photos and Review
Photography and Review by Sam Li
Just three days after winning Favorite Album/Rap/Hip-Hop at the American Music Awards, Macklemore and Ryan Lewis resumed their Fall World Tour for their debut album, The Heist. There was a lot to celebrate on the Wednesday before Thanksgiving, and Macklemore shared his story with the crowd. "We played in Houston two years ago in front of 200 people, today we are here with more than 5000," he exclaimed. There was no shortage of love from his sea of screaming fans and he reciprocated each with heartfelt words, often enhanced by expletives. However, when it came time for the music to start there was no question the duo came to play. Opening the set with Ten Thousand Hours, the crowd was licked by enormous flames followed by explosive fireworks as Macklemore leaped around the stage. Ryan Lewis provided the beat from mission control in the back of the stage and a slew of dancers and musicians kept the energy high.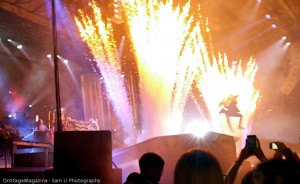 Macklemore then started telling his story. "Some people say they can't perform without alcohol and drugs, and I just wasn't that person. I couldn't make art while drinking and on drugs so I went to rehab, " he explained. His journey when he got out was what really inspired his fans. Macklemore had no money and moved in with his parents after. It was then, at his lowest, that his best friend Ryan Lewis reached out to him, offering him the chance to rap on his record. Macklemore met Ryan Lewis on MySpace, an outdated online social website. "It was the most important friend request I've ever accepted," he continued "after I listened to his music, I knew I wanted to rap with him." It is perhaps this story of conquering his demons and his rise to fame with Ryan Lewis that truly makes the duo so unique. Add to that their brand of independent music without major record label support and you have a powerful combination that has catapulted the two to stardom.
But perhaps what has given Macklemore and Ryan Lewis the most attention both fame and criticism is their support for equal rights, especially those for sexual orientation. With joy, Macklemore boasted that 16 states have already legalized gay marriage but acknowledged that there was still a lot that needed to be done if we want equality. A roar of approval from the audience started the performance of Same Love, a song recorded during the campaign for Washington State to legalize gay marriage. The performance featured Mary Lambert,  a lesbian singer-songwriter also from Seattle who originally worked together with Macklemore and Ryan Lewis on the single.
When they first came to Texas, Macklemore was nervous about bringing their liberal views to a red state but was pleasantly surprised to have two of his loudest crowds in Dallas and Houston. He complimented Houston's mayor Annise Parker for being an openly gay politician.
The show had many dimensions aside from guest performers. The stage designers held nothing back as the arena was littered with confetti of all colors. Beach balls were thrown into the crowd as a rainbow of complex lighting bathed the audience.
The best part of the performance for the standing room fans was when Macklemore stage dived into the crowd and performed while being propped up.
Macklemore then made the performance unique to Houstonians. He started out by improvising a song on the spot. "I miss freestyle, but with youtube, people can upload everything you do. If you mess up, everyone will know it within 15 minutes. But I'm tired of being afraid, afraid of not being good," exclaimed Macklemore. He then freestyled a song with many shout outs to Houston. But it was when he performed the song Wing$, themed around Michael Jordan's basketball shoes, that he won the respect of the Houston crowd by wearing Hakeem Olajuwon's jersey, a retired NBA champion of Houston Rockets basketball.
At the conclusion of the exciting concert, Macklemore introduced his entire team and thanked the audience for spending the night before Thanksgiving with him, his favorite day of the year. Their final song, Can't Hold Us, was a perfect closing for the duo that is only gaining more and more momentum and fame.
Comments
comments
Powered by Facebook Comments