THE DOOBIE BROTHERS 50th ANNIVERSARY TOUR
A few months ago I was staying in a hotel room in a remote part of New Mexico. I was channel surfing during the midnight hour, not being able to sleep well in unfamiliar settings, and wound up watching a much too long documentary on the Doobie Brothers. It was the craziest thing. After finding mega-success with Michael McDonald — the band decided to drop him. The documentary was hazy on exactly why — but TOO MUCH SUCCESS seemed to be key. Michael had maybe gotten too big for his britches? He WAS guest vocalizing with other artists — because you know what — he's good. Damn good — so good the Doobies decided to bring him back. Ca-Ching!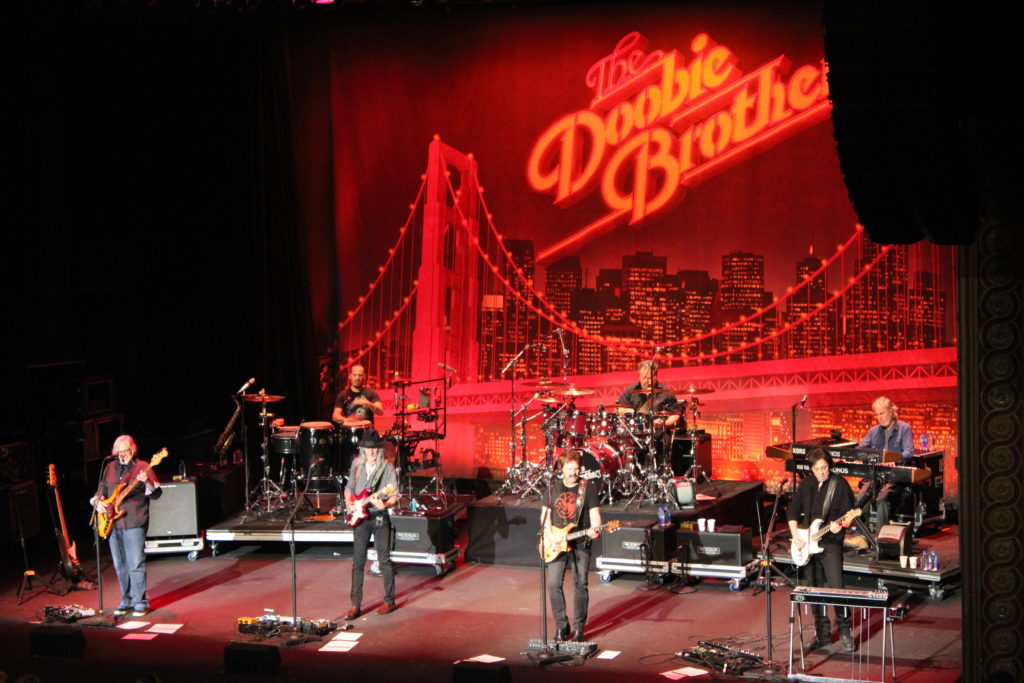 BAND TEAMS UP FOR THE FIRST TIME IN 25 YEARS FOLLOWING THEIR ROCK & ROLL HALL OF FAME NOMINATION IN OCTOBER
THURSDAY, JULY 30, 2020
RUOFF MUSIC CENTER | NOBLESVILLE, IN
Tickets on Sale Friday, December 6 at 10 AM at LiveNation.com
Four-time GRAMMY Award winners and Rock & Roll Hall of Fame nominees The Doobie Brothers today announced a 30-city North American tour to celebrate the 50th anniversary of the band's founding. TOM JOHNSTON, MICHAEL MCDONALD, PAT SIMMONS and JOHN MCFEE will be back on tour together for the first time in nearly 25 years. The announcement came at the conclusion of the band's performance at the legendary Ryman Auditorium in Nashville, Tennessee, in which they played two of their iconic albums, Toulouse Street and The Captain and Me. MICHAEL MCDONALD took to the stage during the band's encore and gave a surprise performance of The Doobie Brothers' smash hit single, "Takin' It To The Streets," before Pat Simmons announced that the entire band would be teaming up for a North American tour.  The Doobie Brothers will make a stop at Ruoff Music Center located in Noblesville, Indiana on Thursday, July 30, 2020 as part of the Coors Light Concert Series.
Tickets to THE DOOBIE BROTHERS 50TH ANNIVERSARY TOUR will go on sale to the general public beginning Friday, December 6 at 10am local time at LiveNation.com. A limited number of LaneOne Premium Packages will also be available, including amazing seats, transportation, preferred entrance and more. Check LINK for LaneOne details.
Selling nearly 50 million albums worldwide, The Doobie Brothers have had five top-10 singles, 16 top-40 hits, 3 multi-platinum albums, 7 platinum albums, 14 gold albums and own a rare diamond record for their 1976 album, Best of the Doobies. The Doobie Brothers' collection of timeless hits will once again be played by the artists who wrote them, providing fans the rare opportunity to see these Rock and Roll legends performing their full catalog of songs on stage.
THE DOOBIE BROTHERS 50TH ANNIVERSARY TOUR will kick off on June 9, 2020 in West Palm Beach, FL and will make stops in 30 cities, including Nashville, Toronto, Denver, Seattle, Los Angeles and more, including a special hometown show in Mountain View, CA at the Shoreline Amphitheatre on September 12. The tour is being produced by Live Nation.
"We're truly excited about our 50th Anniversary Tour, as it's a celebration of the band's entire history. We'll be performing songs from our full catalog, as well as new music," said TOM JOHNSTON.
The Doobie Brothers represent the best of a diverse range of American musical styles, incorporating elements of Rock n' Roll, Blues, Soul, Folk, Country, Bluegrass, and R&B. Their sound has influenced artists across all genres of music and their impact on the industry can be seen across generations, from their start in 1970 through to today.
Fans who attend THE DOOBIE BROTHERS 50TH ANNIVERSARY TOUR can expect to hear wide range of the band's hit songs, including "Listen To The Music," "Takin' It To The Streets," "Long Train Running," "Black Water," "What A Fool Believes," "China Grove," "Minute By Minute," "It Keeps You Runnin'," "Jesus Is Just Alright With Me" and many more.
"With the Doobies, everybody in the band was proud to be a Doobie Brother. And to this day, I think of myself as a Doobie Brother — all these years later." – MICHAEL MCDONALD on NPR's Ask Me Another (October 25, 2019)
Comments
comments
Powered by Facebook Comments