Review: OXYGEN:INHALE by Thousand Foot Krutch
Band: Thousand Foot Krutch
Members:
Trevor McNevan – vocals, guitar, songwriter
Joel Bruyere – bass
Steve Augustine – drums
Media: Hoganson Media Relations
Run Time: 10 Tracks – 37:33

Website: http://www.thousandfootkrutch.com/
Social Media: Twitter, Facebook, YouTube
Today I am reviewing the upcoming album OXYGEN:INHALE (it will be released Aug. 26, 2014) by the critically-acclaimed modern rock group Thousand Foot Krutch (known to many as simply TFK). If you have never heard of Thousand Foot Krutch, I am just going to assume you live under a rock or just, unfortunately, don't listen to rock music.  Over the past decade, you have heard Thousand Foot Krutch on the radio, on ESPN, at sporting events, and on a plethora of popular video games. They're everywhere!
Pre-order OXYGEN:INHALE on TFK's pledge music page and receive extra, behind-the-scenes material from TFK!
This past May, I saw Thousand Foot Krutch play live at Rock on the Range in Columbus and I was blown away by their performance.  I won't give too much away; you can read about that performance in an article I wrote.
TFK state the lyrics of "OXYGEN:INHALE tell a story, a narrative that reads like an open letter to the broken hearted, the lost, the abandoned and the hopeless.  A call for everyone to lay down our weapons of painful words and love one another, to help each other carry the heavy burdens of life. A call to find our sameness, the things that make us all human and not what divides us."
Let's get to the music and see if OXYGEN:INHALE is like the narrative mentioned above.
Album Track Listing
1. Like A Machine
2. Untraveled Road
3. Born This Way
4. Set Me On Fire
5. Give It To Me
6. I See Red
7. Light It Up
8. In My Room
9. Oxygen
10. Glow
Track 1: Like A Machine (3:44)
Right out of the gates TFK hits you right in the face with a high intensity song, which is a smart move for any rock group. Trevor's voice is something special and brings out the passion in the listener. Though, I wonder why the song is titled "Like A Machine" yet the lyrics are "Like a war machine"?
Nonetheless, "Like A Machine" starts off OXYGEN:INHALE on an exceptionally high note.
Track 2: Untraveled Road (3:56)
"Untraveled Road" is where TFK begins to get in that rough, raw rock sound that they were determined to find in this album. I can imagine that this song will provide a fun atmosphere with the clapping as part of the song, as well as the extremely catchy lyrics.
Track 3: Born This Way (3:26)
No, this is not a cover of Lady Gaga's song "Born This Way."
This song will resonate with many that truly lack the ability to love themselves; you have to be proud of who you are because you were "Born This Way." It may be a struggle, but listen to "Born This Way" several times and it will start to sink in that you can't change you, and you shouldn't change you.
Another song with powerful and catchy lyrics! You can watch the video for "Born This Way" below.
[youtube id="ygnR71KX0f8″ width="620″ height="360″]
Track 4: Set Me On Fire (3:48)
Track 4 brings us to a lower level of intensity for the first time on OXYGEN:INHALE. Is it is good as the previous three songs with higher intensity?
Yes!
TFK succeeds in showcasing their ability to slow it down a bit and let Trevor's vocal range blossom. It also shows that TFK isn't bound to a simple formula that many musicans typically stay on when creating their albums.
Track 5: Give It To Me (3:39)
What sticks out in "Give It To Me" is that Trevor's voice becomes more forceful; meaning that it's of an aggressive-rock way. It gets close to guttural as well, which goes with how TFK wanted to create a raw sounding album. Augustine's drumming stays consistent in this track just like the past four.
The guitar plays an important role in this track when compared to the others.
Track 6: I See Red (4:10)
"I See Red" had me instantly 'head-bobbing'; that typically leads to me becoming fond of a song.
I am quite fond of "I See Red" because it starts off at a slow pace and eventually (about the 1:45 mark) starts to pick up steam, then back to slow, then back up! I like when songs "climax" in a way like "I See Red" does since so much is built up through the intro and chorus; it's satisfying.
Track 7: Light It Up (2:58)
Like "Set Me On Fire", "Light It Up" is lower intensity when compared to most of TFK's other songs. But that isn't an indictment because "Light It Up" is the perfect vehicle to showcase Trevor's superb vocal range, and his downright superb songwriting skill.
The lyrics drew me in each listen and I caught myself singing along nearly every listen. This should be one of their singles off of OXYGEN:INHALE.
Track 8: In My Room (4:39)
One of the more self-reflective songs on the album, "In My Room" highlights the struggles people have dealing with their own mind, their own life and even their own faith.  It shows the difficulty a person may have when asking for help – from God and other people.
"In My Room" will have you pondering deeply about life.
Track 9: Oxygen (3:52)
The most complete song on the album: vocals, instrumentation, lyrics and meaning are all terrific and well done.
Track 10: Glow (3:21)
Love the twang of the guitar alongside the powerful lyrics throughout the final track on OXYGEN:INHALE. "Glow" is a solid ending to an overall fantastic album.
Overall: 9/10
Thousand Foot Krutch set out to make an impassioned, raw rock album and with OXYGEN:INHALE they did just that. Thousand Foot Krutch have matured through their albums for the better, yet still successfully retain what made their previous works stupendous: powerful vocals, visceral lyrics and that potent rock sound. They also do not skimp on track time; TFK gives you nearly 40 minutes of quality rock music, which is rare nowadays with modern rock groups. I am glad that Thousand Foot Krutch did not phone in an album just because they have a large fanbase, as many of their peers in the rock world often do.
(Pre-order OXYGEN:INHALE here!)
Try to catch Thousand Foot Krutch on tour:
July 30: Kennewick, WA (Creation Northwest)
August 3: Morristown, TN (Jefferson Federal Amphitheatre)
August 6: Muskegon, MI (Unity Music Festival)
August 9: Gilford, NH (Soulfest)
August 30: Quincy, CA (Joshua Festival)
September 12: Casper, WY (George Tani Memorial Field)
September 13: Toronto, Canada (Air Canada Centre)
September 20: Shippensburg, PA (Uprise Festival)
September 27: Crystal Springs, MS (Chautauqua Park)
October 4: Louisville Kentucky (Louder Than Life Festival)
Follow me on Twitter: @bradleywayne_
Make sure you stay up-to-date with us on Facebook and Twitter!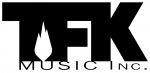 Comments
comments
Powered by Facebook Comments