BETH HART LIVE at BROWN COUNTY MUSIC CENTER
ON SALE DETAILS FOR NEW SHOW JUST ANNOUNCED
BETH HART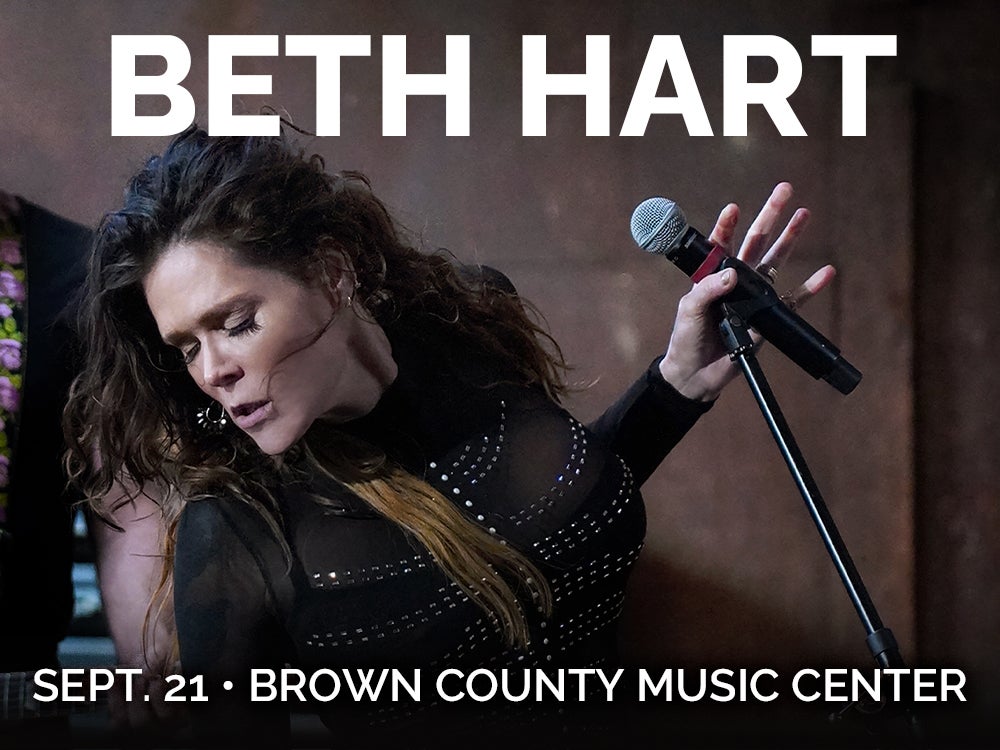 THURSDAY, SEPTEMBER 21, 2023
——————
BROWN COUNTY MUSIC CENTER
NASHVILLE, INDIANA
Tickets on sale this Friday, April 14 at 10 a.m.
Nashville, Ind. (April 11, 2023) – GRAMMY®-nominated powerhouse vocalist Beth Hart will be live at the Brown County Music Center in Nashville, Ind., on Thursday, September 21, 2023 Tickets go on sale this Friday, April 14 at 10 a.m. and will be available at www.browncountymusiccenter.com, www.ticketmaster.com, and at the venue box office (open Wednesdays through Fridays from 10 a.m. to 5 p.m. via outdoor ticketing windows and phone sales at (812) 988-5323). The box office is now cashless, and accepts debit and credit cards including Visa, Mastercard, Discover and American Express. Any box office related inquiries beyond purchasing tickets for an upcoming show should be directed to boxoffice@browncountymusiccenter.com.
Beth Hart is as real as it gets. In a music industry full of glossy production and airbrushed photoshoots, this is one artist who throws down her cards, shares her darkest secrets and invites you to join her for the ride. 
New fans might know Beth as the all-conquering global icon, dubbed "extraordinary" by The Times and "daring, brooding and angry" by The Guardian. But to understand her rollercoaster backstory, you need only read the War In My Mind lyric sheet.
Hart is recognized as one of her generation's most talented voices. She has sold out tours worldwide, including performances at historic venues such as Nashville's Ryman Auditorium, London's Royal Albert Hall, and the Ziggo Dome in Amsterdam. She's topped the Billboard charts six times, gone double platinum and had a string of Top 10 charting albums across Europe.
The Grammy-nominated powerhouse vocalist Beth Hart took on one of her most profound undertakings to date by channeling the legendary voice of Robert Plant on A Tribute To Led Zeppelin. The nine-track album highlights the incredible musical spectrum that Led Zeppelin operated in.
All that was left was the final piece of the puzzle… the voice. Things clicked into place when Cavallo was producing Hart's previous album, War In My Mind (2019), and she did an impromptu version of "Whole Lotta Love" in the studio. He later asked about doing a whole record. Beth said, "I'm not doing this whole album. To do Zeppelin, you've got to be pissed off to hit that right. I can't go there; I've worked years to put my rage away." She continues, "then the pandemic and all the things around it hit. So now I'm pissed off. I called my manager and said, have Rob and Doug send me all the music because I am ready to do this." If you were to rewind, you could say the story for a Led Zeppelin album started further back; in May 2004, Hart prowled the stage at the Paradiso in Amsterdam for an incendiary performance of "Whole Lotta Love." The song became a semi-regular fixture in her setlist over the years, including a memorable performance with Slash.
At 50 – and proud of it – Beth is basking in a golden period. The success of 2019's War In My Mind album has garnered yet more critical acclaim, growing sales and sold-out shows. But as the singer reminds us, her life has always moved in cycles – "things get good then go to crap, get good then go to crap" – and it's in these extremes that many of her best songs are born.

About the Brown County Music Center: Nestled on the banks of Salt Creek and located less than one mile from the largest state park in Indiana and the Town of Nashville, the Brown County Music Center is a visual and auditory masterpiece. Since its opening in August 2019, the 2,000-seat live performance venue has hosted artists spanning world-class rock, blues, country, pop, jazz, oldies, throwback artists, and more, offering an incredibly intimate experience for each show with the farthest seat from the stage only 106 feet away. Nationally renowned performers have included Vince Gill, Tanya Tucker, The Beach Boys, Jason Bonham, Graham Nash, Old Crow Medicine Show, The Reverend Peyton's Big Damn Band, Ben Folds, Emmylou Harris, Jamey Johnson, America, Pat Benatar and Neil Giraldo, Gladys Knight, Air Supply, YES, Sara Evans and many more. Please check www.browncountymusiccenter.com for the latest show updates and follow us on social media: Facebook | Instagram | Twitter
  About Brown County, Ind.: No matter what you're looking for, escape comes naturally in Brown County. Eclectic boutiques and galleries, breathtaking scenery, welcoming accommodations, and endless outdoor adventures await in one of America's original artists' colonies. From art to the great outdoors, there's something for everyone to enjoy, and for most, it's only a short drive away. Unplug from daily life and reconnect with one another as you experience the rustic beauty and artisanal charm of Brown County. Brown County is a place for many diverse tastes and interests. Plan an escape today! You'll be glad you did.