"The Clyde" rebirth opens in May
THE CLYDE THEATRE, AN AWE-INSPIRING MODERNIZED
VENUE OPENS THIS MAY IN FORT WAYNE
– FIRST WAVE OF CONCERTS JUST ANNOUNCED –
Ghost, Fitz & The Tantrums, Chase Rice,
George Clinton & Parliament Funkadelic, Stone Sour & more!
TICKETS FOR MOST SHOWS ON SALE THIS FRIDAY, MARCH 2 AT 10 AM AT CLYDETHEATRE.COM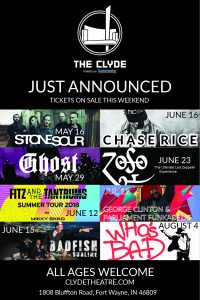 Fort Wayne, Ind. (February 27, 2018) – The anticipation and the wait is almost over as a restored new, premier music and special events center will open its doors this May in Fort Wayne, Indiana. The Clyde Theatre today announced its first round of upcoming concerts and on-sale dates and will continue to announce and roll out shows on an ongoing basis.
Located in Quimby Village on the Southwest side of downtown Fort Wayne, the Clyde Theatre will provide a unique opportunity for fans to experience some of their favorite touring artists and performers who might not have normally made a stop in Fort Wayne in the past. The Clyde Theatre is a stunning venue and art deco masterpiece that has survived the test of time. The former movie theater, originally built in 1951, will now consist of a main performance hall featuring a large footprint of more than 21,000 square feet of floor space and will be utilized as a 2,150 capacity general admission concert hall and multi-functional special events center.
Rick Kinney, General Manager of The Clyde Theatre and Even Keel Event Productions stated, ""We're excited to announce this first wave of concerts to help establish the Clyde Theatre as Fort Wayne's premier music venue. This is a small sample of what people can expect in the years ahead as we bring in national touring artists covering a wide variety of musical tastes and genres. It's important to us that we connect Fort Wayne concert lovers to new and up-and-coming acts while also bringing in classic and well-known artists. Stay tuned, because we'll be announcing even more performances in the weeks to come!"
Sweetwater, the #1 online retailer of music instruments and audio gear in the U.S., has played a key role in the rebirth of the Clyde Theater. Sweetwater Founder and President, Chuck Surack shared, "We are excited to have helped create a venue that prioritizes the experience for both the attendees and the artists.
With the venue featuring open sightlines and a world class sound and lighting system, concerts at the Clyde Theatre will be truly outstanding." The experience for touring artists, and their crew, has also been a top priority in the renovation of the Clyde Theatre. The backstage area features a 7,000 square foot dressing room and artist hospitality wing for performers, and also a stage extension and updated production loading docks that will help make for a smooth load-in and load-out for each show. The Clyde Theatre will also be available for rent for community related activities and special events on non-concert days. First Wave of Shows as part of the 2018 Concert Series at the Clyde Theatre in Fort Wayne. Tickets for most shows below go *on sale this Friday, March 2 at 10 a.m. at clydetheatre.com
Stone Sour
Wednesday, May 16, 2018
All Ages
6:00 PM Doors
7:00 PM Show
$32.50 Advance / $35.00 Week Of / $37.50 Day Of
———————————-
An Evening With GHOST
Tuesday, May 29, 2018
All Ages
8:00 PM Doors
9:00 PM Show
$40.00 Advance / $43.00 Day of
*On sale Saturday, March 3 at 10 a.m.
———————————-
Fitz & The Tantrums
Tuesday, June 12, 2018
All Ages
7:30 PM Doors
8:30 PM Show
$25.00 Advance / $30.00 Day of
———————————-
Badfish – A Tribute to Sublime
Friday, June 15, 2018
All Ages
7:00 PM Doors
7:30 PM Show
$15.00 Advance / $18.00 Day of
4 Pack for $45 (limited availability)
——————————–
Chase Rice
Saturday, June 16, 2018
All Ages
7:00 PM Doors
7:30 PM Show
$32.50 Advance / $35.00 Week of / $37.50 Day of
———————————-
ZOSO: The Ultimate Led Zeppelin Experience
Saturday, June 23, 2018
All Ages
7:00 PM Doors
8:00 PM Show
$15.00 Advance / $18.00 Day of
———————————-
George Clinton and Parliament Funkadelic
Thursday, July 12, 2018
All Ages
7:00 PM Doors
8:00 PM Show
$32.50 Advance / $35.00 Week of / $37.50 Day of
———————————-
Who's Bad – The Ultimate Michael Jackson
Experience
Saturday, August 4, 2018
All Ages
7:00 PM Doors
8:00 PM Show
$15.00 Advance / $20.00 Day of