No Mania Here. Fall Out Boy Falls a Little Flat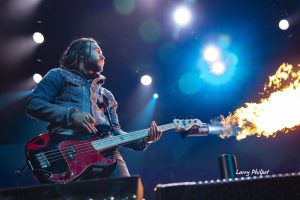 The thing about seeing a really good band like Fall Out Boy in a large arena such as Bankers Life Fieldhouse is that sometimes the actual performance gets lost in the pageantry of it all.  Oh don't get me wrong, it was a really visually stunning show, but something kept bugging me about the overall feeling from the band. It was almost as if they (or at least a couple of them) were phoning it in.  It felt like they had a falling out.
Let me get right to the point and ask what in the world was up with Pete Wentz? I mean Sunday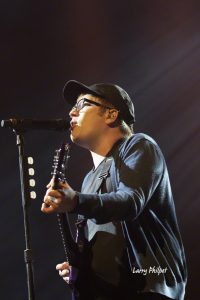 in Indianapolis just happened to be one of the hottest October days in Indiana history.  It was 87 degrees outside and not much cooler by the time the band took the stage at 9:00 p.m.  Yes, this was an indoor show, but Went was dressed in a black t-shirt under a black hoodie under a jean jacket.  Are you kidding me? He looked like me when I walk my dogs in 30 degree weather.  It was a wonder he could move his arms to play bass. Picture Ralphie's brother from A Christmas Story.  Okay, maybe that's me…..
Maybe that explains why we only got two, possibly three, of his signature spins on stage.  And even those were, dare I say half-assed.  And dude, you were the mouthpiece last night! You were supposedly giving motivational little speeches.  You were delivering those with very little affect.  I just want to know, had something happened before you got there? Was there some tragedy you weren't sharing? For that I can forgive what I saw, but otherwise it just really looked like you just didn't want to be there.  Oh, and without spoiling the sports box thing, I know the black shirt and hoodie are so you can get there without being seen, but you could have slipped those on right before.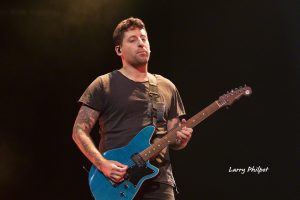 As for Patrick Stump, kudos.  He was giving it his all. And his piano playing is phenomenal.  He was bouncing around the stage and singing his heart out.  The jury's still out on Joe Trohman.  Again, he didn't appear too thrilled to be there.  I realize no one really went near each other very much on stage.  They stayed in their own separate zones.  Is this how they always are? Of course drummer Andrew Hurley was killing it (and shirtless – see Pete…)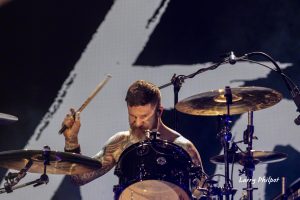 As I said in the beginning, the show was really visually cool. Quite theatric.  At the same time, this was kind of an issue for me.  While I'm not usually easily distracted, I found it really hard to decide whether I should watch the band or watch the really cool videos they were playing on a very large screen behind themselves.  Maybe the whole idea was to distract everyone from watching them, thinking no one would notice that they were just there.  Judging from the reaction of the crowd most of the night, it worked.  I would love to talk about the rising sports box stages, but at the same time I really don't want to spoil the surprise for the next show.  Again, a really great visual and fun part of the show. I'm torn on even bringing it up.
I really want to mention the two opening bands.  State Champs were the first band up and they were really good.  Full of energy and played some really good music.  I would actually see them again.  Then was Machine Gun Kelly.  Now, I'm a huge fan of old school rap.  I grew up in the era of the NWA controversy (and Tipper Gore – go look that up kiddies).  I love Eminem.  But honestly, if you feel you need to curse every other word to get your point across…no. Not having it.  Sorry.  You don't need to keep screaming.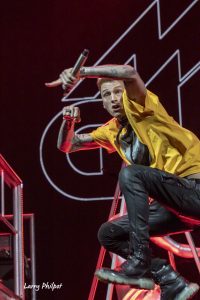 You don't need to keep yelling "f*** the police" – again NWA already went there.  And if you were trying to make the point I think you were trying to make, how about "take a knee"? But you did catch my attention with "I Am A Golden God", although I am quite sure 90% of the people in there had no idea what that was in reference to.  Either the original or the more contemporary.
But what can I say.  I am the enemy.