Fitz and the Tantrums at ACL reviewed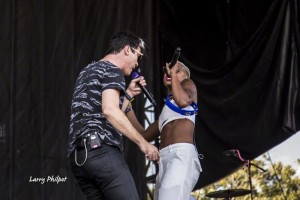 MoneyGrabber had just started getting a little airplay in the midwest on the AA stations such as WXRT in Chicago and WTTS in Indianapolis.  I first met Fitz, (Michael Fitzpatrick), and Noelle Scaggs, making the rounds to support their music and try to get a following by playing any venue. This was Valentine's Day, 3 years ago in a restaurant in Indianapolis, called the Creation Cafe.  I was coming down with the a 3 day flu and Fitz was waiting beside the elevator, waiting to be introduced. I was sitting on a chair by the elevator, isolating myself so I didn't make anyone else sick.  He recognized that I was carrying camera gear and introduced himself while still listening for them to be called.  Maybe 100 people there, and they'd had to move tables and set up makeshift lighting to accomodate the entertainment.  When Fitz heard his name, he ran across the room, grabbed the mic and I knew within maybe 2 minutes that this band was going places, and why they were playing a restaurant that normally doesn't have live entertainment was a passing thought.  Fitz sang lead, and was very animated, but then I saw Noelle, immediately to his right, wearing a white dress, and singing her heart out.
Here is Noelle, just 3 short years ago.  If the patrons thought they were in for mood music for a quiet romantic Valentine's dinner, the quiet and the romance would have to wait.  Their set immediately became a loud, soul frenzied breakdown and the crowd was moving along with them. While its not possible for one photographer and one writer to cover ACL, you have to pick and choose, and this band was in our top five.  Both photographer and writer arrived at the stage early, excited for this show.  Noelle had transformed in appearance, but had even more energy.  In fact, its not usually a good sign when the entertainer has more energy than the crowd, but the crowd quickly rose to the occasion.
The Los Angeles-based group broke out this year with bouncy alternative hit "Out of My League" and continued to gain steam with constant touring. Eventually the group got mainstream attention for its retro-soul throwback sound — featuring a heavy dose of saxophone — mixed with modern pop. Appearing on Live from Daryl's House didn't hurt either.
Plus, their live show is captivatingly crazy. Scaggs, armed with a tambourine and some electric chemistry with Fitzpatrick, led the party as the high-energy songs quickly all started to blend together, making the whole set a blur. The momentum was broken only a few times, such as when Fitz set up the steamy "House on Fire" with a long, elaborate story about catching a partner cheating.
But the crowd didn't seem to care about anecdotes — they just wanted to dance. Finale "MoneyGrabber" turned into the sort of scene you would see at a wedding when the DJ instructs guests to get "a little bit softer now" during "Shout" as Fitzpatrick encouraged everyone to make their way to the floor and then leap back up in the air.
If you've missed them this weekend, or you're making your list for next weekend, this band is a must see.