JASON BONHAM'S LED ZEPPELIN EVENING: MMXXI TOUR :TUESDAY, NOVEMBER 9, 2021
BROWN COUNTY MUSIC CENTER
NASHVILLE, INDIANA
Tickets go on sale this Friday, July 16 at 10 a.m.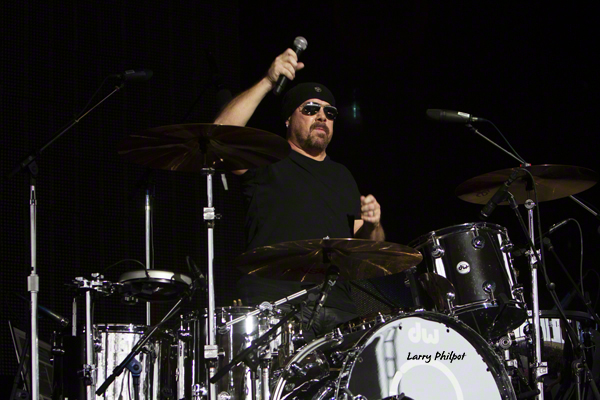 Nashville, Ind. (July 13, 2021) – The Brown County Music Center located in Nashville, Ind., announces
Jason Bonham's Led Zeppelin Evening: MMXXI Tour on Tuesday, November 9, 2021. Tickets will go on sale this Friday, July 16 at 10 a.m. and will be available at www.browncountymusiccenter.com, www.ticketmaster.com, and at the venue box office (open Tuesdays and Fridays from 10 a.m. to 1 p.m. via outdoor ticketing windows and phone sales at (812) 988-5323). The box office is now cashless, and accepts debit and credit cards including Visa, Mastercard, Discover and American Express.
About Jason Bonham's Led Zeppelin Evening: A lot of talented children have probably been asked by a parent to entertain family and friends, maybe in the living room, maybe sing a little, play an instrument. No big deal and a good way to get used to performing for others.
But when Jason Bonham was a small child and got called in to entertain, the family friends he played his drums for could be anyone from Jimmy Page to some of the guys from the group Bad Company. That's what happens when your father is drummer John Bonham, one of the original members of the legendary rock band Led Zeppelin. At the age of only five, Jason could play the drums, at least a scaled-down set of them, with skill. When he was 17 he was a member of the band Air Race.
The group signed a record contract with Atlantic Records, recorded one album, and opened for big names like Queen, Meat Loaf, Ted Nugent, and AC/DC. John Bonham died in 1980, but Jason, who has marked a few places in music history himself, has stepped in from time to time to help keep his father's memory alive. In 1988, Jason took his father's spot in the televised, first-ever Led Zeppelin reunion at the Atlantic Records 40th Anniversary concert, which included Robert Plant, Jimmy Page, and John Paul Jones. Later that year, he went on to tour with Page and recorded the album Outrider with him.
By 1989, he completed the album The Disregard of Timekeeping, in his new band called "Bonham". One of the tracks from this first effort, "Wait for You," earned him a gold record. By 1992, with partners like Canadian vocalist Daniel MacMaster, guitarist Ian Hatton, and bassist and keyboardist John Smithson, Bonham finished another album: Mad Hatter. Jason teamed up with greats like Paul Rodgers, Slash, David Gilmour, Jeff Beck and others in 1993 to work on a Tribute to Muddy Waters album.
The record's success brought a nomination for a Grammy Award. A year later, Jason, along with Rodgers and Slash, appeared at the memorable Woodstock II. That same year, he recorded a new album, Peace 4 Me, in his group now known as Motherland with Marti Frederksen on vocals. In May 1990, Jason married Jan Charteris, in Stone, Kidderminster in a wedding reception that included a jam with Jimmy Page, Robert Plant, and John Paul Jones. Jason represented his father when Led Zeppelin was inducted into the Rock and Roll Hall of Fame in January 1995, with his sister Zoe by his side.
He soon put together another solo project which culminated in "In the Name of My Father – The Zepset" CD, which featured the songs of Led Zeppelin. Proceeds from the album went to charity. The album followed up with When You See the Sun. The Healing Sixes soon caught his attention and decided to tour and record with the Indiana-based band, from 1999-2003. In 2001, Jason appeared in the film Rock Star which starred Mark Wahlberg. The band in the movie, Steel Dragon, recorded the songs featured in the movie and the soundtrack. Following an album with Debbie Bonham, the younger sister of John Bonham, Jason was invited to drum for hard rock group UFO.
In 2006, he also recorded with Joe Bonamassa. Jason starred with Ted Nugent, Evan Seinfeld (Biohazard), Sebastian Bach (Skid Row) and Scott Ian (Anthrax) on the VH1 reality TV show "SuperGroup" in May 2006. The musicians formed a band called Damnocracy for the show, during which they lived in a mansion in Las Vegas for 12 days and created music. Most recently, Jason has performed and recorded with Foreigner. On December 10th, 2007, Jason played drums in the most anticipated concert of all time – the Led Zeppelin reunion at London's O2 arena with surviving members Jimmy Page, John Paul Jones and Robert Plant.
About the Brown County Music Center: Located in Nashville, Indiana, the Brown County Music Center is a visual and auditory masterpiece with cutting edge design, bringing in nationally known performers and hosting local events. The 2,000-seat live performance venue, opened in August 2019, offers an incredibly intimate experience for each show. The farthest seat from the stage is only 106 feet away. Nestled on the banks of Salt Creek and located less than one-mile from the largest state park in Indiana and the Village of Nashville, this indoor entertainment venue will host world-class rock, blues, country, pop, jazz, oldies, throwback artists, and more.
About Brown County, Ind.: No matter what you're looking for, escape comes naturally in Brown County. Eclectic boutiques and galleries, breathtaking scenery, welcoming accommodations, and endless outdoor adventures await in one of America's original artists' colonies. From art to the great outdoors, there's something for everyone to enjoy, and for most, it's only a short drive away. Unplug from daily life and reconnect with one another as you experience the rustic beauty and artisanal charm of Brown County. Plan your escape today…you'll be glad you did.
The Brown County Music Center will adhere to federal, state and local health and safety guidelines related to COVID-19 and follow a plan approved by local health departments. Tickets for concerts at the Brown County Music Center can be purchased at www.browncountymusiccenter.com, www.ticketmaster.com and at the venue box office (open Tuesdays and Fridays from 10 a.m. to 1 p.m. via outdoor ticketing windows and phone sales at (812) 988-5323). Any box office related inquiries beyond purchasing tickets for an upcoming show should be directed to boxoffice@browncountymusiccenter.com
—————-