Jeff and Larry's Backyard BBQ – Reviewed
August 26, Dubbed "Jeff & Larry's Backyard BBQ," promoter Live Nation launched a show with musical guests including Foghat ("Slow Ride") and The Marshall Tucker Band. While the show is still developing, this writer was very curious as to how they were going to blend a comedy show and a concert, but it appears that Live Nation is onto something. Those two bands were great, and others are expected to be added as the show develops.
According to Live Nation's announcement, the family-friendly festival will offer "over six hours of entertainment. … The concourse will feature a full selection of local barbeque options and a number of festival activities including dunk tanks, backyard games and more."
Noblesville  is among just five cities on the initial list of tour dates that also includes Clarkston, Mich., where the "Backyard BBQ" launched; Charlotte., Houston and Dallas.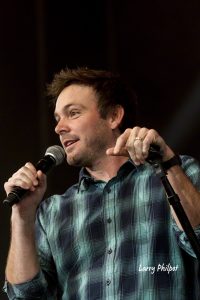 The show opened with local band Decibel, and had a narrator/emcee in a brilliant comic, Nick Hoff, with Tom Cruise good looks and sparkling eyes of a wild televangelist. That's some funny stuff right there.
The show then turned to a rousing set by the band Foghat, who had the crowd singing, and on it's feet, but with a twist. Larry the Cable Guy joined the band on guitar, and Foxworthy took a microphone to join for the band's biggest hit, "Slow Ride"
Astonishingly, this rowdiness quickly shifted to near silence as the crowd settled in for part 1 of a comedy show, with Foxworthy up first.  Though Foxworthy steered clear of the redneck jokes that made him famous, his best moments are still located in that world: a mechanic (correctly) diagnosing him with kidney stones and his elderly mother telling him she wants to get a concealed-carry license. He could stand to spend more time on material like this.
Then, Larry the Cable Guy (alter ego of comedian Dan Whitney) 
"Folks, I cannot dumb this show down any more than this," Larry the Cable Guy declared after telling the crowd he was celebrating a double anniversary:  14 years in the comedy business, and five years of being funny.
While the dumbing down may be true for much of Larry's content — like a good portion of his material in general, most of his 45-minute set consisted of seemingly random thoughts told in an exasperated tone with numerous mispronunciations — it's certainly not true for the act itself. Larry the Cable Guy is a brand that has made its creator a very popular (and undoubtedly very wealthy) man. There isn't anything dumb about that at all.
There's also nothing dumb about teaming up with Jeff Foxworthy, a legendary comedian who boasts the title of best-selling comedy recording artist of all time and who decades ago made "you might be a redneck" a common saying.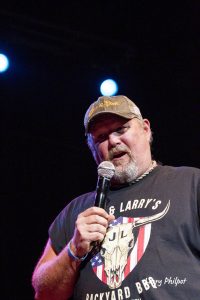 Foxworthy completely owned the audience and the howls were many. Then, Nick Hoff brought out the Marshall Tucker Band, well received by the thousands of Hoosiers, but from a photographic standpoint, they could have done a bit better on the lighting department. Marshall's voice was strong and sweet, and they performed all their crowd favorites.
Overall, this writer would love to see more shows like this, with something for everyone. As this act develops, adding the ribfest part is going to make this tour a winner.
Grade: A-