Louder than Life hosts Wargasm
If you're into electro-punk, nu metal, or post-hardcore music, you'll definitely want to see Wargasm perform at this year's Louder Than Life festival. The band, which consists of musician Sam Matlock and model Milkie Way, has been making a name for themselves in the UK rock scene since 2018, with their catchy and aggressive songs that blend various genres and influences. Here are some reasons why you should check them out at the festival: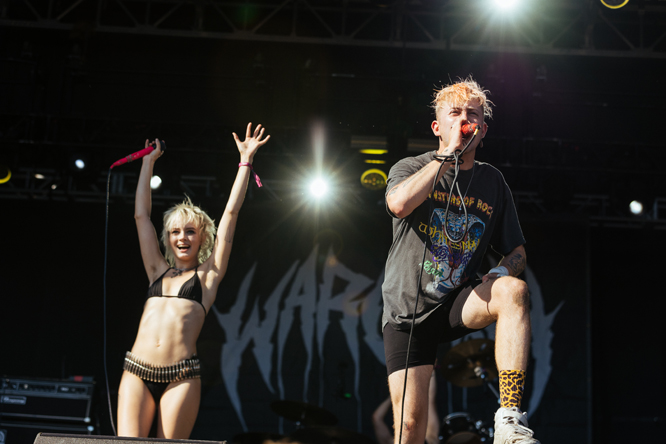 Wargasm has released 11 solo singles and four collaborative singles, including "Spit", which has gained over 5 million streams on Spotify and over 400 thousand views on YouTube. 1 Their debut full-length release, Explicit: The Mixxxtape, came out on September 9, 2022, and features a mix of electro-punk, nu metal, post-hardcore, and pop sounds. Some of the standout tracks include "God of War", "Backyard Bastards", "Salma Hayek", and "DEEP CUTS".
Wargasm has won several awards and accolades for their music, such as Best UK Breakthrough at the Heavy Music Awards in 2021. 2 They have also been listed as one of the defining bands of the 2020s wave of nu metal by Alternative Press 3 and one of the essential emerging artists of 2021 by NME. 4 They have received widespread acclaim from other publications such as Kerrang! and Revolver.
Wargasm has toured extensively around the world, sharing the stage with some of the biggest names in rock music, such as Yungblud, Enter Shikari, Creeper, Frank Carter & The Rattlesnakes, and Death Blooms. The band is known for their explosive and theatrical live shows, which often feature elaborate costumes, makeup, props, and stage design. The band members also adopt different personas and roles on stage, such as clowns, kings, freaks, and soldiers.
Wargasm is part of the amazing lineup of Louder Than Life 2023, which features some of the biggest names in rock music, such as Foo Fighters, Green Day, Tool, Pantera, Avenged Sevenfold, Queens of the Stone Age, Weezer, Turnstile, Limp Bizkit, Rancid, and more. The festival will take place on September 21-24 at the Highland Festival Grounds at the Kentucky Exposition Center in Louisville, KY. You can find more information about the festival and buy tickets on their official website. [5]
Wargasm is not only a great band to listen to, but also a great band to look at. They have a striking style and appearance that sets them apart from other rock bands. They often wear black and red outfits on stage, such as leather jackets, vests, pants, and boots. They also have some impressive tattoos and piercings that reflect their personalities and musical influences.