Mariah Carey NYE 2016 – A Fitting End.
We're not sure what we just watched — or for how long it will be available on youtube — however, suffice it to say — Mariah Carey is not hitting those high notes without help from a backing voice track these days. Viewers' jaws dropped faster than the Times Square Ball tonight  during her messy New Year's Eve performance and social media was quick to point it out.  Carey suffered a technical difficulty in which she, for some reason, failed to lip-sync along with her backing track.
The performance on "Dick Clark's New Year's Rockin' Eve With Ryan Seacrest was billed as "the last big performance of 2016 by Mariah Carey," who in 2005 was the show's first act to go live from Times Square. Mariah stumbled and pouted through the performance, complaining, "We didn't have a sound check for this New Year's, baby." After missing about half the lyrics of her hit, "Emotion,"Carey wrapped up the performance with a bizarre kiss-off, before flouncing off the stage in disgust.
She tweeted after the performance: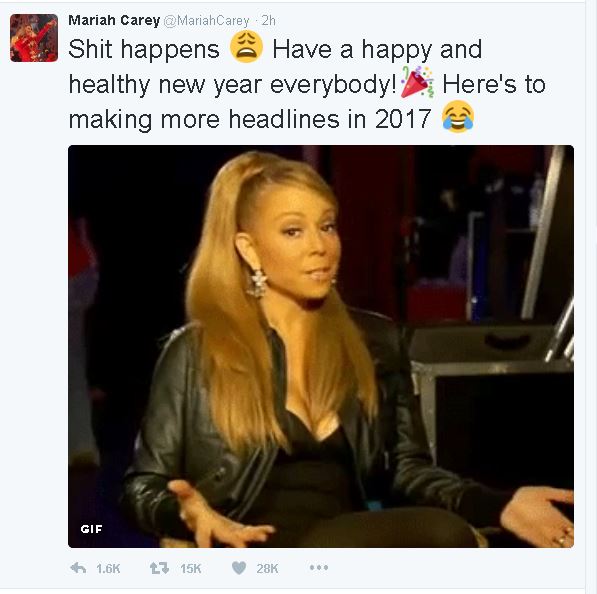 Carey's representatives have issued the following statement to Bustle.com: "There was a production issue. Technical difficulties. There unfortunately was nothing she could do to continue with the performance given the circumstances."
Some of the comments from twitter: