McCartney in Indianapolis: A Concert Catharsis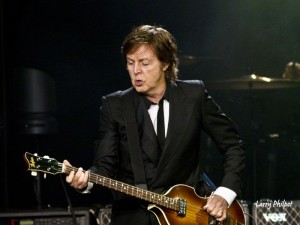 Three days after the last notes died away at the Paul McCartney concert at the Banker's Life Fieldhouse in my hometown of Indianapolis, the songs and performances still incessantly play over and over in my mind. Changing lives and altering people's consciousness is just business as usual for Paul. And I had heard that attending one his concerts can be a borderline religious experience. But until I had experienced it for myself, I had no idea the extent of this truth – especially with regard to how I would be shot back to earlier times in my life as if I were under the spell of some sort of musical sorcerer. And in a way, I was.
Nearly all of us know of the phenomenon where you catch a certain smell – leaves burning, fresh cut grass, or a cake in the oven – that rockets you back to your childhood where you remember grandma's gingerbread, the school lunchroom, or a camping trip with the family. This concert was like all these memories enveloping your mind at the one time. Overwhelming? Yes. But deliciously so.
For anyone over 50, the music of the Beatles and/or McCartney has no doubt been a big part of your life. Our listening choices back then were limited to buying vinyl records, making radio requests, and hoping that you might catch a glimpse of your heroes on a television variety show. The 8-track cassette made our music mobile, and I once had the radio replaced and the dash modified in a Corvette so that I could install an 8-Track player and listen to bands like Yes, the Moody Blues, and most importantly the 1973 classic Wings album Band on the Run.
When I was engaged to be married, and my bride-to-be and her mother were planning my wedding, I was consulted about only two things: The color of my tuxedo and the music to be played during the ceremony. Easy. I wanted to look as sharp as the Temptations, and I only wanted one song: Paul's Beatles composition "Here, there and Everywhere," from the album Revolver.
A few days later my future wife informed me that the church for some reason wouldn't permit the Beatles song, so I responded by suggesting that we could just get another church. I had the impression that you could just pick a different church like you chose a different restaurant for dinner. I didn't go to church, so I thought the rule was ridiculous.
My future father-in-law was an executive at AT&T in NY, and it always impressed me that he got to make free long-distance calls. This was back when lomg-distance cost and arm and a leg. He would call my then-fiance Cindy every day here in Indiana. One day she told me that her Dad wanted to talk to me; I was terrified. For two days I dreaded the call. She had no clue what he wanted to talk to me about.
After a few minutes of surface chat, her father dispensed with the small talk and said something to the effect that he had sent someone to buy the 45-rpm single of "Here, There and Everywhere" so he could hear the lyrics. He asked me, "Is that honestly the way you feel about my daughter?" "Yes, sir", I answered. I'm sure my voice was trembling with fear. "There's no other song that I can think of that says it better." He was very pleased that I felt that way, and said that he'd see what he could do with regard to getting it added to the wedding service.. I'll never know what he did, but the song was played at the church as well as the first reception dance. Sir Paul's music and I go back a long way.
During the concert, a quiet ballad or a song would transport me in time to a vivid rerun of a moment in my life, where I saw myself with my 8-year-old daughter learning "Ob-La-Di, Ob-La-Da" on the piano in our living room and my 5-year-old-son sitting in the floor trying to sing it. Tears suddenly started to flow down my cheeks right there at my seat – not from sadness but from a beautiful memory long buried under the layers of my busy life. At first I tried to hide it; but when I noticed a woman behind me and a man a few seats from me also weeping from the memory of their own unique experiences, I smiled and just let them flow.
During "Golden Slumbers" I could see my daughter at two years old as I whispered that song and rubbed her back as she went to sleep. Then I flashed forward to her as a 3-year-old running out of her room, screaming "I'm up!!" Smiles await you when you rise. And they did.
"Band on the Run" reminded me of being clocked at over 105 mph in my Corvette by the cops, pulled over, and arrested on the spot. It wasn't that I was in a band, or on the run, but the line about the "county judge who held a grudge" rang true as he begrudgingly letting me off with a suspended sentence after issuing a strict warning: "Let me tell you, young man: if you ever appear before me again, you'll spend a month in jail! Do you understand?" I think of that every time I hear that song. But to hear it live, I got a chance to actually relive it. I'm not saying I've not driven that fast since, but I've never been in front of a county judge again.
When the band sang "Your Mother Should Know", there were snapshots on the video screens of famous moms and their children: Lady Diana with Harry and William, the infamous photo of Jackie Kennedy with John Kennedy Jr. saluting, and many more iconic image. Of course, like everyone else, I thought of my own mother.
"Let it be" reminded me of a particularly troublesome time in my life. During the song, I felt a lot of intense emotion. But just like a bungee cord when you reach the bottom, I was yanked right out of that mood when the band immediately went into "Live and Let Die." Giant pillars of flame exploded into the air, and I felt the heat blast on my face as it erased the painful memories brought on by the prior song. This visual display of flames and fireworks left me staring at the stage like a wide-eyed child.
Paul spoke of John at one point during the show, and suggested that if there's someone in your life that you need to say something to, that you shouldn't wait too long. He then performed the solo of a song that he'd written for John, with a message that Paul didn't get to say while John was alive. There were more tears. Because we all have those people who are irreversibly gone from our lives in one way or another.
At this show, people weren't running back and forth for beer runs as you see at many concerts. He had the audience under his spell from the first note – a skill he's mastered from five decades of performing. Of course this tangible skill is eclipsed by the more magical and intangible talent for putting thousands of people at any given concert into a time machine of flashbacks and experiences. People say that when you die, your whole life flashes in front of you. Well, it also does at a Paul McCartney concert. I highly recommend taking the trip. It's a necessary catharsis I didn't even know I needed.
All photos, copyright Larry Philpot