Clowning Around With Puddles Pity Party
I'll admit I was a little tardy to the Puddles Pity Party – party.  I only discovered Puddles a couple of years ago through watching Postmodern Jukebox.  Now after seeing him live, I realize what I've been missing out on.
Before, I thought he was just a wonderful clown with a beautiful baritone voice who had really cool taste in music. Now, I truly believe he is the long lost love child of Marcel Marceau and Harpo Marx.  I had expected the show, which was held on Butler's campus in the Schrott Center, to be mostly music.  I had no idea it was going to turn into audience participation including full on entire audience karaoke.  Puddles would constantly come off the stage and pull someone from the crowd up on-stage to assist with the show.  Oh, did I mention that he never once speaks? He pretty much mimes everything – hilariously.
The evening's music started with him singing Losing My Religion…to himself.  He sat with his back to the audience facing the screen at the back of the stage where the video playing was his experience on America's Got Talent.   The night continued on like that alternating between skits and songs and a long running joke with his chewing gum.  I mentioned the karaoke earlier.  The song chosen for us was the 1975 Eric Carmen classic All By Myself.  His music choices in general would probably be considered eclectic by most, but that was part of the fun of the show.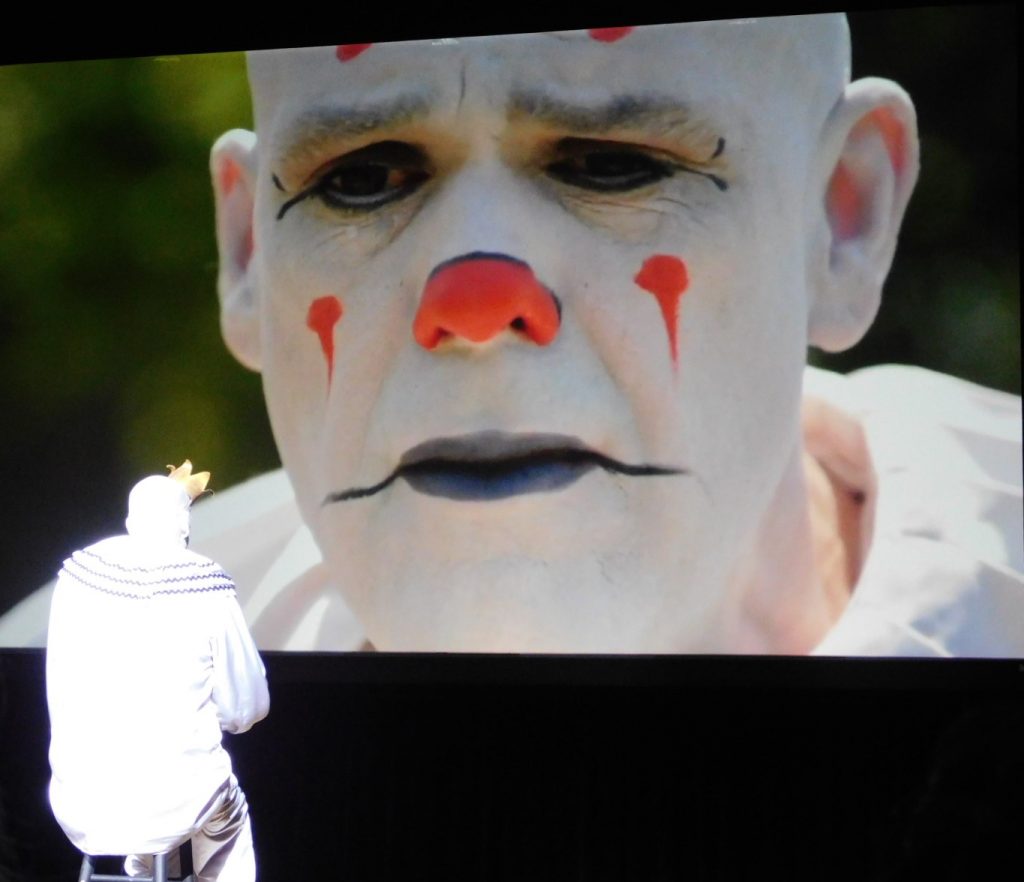 I think my favorite part of the evening had to be what I would title Cellphone Roulette. Like I said, Puddles liked to come into the audience and at one point everyone had their phones up filming him singing so he would take the phone and film himself and then return the phone to a different person in the crowd. He would then take another phone and walk away and give that phone to another complete stranger, and so on throughout the whole song. I will also admit that had he not had the video playing that he did when he was singing "Danny Boy", I would have been bawling like a baby.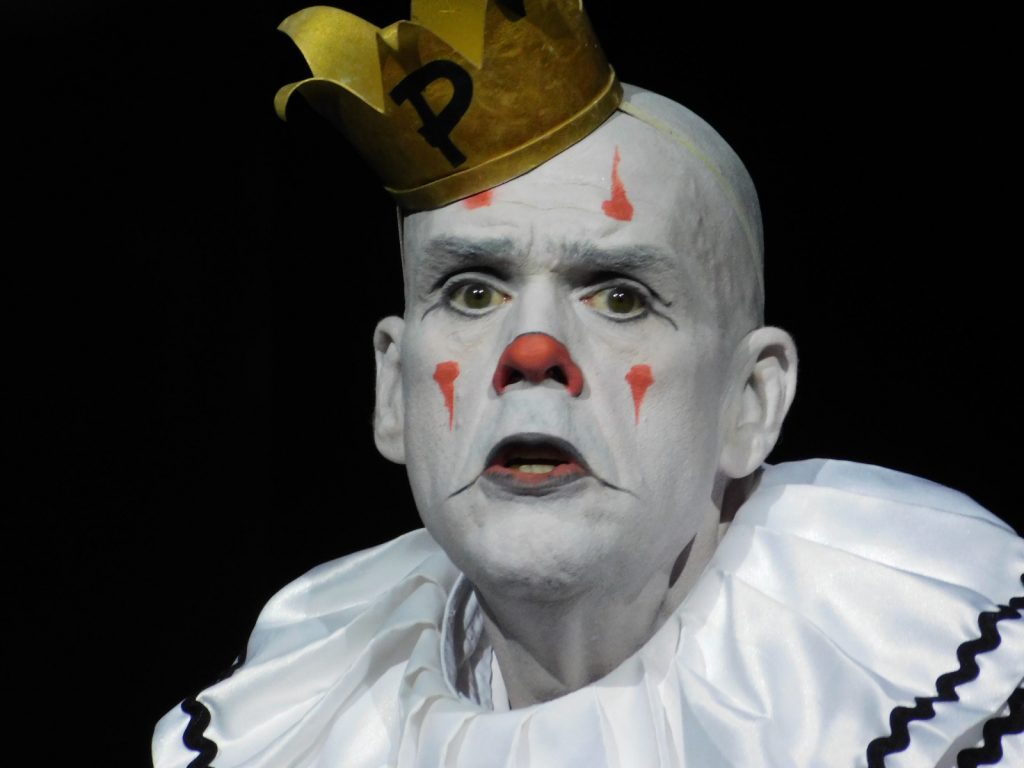 He closed the evening with an encore of his version of "Royals", which is one of my favorites. But I had one question that never was answered and still isn't answered. What is his obsession with Kevin Costner?? Puddles, if you read this, please explain this to me.
Puddles Pity Party is a comical genius, a vocal virtuoso and absolute delight to see live. I cannot stress enough how masterful he is at expressing himself the entire show without ever uttering one word (except for when he sings).  That is a lost art form, if you ask me. If you have a phobia of clowns, this will cure it. No joke. I overheard a lady in line for our Puddles Cuddles (those come free with the show) who was saying she had been terrified of clowns.  She saw Puddles on AGT and she couldn't even look at the TV screen. But then she heard him singing and she had to watch.  Then she went to her first live show. Ever since, she has been following him around.  Okay, maybe now that I say that out loud it sounds like phobia turned stalker, but you get my point.  He is not a clown to fear.
If you have not heard of him, check out any of his social media sites or his website at http://www.puddlespityparty.com/
Join the Pity Party!