THE MORE LIFE TOUR starring RANDY TRAVIS at BROWN COUNTY MUSIC CENTER
ON SALE DETAILS OF NEW SHOW JUST ANNOUNCED
THE MORE LIFE TOUR STARRING RANDY TRAVIS AND THE ORIGINAL RANDY TRAVIS BAND Guest Vocalist James Dupre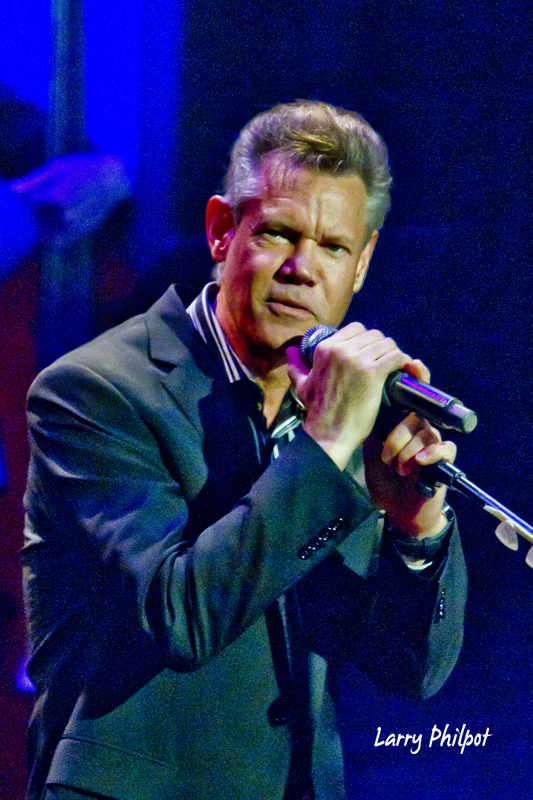 SATURDAY, JULY 22, 2023
——————
BROWN COUNTY MUSIC CENTER
NASHVILLE, INDIANA
Tickets on sale this Friday, April 21 at 10 a.m.
Nashville, Ind. (April 18, 2023) – The More Life Tour featuring legendary country singer Randy Travis alongside the original Randy Travis Band and guest vocalist James Dupré will be live at the Brown County Music Center in Nashville, Ind., on Saturday, July 22, 2023. The show will consist of Dupré and the band performing all 16 of his iconic number ones including "On The Other Hand," "Forever and Ever, Amen" and "Three Wooden Crosses." Randy Travis will make a special appearance.
Tickets go on sale this Friday, April 21 at 10 a.m. and will be available at www.browncountymusiccenter.com, www.ticketmaster.com, and at the venue box office (open Wednesdays through Fridays from 10 a.m. to 5 p.m. via outdoor ticketing windows and phone sales at (812) 988-5323). The box office is now cashless, and accepts debit and credit cards including Visa, Mastercard, Discover and American Express. Any box office related inquiries beyond purchasing tickets for an upcoming show should be directed to boxoffice@browncountymusiccenter.com.

The Randy Travis: More Life Tour features the legendary country singer and his co-star in The Price, James Dupré. The Country Music Hall of Fame member's long-time touring band, consisting of Steve Hinson, David Johnson, Lance Dary, Bill Cook, Joe Van Dyke and Herb Shucher along with longtime tour manager Jeff Davis will rejoin "Hoss," as they affectionately call Travis, on the road for the first time since right before his stroke in 2013.
"We are incredibly excited to be back on the road and give Randy's fans a chance to hear his music live again, and who better to sing his many hits than James Dupré?" said Mary and Randy Travis.
Travis recently released Forever and Ever, Amen: A Memoir of Music, Faith and Braving the Storms of Life which has outpaced projections and has been featured on TODAY, the 700 Club, People Magazine, Billboard and more. The book is available at most online retailers as well as Barnes and Noble, Cracker Barrel, Books-a-Million and more. Always wanting to please his fans, the long-time Grand Ole Opry star also dropped two never-before heard singles this summer, "One in a Row" and "Lead Me Home."
For more information about the More Life Tour, the Forever and Ever, Amen memoir and everything Randy Travis, please visit www.RandyTravis.com.

About the Brown County Music Center: Nestled on the banks of Salt Creek and located less than one mile from the largest state park in Indiana and the Town of Nashville, the Brown County Music Center is a visual and auditory masterpiece. Since its opening in August 2019, the 2,000-seat live performance venue has hosted artists spanning world-class rock, blues, country, pop, jazz, oldies, throwback artists, and more, offering an incredibly intimate experience for each show with the farthest seat from the stage only 106 feet away. Nationally renowned performers have included Vince Gill, Tanya Tucker, The Beach Boys, Jason Bonham, Graham Nash, Old Crow Medicine Show, The Reverend Peyton's Big Damn Band, Ben Folds, Emmylou Harris, Jamey Johnson, America, Pat Benatar and Neil Giraldo, Gladys Knight, Air Supply, YES, Sara Evans and many more. Please check www.browncountymusiccenter.com for the latest show updates and follow us on social media: Facebook | Instagram | Twitter
About Brown County, Ind.: No matter what you're looking for, escape comes naturally in Brown County. Eclectic boutiques and galleries, breathtaking scenery, welcoming accommodations, and endless outdoor adventures await in one of America's original artists' colonies. From art to the great outdoors, there's something for everyone to enjoy, and for most, it's only a short drive away. Unplug from daily life and reconnect with one another as you experience the rustic beauty and artisanal charm of Brown County. Brown County is a place for many diverse tastes and interests. Plan your escape today! You'll be glad you did.