U2 in Louisville, Reviewed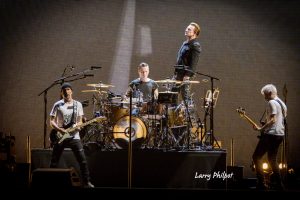 With about 50,000 fans filling Papa John's Stadium in Louisville, this wasn't just another concert. This was U2, performing "The Joshua Tree" in its entirety. And it was great.
The Irish rock act — consisting of vocalist Bono, guitarist The Edge, bassist Adam Clayton and drummer Larry Mullen Jr. — definitely lives up to its own legend on this, The Joshua Tree Tour, which celebrates the 30th anniversary of U2's most popular album.
The group, which has utilized big props in their big arena performances, and hidden behind elaborate stage shows on many recent tours, took a stripped-down approach this time around and managed to make a concert for 50,000 feel surprisingly intimate, and welcoming.
For people who remember the old Irish riddle, "What's the difference between Bono and God? God doesn't run around Dublin pretending to be Bono." To be sure, Bono is larger than life, and that was the Bono who marched onto the stage opening the show with "Sunday Bloody Sunday", with its haunting lyric of "How long, how long must we sing this song?"
While this writer expected a political concert – and make no mistake, U2 does not shy away from political statements, this 30 year anniversary tour of "The Joshua Tree", surely would be an activist event, reinforced by seeing actress Ashley Judd dancing just a few feet away from us. Some Joshua Tree songs, such as "Bullet the Blue Sky," are inescapably politically charged. But it wasn't.
Instead, we saw a diplomatic, centrist Bono who reassured the massive crowd that whether right, left, or centrist, all were welcome. In an interview with Rolling Stone Magazine after the first concert of this tour, Bono told the interviewer that he wanted the people who voted for Trump to feel welcome. And, he made everyone feel welcome.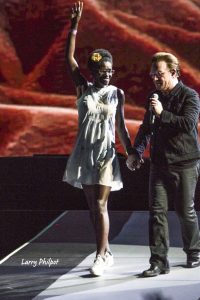 Bono did dedicate "One Tree Hill" to all victims of gun violence, including Rep. Steve Scalise and Rep. Gabby Giffords. Giffords was also in the crowd.
Thanking the audience for welcoming him and his Irish bandmates into our country and slipping subversive references to Trump's "Build-That-Wall America" into the mesmerizing video that plays on a 200 x 45-foot cinematic screen, the largest light wall in Rock…  behind the band.
The 11 songs making up the 1987 album "The Joshua Tree" served as a centerpiece for U2's first Kentucky concert in 16 years and its first Louisville show since 1982. Songs predating the album opened the concert, then the 11 song Joshua Tree in its entirety, and hits covering an 18-year stretch that followed the album concluded it.
The two-hour show's core, "The Joshua Tree" solidified U2's superstar status three decades ago.
The first three songs on "The Joshua Tree" were the album's biggest hits — "Where the Streets Have No Name," "I Still Haven't Found What I'm Looking For" and "With or Without You." And the songs — encompassing such themes as spirituality, drug addiction, the plight of mine workers and politics in the Reagan/Thatcher era — sounded fresh and relevant, even though the band didn't update them in any way.
But by the time the band got to the second half of the album ("Welcome to Side Two," Bono announced), the audience was faced with far less recognizable material, but old school fans rejoiced.
Of course, Bono delivered a few preachy/political messages, but they never really distracted from the music. It was just Bono being Bono, using his position to try and further the things he believes in.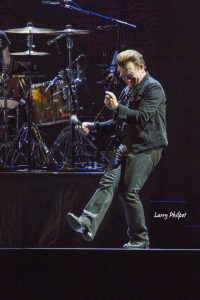 The band was energetic, and Bono, who suffered a herniated disc and back surgery in 2010, leading to the cancelation of the 2010 North American Tour, seems to be completely healed.
The "Joshua Tree" performance — like the album itself — concluded on a tender note with the slow "Mothers of the Disappeared." This song is sad. It's slow, and certainly not what you'd expect as a close out song, but the band left the stage. People who do not attend concerts very often seemed disappointed, thinking the show was over. But no.
The encore featured "Elevation" and "Beautiful Day", and left the audience with feel good state of mind.
Generally, an outdoor festival or concert atmosphere is not the best place for the sound of a concert, but U2's production team transformed a football field into a crisp sounding concert hall. Bravo!
Grade: A
FALL TOUR:  Date,  Supporting Act:
Sept. 3 Detroit, MI Ford Field Beck
Sept. 5 Buffalo, NY New Era Field Beck
Sept. 8 Minneapolis, MN US Bank Stadium Beck
Sept. 10 Indianapolis, IN Lucas Oil Stadium Beck
Sept. 12 Kansas City, MO Arrowhead Stadium Beck
Sept. 14 New Orleans, LA Mercedes Benz Superdome Beck
Sept. 16 St. Louis, MO The Dome At America's Center Beck
Sept. 19 Phoenix, AZ University of Phoenix Stadium Beck
Sept. 22 San Diego, CA Qualcomm Stadium Beck
Past reviews by other publications:
NEW YORK, NY (Thursday, July 6th, 2017) – Having played to more than one million fans, the first North American leg of U2's The Joshua Tree Tour 2017 came to a triumphant close July 1st at the FirstEnergy Stadium in Cleveland. With ticket sales surpassing 2.4 million across North and South America, the UK and Europe, and Mexico, The Joshua Tree Tour 2017 has reaffirmed its standing as the most commercially and critically successful tour of the year.
The Joshua Tree Tour 2017, produced by Live Nation Global Touring, opened May 12th at BC Place in Vancouver and made its U.S. debut May 14th at CenturyLink Field in Seattle—the latter kicking off some of the most enthusiastic critical notes in the history of U2's relationship with America. Rolling Stone hailed the band as "a live act simply without peer," USA Today noted "Thirty years can't dull searing music, hopeful lyrics or the captivating Irish band behind them," while The New York Times added "For the performance of The Joshua Tree… the band members took places on the full-sized stadium stage. They were ascending the way their career did… The band was dwarfed, but the music wasn't. Larry Mullen Jr. on drums, Adam Clayton on bass and the Edge on guitar tore into the urgent rhythmic flux of 'Where the Streets Have No Name.' Against the craggy postpunk groove of 'Bullet the Blue Sky,' both Bono's falsetto and the Edge's guitar leads were keening sirens."
The reviews of The Joshua Tree Tour 2017's opening weekend set a tone that intensified throughout a North American run featuring 20 sold out stadium dates and U2's first ever U.S. festival headline June 9th at Bonnaroo. Reviews for the shows have been consistently excellent, with some more recent highlights including:
"The thing about U2 is that, in almost any of their forms these past four decades, they always offer some degree of transcendence. They can't help it… This is also what makes them what they are — legends, an institution, well beyond the levels of even some of our biggest stars today… These are songs that reminded you how many different kinds of people across countries and generations one artist, one voice can impact — and, in turn, they are songs that remind you that fighting for a better world, even when it zigs and zags over thirty years, might just be worth it."—STEREOGUM
"U2's Two-Hour Pep Talk is Exactly What We Need Right Now… The best U2 songs cast life as a garden of possibilities while pushing back at forces that seek to limit them. This Joshua Tree tour wisely plays just those songs. It is a two-hour pep talk. It is a technological spectacle. It is a warm bath for the soul. It will knock you on your ass."—VULTURE
"I have left every U2 concert feeling like some measure of my humanity had been restored after being worn down by the blistering winds of the daily shit storm we call living. Last night was no exception."—PHAWKER
"An uplifting return to Joshua Tree — and much more… Sunday's sold-out concert at Gillette Stadium commemorated the album's 30th anniversary by playing it in full, and it served as both a reminder of and reckoning with the power that fell into U2's grasp at that moment in its history."—BOSTON GLOBE
U2's The Joshua Tree Tour 2017 heads to the UK and Europe where it kicks off with two nights in London on July 8th & 9th followed by concerts in Berlin, Rome, Barcelona, Dublin, Paris, Amsterdam and Brussels. It will then relaunch in North America September 3rd with a return to Detroit – the city where U2 played its first ever headline stadium show back on April 30th, 1987 at the Silverdome on the original Joshua Tree Tour.
The tour's limited return to North America will include stops in Buffalo, Minneapolis, Indianapolis, Kansas City, New Orleans, St. Louis, Phoenix and San Diego. The tour will then head to Mexico City followed by concerts in Bogota, Buenos Aires, Santiago and Sao Paulo.
Beck will be special guest for the upcoming North American dates. In Mexico and South America, Noel Gallagher's High Flying Birds have been confirmed as special guest.
U2 The Joshua Tree Tour 2017 is produced by Live Nation Global Touring. UPS is the Official Logistics Provider of the tour.