43rd-Annual Nightmare on Edgewood Acquires House of Trepidation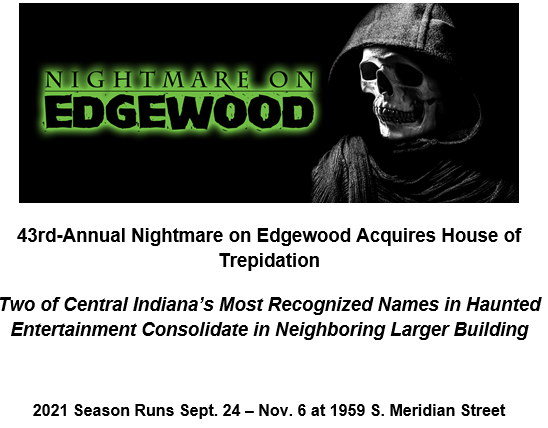 Visit www.nightmareonedgewood.com for more info, tickets on sale in August
INDIANAPOLIS (July 12, 2021) – Nightmare on Edgewood (1959 S. Meridian) opens for its 43rd season on Friday, Sept. 24. With even bigger scares and spooky excitement in store this season, two of Central Indiana's most recognized names in haunted entertainment are becoming one – House of Trepidation, which opened in 2015, will now operate within the halls of Indy's longest running and most intense haunted house, Nightmare on Edgewood. To accommodate the merge and to elevate the guest experience, the upgraded haunted house is moving next door to a newer building with higher ceilings
Tickets for the 43rd annual Nightmare on Edgewood will go on sale in August, with pre-sales beginning Friday, Aug. 13. Visit www.nightmareonedgewood.com for more info.
"We've been neighbors with House of Trepidation for two seasons now," said Nightmare on Edgewood co-owner Kevin Cook. "After getting to know their builders and actors, we were quick to bring them onto our team when the opportunity presented itself."
Cook's brother and co-owner Paul Cook added, "We're keeping the same name and intensity we've been recognized for over the past 40 years but layering in the special talent that made House of Trepidation unique."
One ticket to Nightmare on Edgewood grants admission to three separate haunted attractions. At Edgewood Sanitarium, help the patients escape the deranged doctors and their inhumane medical experiments. Outsmart murderous psychopaths waiting inside the state-condemned House of Trepidation. Try to blend in as you navigate the dilapidated barnyard and stable at Conley Farm – wouldn't want the workers to mistake you for a runaway hog! Experience Lights Out the final weekend – Friday, Nov. 5 and Saturday, Nov. 6 – and use a glow stick to navigate all haunted attractions in the total darkness, featuring old school villains!
Established in 1978, this season marks Nightmare on Edgewood's 43rd year in operation. The Cook brothers acquired the haunt in 2009 and continue to uphold its reputation as Indy's Most Intense Haunted House. Nearly 50 volunteer actors bring Nightmare on Edgewood to life each season, while an additional 12-15 staff (including volunteers from the Greenwood Fire Department) assist with parking, ticket sales, and general maintenance and management of the haunt.
Open Friday, Sept. 24 – Saturday, Nov. 6 (Thursdays, Fridays, and Saturdays). Gates and ticket booth open at 6:30 p.m., haunts open at 7 p.m., and gates close at 10 p.m. on weekdays and 12 midnight on weekends. Tickets start at $25 for all three attractions. Fast Pass tickets are $40. Coupons, tickets, and the official season schedule are available on the Nightmare on Edgewood website, www.nightmareonedgewood.com.
Nightmare on Edgewood proudly supports the local community by giving to local Boy Scout troops 266 & 264, Pink Ribbon Connection, Indiana Foster and Adoptive Parents, Haunters Against Hate and many other event fundraisers. For more information on how these funds benefit the community, please contact Danielle Look (317-899-9619; media@nightmareonedgewood.com).