Austin City Limits 2014 Festival Lineup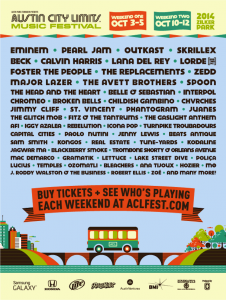 If you're planning your weekends for this years music festival season, THE Texas festival to attend is not the early one that has 4 Letters in it's name —  THE festival to attend is Austin City Limits, or (ACL) if you must use initials.  Forget the other one, regardless of the hype.  The bill for this year's Austin City Limits festival isn't especially surprising, but that's like saying "it's just a Bruce Willis movie."  In other words, "normal" for ACL is off the chart great.   Hip hop stars Eminem and Outkast join hard rockers Pearl Jam atop the lineup for this year's Austin City Limits Festival, which takes place over two weekends – Oct. 3-5 and 10-12 – at Zilker Park. The full lineup, which was released at 6 a.m. Tuesday also features electronic dance music acts Skrillex, Calvin Harris, Zedd and The Glitch Mob near the top of the bill and suggests Austin promoters C3 Presents have fully embraced DJs as a large component of their festivals.
This is one of the big festivals, and the sheer number of big names makes for a pretty impressive poster. As with last year, the show will come to the capital of Texas on successive weekends, taking over Zilker Park 10/3-5 and 10/10-12, bringing almost the exact same lineup both times. OutKast, Eminem, and Pearl Jam will headline this year's best. The rest of the bill is stacked: Beck, Skrillex, Lana Del Rey, the Replacements, Major Lazer, Spoon, Belle & Sebastian, Interpol, Chromeo, Broken Bells, Chvrches, St. Vincent, Phantogram, the Gaslight Anthem, AFI, Icona Pop, Jenny Lewis, Sam Smith, Real Estate, tUnE-yArDs, Jagwar Ma, Mac DeMarco, Poliça, Temples, Mø, Cults, My Brightest Diamond, Young & Sick, and a ton of others will perform. Lorde is also on the bill, but only for the second weekend. You'll find details at the festival's website. And for those of you looking at this on your phones, we've got the full lineup spelled out below.
Eminem
Pearl Jam
OutKast
Skrillex
Beck
Calvin Harris
Lana Del Rey
Lorde (weekend two only)
Foster The People
The Replacements
Zedd
Major Lazer
The Avett Brothers
Spoon
The Head And the Heart
Childish Gambino
Chvrches
Jimmy Cliff
St. Vincent
Phantogram
Juanes
The Glitch Mob
Fitz & The Tantrums
The Gaslight Anthem
AFI
Iggy Azalea
Rebelution
Icona Pop
Turnpike Troubadours
Capital Cities
Paolo Nutini
Jenny Lewis
Beats Antique
Sam Smith
Kongos
Real Estate
tUnE-yArDs
Kodaline
Jagwar Ma
Blackberry Smoke
Trombone Shorty & Orleans Avenue
Mac DeMarco
Gramatik
Lettuce
Lake Street Drive
Poliça
Lucius
Temples
Ozomatli
Bleachers
Ana Tijoux
Hozier
Mø
J. Roddy Walston & The Business
Robert Ellis
Zoe
Saints Of Valory (weekend two only)
Jon Baptiste And Stay Human
Parker Millsap (weekend two only)
The Preatures
Falls
Reuben And The Dark
Tor Miller
Bernhoft
Nikki Lane
Bad Rabbits
My Brightest Diamond
Cults
The Rosebuds
Night Terrors Of 1927
The Chain Gang Of 1974
Young & Sick
Miniature Tigers
Spanish Gold
Empires
The Districts
Benjamin Booker
Blank Range
Asleep At The Wheel (weekend one only)
Ray Benson & Milkdrive (weekend two only)
Moats (weekend one only)
Melanie Martinez (weekend two only)
The Last Internationale (weekend one only)
Johnnyswim (weekend one only)
Future Unlimited (weekend one only)
Jon Pardi (weekend one only)
Beat Connection (weekend two only)
Los Colognes (weekend one only)
A Thousand Horses (weekend one only)
Snowmine (weekend one only)
The Lonely Biscuits (weekend two only)
Bully (weekend two only)
The Wans (weekend two only)
Colony House (weekend two only)
The Hunts (weekend two only)
Catfish & The Bottlemen (weekend two only)
Von Grey (weekend one only)
Mark Scibila (weekend one only)
Modoc (weekend one only)
Black Pistol Fire (weekend two only)
Blue Bear (weekend one only)
Wood & Wire (weekend two only)
Emily Wolfe (weekend two only)
The Nightowls (weekend two only)
Dawn And Hawkes (weekend one only)
Mike And The Moonpies (weekend one only)
Sphynx (weekend one only)
Penny & Sparrow (weekend two only)
Riders Against The Storm (weekend two only)
Hard Proof (weekend one only)
Arum Rae (weekend one only)
The Legendary Soul Stirrers
The Jones Family Singers
Shields Of Faith
The Levites
Ashley Cleveland (weekend two only)
The Stapletones (weekend two only)
The River City Christianettes
Gospel Silvertones (weekend one only)
Wesley Bray And The Disciples Of Joy
The Barton Hills Choir
Steve Songs
Ralph's World
Elizabeth McQueen
Sugar Free Allstars
School Of Rock
The Q Brothers
Tony Distefano & Tor