Backstory: Doors: Waiting for the Sun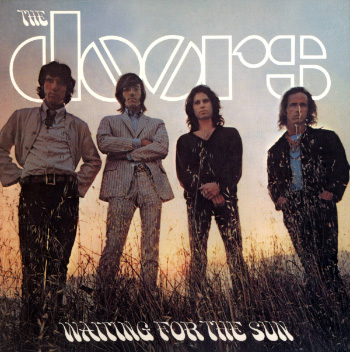 In early 1968, as the Doors entered the studio, they had hit the "third album wall", according to producer Paul A. Rothchild. The Los Angeles band's 1967 self titled debut album featured the Number 1 hit, "Light My Fire" which was shortened from it's 5 minute 6 seconds length for radio play. The debut album "The Doors" was recorded in just six days. The follow up second album, Strange Days took two months to record. Then came Waiting for the Sun, which could have been called Waiting for Jim, because frontman Jim Morrison "Frequently didn't show up, or was late", according to producer Rothchild.
In just a short 12 months, Morrison had become a rock star and sex symbol. Rothchild said, "He was beginning to feel trapped by his own image. He was getting tired of the rock star trip." With that much fame, he thought, "I am the lizard king. I can do anything," as Morrison himself stated at the end of "Not to Touch the Earth". Morrison frequently showed up stoned with various hangers on in tow. Drummer John Densmore got so disgusted that at one point he quit the band, but returned to the studio only a full day later. Manager Bill Siddons noted that Jim's unpredictable behavior was wearing everyone out.
Morrison's inner struggles, along with the lack of new material, made the sessions difficult."It didn't have the ease that the other records had", according to Rothchild. "Five to One" came together from a studio jam, with Morrison chanting his lyrics over Densmore's 4/4 beat, while Robbie Krieger and Ray Manzarek improvised guitar and keyboards, respectively. Other songs were extremely tedious to record. Part of "The Unknown Soldier" took up to 60 takes to complete, and was pieced together like a film.
Hello, I love You" showed the other side of the Doors. The song was discovered by Rothchild after he asked the band if they had any songs that they thought "were not worthy of their dignity." When Densmore brought up the title, Morrison cringed and said, "It's just a dumb little song I wrote out in Venice on day when I saw this black chick walk by." "He sang the song and when they hit the first chorus, I shit my pants." "That's a Number One record", Rothchild recalls. With a little studio wizardry and experimenting, including a middle section in which Rothchild stacked 10 different recordings of Krieger's guitar recorded at different speeds" the song was completed. Rothchild's hunch was correct, as "Hello, I love you" became the number one single on Aug. 3, 1968
Just over a month later, Waiting for the Sun would become the Doors' first and only Number One album. Three years later, Morrison's self destructive behavior took it's final toll. On July 2, 1971, he was found dead in a bathtub in Paris. Medical officials said Morrison, 27, died of a heart attack. He may have suspected his fate as early as Waiting for the Sun, as he sung in "Five to One": "No one here gets out alive."  Happy Birthday, Jim. R.I.P.