Bad Co. and Joe Walsh: Reviewed
All photographs by Kimberly Hunt
Indy's premier outdoor music amphitheater, the Klipsch Music Center was packed for the double bill of the 2016 Bad Company and Joe Walsh tour called "One Hell of a Night." Indianapolis is warm this time of year, and it was still daylight with sun shining through part of the stage, making photography from the soundboard a bit more challenging than normal. Also, similar to festivals where a lot of performers are playing the same stage, it lends for a shorter set. Lastly, when two huge names share a bill, they alternate who is going to open from one night to the next. With this in mind, Bad Company opened the evening at the un-rock-like time of 7:30 p.m. – the sun still shining outside the venue – and after a slightly subdued start with "Live for the Music" and "Gone, Gone, Gone," found its groove with the 1975 hit single "Feel Like Makin' Love."
Rodgers at 66 still has the strong bluesy voice that made him a star first with the band Free, and then even more so with Bad Company. He was once considered to replace the irreplacible Freddie Mercury of Queen, as well. Original drummer Simon Kirke is still in the group, but Mick Ralphs is sitting out and has been replaced for the tour by Howard Leese, and joined by bassist Todd Ronning, and one of the Robinsons from the Black Crowes, the talent was surely assembled for an amazing concert.
Perhaps it was still early, but this writer felt that this performance of Bad Company wasn't as good as their last visit in 2013, when Rodgers and his crew brought down the house at the same venue. It certainly wasn't a lackluster performance, but Bad Company's half was a bit overshadowed when Joe Walsh, backed by ten musicians took over the stage.
All bands have an off night, but Rodgers recovered and delivered solid versions of the slow-burning "Ready For Love," the hit "Rock and Roll Fantasy," which saw the audience singing loudly on all the choruses, and the wistful romanticism of "Shooting Star," another big sing-along number if you consider the 20 something woman in the seat beside me belting out every word.
"Movin' On" with its hard-rocking groove closed out the main set before an encore of "Bad Company," a Western movie told in song made for a solid recovery of what seemed like a less than energetic start.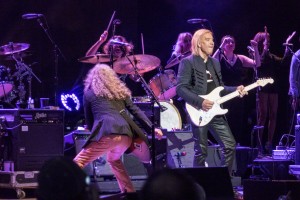 After a brief intermission and stage change, Joe Walsh, backed by ten musicians, including two drummers and four vocalists, opened with a James Gang classic, "Walk Away."  From the reaction of the audience, there was no doubt the crowd was ready to rock. His set spanned tunes from his solo career, the James Gang, and Eagles songs including "Life in the Fast Lane" and "Take It To the Limit," dedicated to his late bandmate Glenn Frey.
Walsh remains the brash and and colorful character of old, with facial expressions ranging from bizarre to looking like he was pissed off. A couple of times, you could see him biting into the flesh of a lemon, so maybe that can explain some of his expressions in the photos.  Leaving no doubt to his versatility, Walsh performed a slide guitar solo snippet from "Bolero" that was nothing short of fantastic.
"Life's Been Good" got introduced with a wry put-down ("If I knew I was going to have to play it the rest of my life I'd have written something else") that was belied by just how strongly Walsh and the band, particularly guitar genius Waddy Wachtel, plowed through it. Friends with Walsh for over 30 years, Wachtel is one of the most under-rated guitarists in the business.
His singular vocals were intact, as well as his quirky sense of humor. "If you don't know the words, sing something else. Anything. I don't care. Or just yell." Which fans did, even if many didn't know the words to "Life's Been Good To Me," "In the City" (which was in the soundtrack to the cult movie "The Warriors", and more. Walsh, who once called Colorado home, did "Rocky Mountain Way" as his encore.
One hell of a night, indeed.