#EgoDanceContest – Ava Della Pietra Hosts National Dance Competition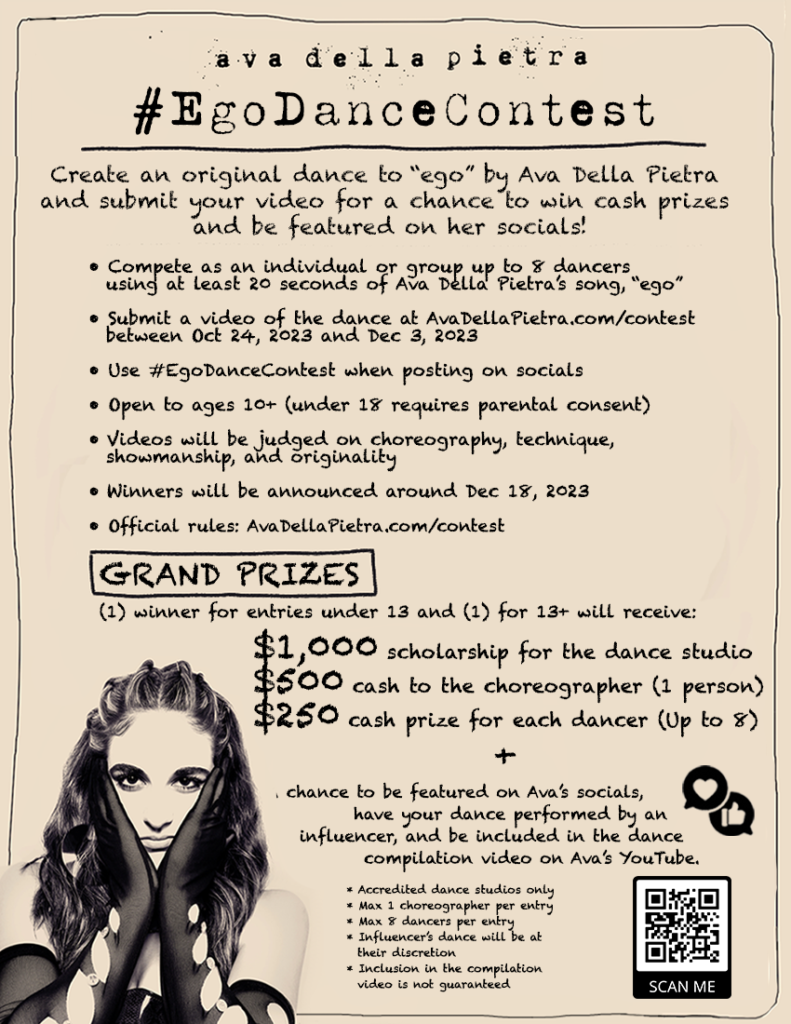 Join the dance challenge and win cash prizes while showcasing your best moves to Ava's hit single "ego"
Acclaimed singer/songwriter Ava Della Pietra, who was just named "a promising pop sensation" by Earmilk, has announced an exciting dance contest in connection with her latest hit single "ego." Building on her recent successes, Ava is inviting dancers of all ages, choreographers and dance studios to join the movement and connect with the national dance community.

CONTEST HIGHLIGHTS:

Dancers nationwide are invited to showcase their skills in the #EgoDanceContest. To participate, entrants can head over to Avadellapietra.com/dancecontest to register and submit their dance routines, all set to Ava Della Pietra's hit, "ego." The competition kicks off at 12:01AM ET on October 24th and will run until 11:59pm ET on December 3rd.

All performances must use at least 20 seconds of Ava's song "ego." Importantly, the contest is designed to cater to all age groups. For entrants aged 13 and above, videos should be shared on platforms like TikTok, YouTube, or Instagram using the hashtag #EgoDanceContest. For the younger participants, those under 13, submissions can be made directly on the contest site. Parental consent is mandatory for participants below 18 years of age, ensuring everyone can participate safely.

GRAND PRIZES UP FOR GRABS:

The dance contest promises substantial rewards, with two Grand Prizes segmented into two age groups: under 13 and 13 and above. Prize details include:
* A notable $1,000 scholarship earmarked for associated accredited dance studios or schools.
* A $500 prize awarded to the choreographer behind the winning routine.
* A generous $250 for each standout dancer, considering up to eight dancers.
All entries will undergo rigorous assessment based on choreography, technique, showmanship, and originality, ensuring a comprehensive evaluation of talent.

MORE FROM THE #EGODANCECONTEST:
Throughout the competition duration, exceptional performances will be featured weekly on Ava's Instagram stories, amplifying their reach. Additionally, a dance influencer will have the honor of replicating the winning choreography, potentially adding their unique flair. As the contest concludes, a selection of dance videos from entrants aged 13 and above will be artfully curated into a dance video compilation, which will be premiered on Ava's renowned YouTube channel.

Ava stepped into the spotlight once again with the recent launch of her new single "ego," marking a transformative departure from her previous "girl-next-door" image to reveal a more confident and evolved artist. Building on her standout Broadway performances and relatable high school experiences, this latest track delves into a captivating tale of self-discovery within a complex relationship. "I wrote 'ego' about a guy who was a player, and the whirlwind of emotions I went through in that experience," Ava shared. "Ultimately, I realized that he was mostly focused on elevating his own self-image." The song has garnered rave reviews from media outlets, leading to Ava's notable appearance on PIX11's "New York Living."

With over 3.2 million streams, a robust following of 450,000 on social media, and a remarkable 3.1 million YouTube views, Ava's footprint in the music realm is undeniable. Beyond her instrumental versatility, her repertoire boasts more than 130 original songs. This prodigious talent has garnered her numerous national and international songwriting awards and accolades.
Stay tuned to Ava's socials for continued updates!

https://www.avadellapietra.com/
https://www.instagram.com/avadellapietra/
https://www.facebook.com/avadellapietraofficial/?ref=br_rs
https://twitter.com/avadellapietra1
https://open.spotify.com/artist/5whBm2Wk9GvITjOclp8nQX