Bruce Springsteen @ Uncasville CT 5/17/14
Though the thunderous applause quieted as he took the stage, the buzz continued as each member of the audience listened for the hint of what the first song would be. Roy Bittan started it off on the piano, then Bruce Springsteen stepped up to the mic and played the harmonica.
"I got a sixty-nine Chevy with a 396…" By the second line, the crowd was singing along to "Racing In The Street." Slowly, piece by piece, the band came in, adding layer upon layer, until the full depth of it seemed to explode.
This might be a very good night.
A cover of The Clash's "Clampdown," had Bruce trading vocals with Tom Morello (Rage Against the Machine). Morello stepped in with the E Street Band during the time Guitarist Steve Van Zandt was off filming the television series Lillyhammer. The change in energy with Morello in the band is apparent. During his vocals and guitar solos, the dynamic onstage is nearly frenetic.
With Bruce belting out the familiar "one, two, three," it was time for the arena to start getting loud. "Badlands" had the crowd singing in unison, as most of them had done at Springsteen shows for more years than we'd all care to remember. While Morello may bring a different electricity to the stage, on this night there was no moment more intense than when Bruce and Steve, freshly back with the band, met at the center stage mic…
"I  want to spit in the face of these badlands"
It was the kind of moment that makes you forget to take your next breath.
A couple of old favorites, "The Ties That Bind" and "Two Hearts," had Bruce again calling on Steve for support. It was apparent by the way they were both cracking each other up, Bruce was glad to have his old partner-in-crime along for the ride. Steve, a little out of breath, then asked Bruce "Every night you do this?" Smiling, Bruce's response was "Every fuckin' night."
The band has grown somewhat from the old days. Counting eighteen onstage, there are horns, percussion, backup vocalists and with Morello, Van Zandt, Nils Lofgren, and Springsteen… four major league guitarists. It's now a giant machine of moving parts all perfectly in balance. Over the course of the evening this was evident, but two songs were so perfectly layered, they were literally "wow" moments.
The first of those songs was the cover of Tim Scott McConnell's "High Hopes." As the horn section jumps into the chorus, the percussion explodes, and Morello furiously goes to work. Insanely good.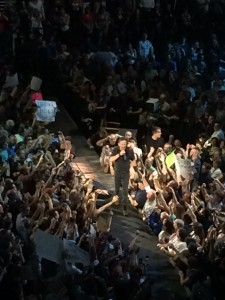 It was now time for Bruce to go a wandering. Midway through "Raise Your Hand," he left the stage and traveled to the middle of the floor pit area, where a runway split the section in half. As has been his custom, Bruce grabbed a beer from one of the crowd and downed it. He then let himself fall back onto up-stretched arms, and they gently passed him overhead, hand to hand, up to the front, where sax player Jake Clemons helped him onstage.
Bruce then started collecting cards with suggestions from the audience for the next few songs. He held up a round paper plate with a clock face drawn, then showed it to the band. Several looked terrified. It had been quite a while since the E Streeters had played "Quarter To Three." Hell, half the band had not been around the last time they did. After a brief conference, they played it as if it was part of the regular set list.
The second "wow" moment of the night was another cover song he first sang during this tour, while in Brisbane, Australia. With the spotlight on him, and a trumpet accompanying his acoustic guitar, Bruce sang "Well you can tell by the way I use my walk, I'm a woman's man, no time for talk." A slow entry into the Bee Gees "Stayin' Alive," turned into a stew of jazz, funk and fusion, without a hint of disco. Each horn player, from trumpet to sax to trombone, threw it down fiercely. Hats off to however did the arrangements on this, it was spectacular.
Bringing the energy down, Springsteen launched into two of his songs more closely associated with Southside Johnny and the Asbury Jukes, "Hearts Of Stone," and "Talk To Me." Hearing both of them, it was like old friends showing up at your door, and the crowd was happy to say hello.
It wasn't long before Bruce pulled out another old favorite. As sure as "Born To Run" is an unofficial Jersey anthem, "The Promised Land," is an anthem of the working class. It seemed to resonate with every member of the audience, as they sang the words so full of their individual truths.
Throughout the night, Springsteen drew from all periods of his catalog: "Prove It All Night," "Jesse James," "Shackled And Drawn," each song representing another era, and each was represented well.  Since Tom Morello has been aboard, "The Ghost Of Tom Joad," takes on a vastly different feel. He plays guitar as if it has just been struck by lightning, his vocal is angry and in your face. Intense and great.
"Radio Nowhere," gave way to "The Rising," which still causes all those emotions from 9/11 to come flooding back. To lighten it up, Bruce pulled out the always energetic "Light Of Day." After which he let the crowd mellow out to "I'll Work For Your Love," done so sweetly, a standing ovation was given for the ballad.
Springsteen then stood alone at center stage and talked a bit about writing songs. "A good song should work with just a guy and a guitar" So he started one of his best just that way. "Growin' Up" acoustically, with the audience singing along.
Bring back the band and turn on the house lights, time for "Born To Run." Always high energy, now with eighteen band members, it's thunderous.
For "Dancing In The Dark," Bruce jumped down to the front row to the dancing partner of his choosing, for a sweet and touching moment.
"Tenth Avenue Freeze-Out," included a video tribute to late band members Danny Federici and Clarence Clemons. It's still hard to grasp they're both gone. After a rockin' version of "Shout," Bruce introduced each member of the band, then patted them on the back as each one left the stage.
Alone again, he ended the night with acoustic versions of "If I Should Fall Behind," and "Thunder Road."
While some Springsteen shows are better than others, in over thirty years, I can't remember seeing a bad one. But with such a vast catalog, it's easy to wish he had played that one song you really wanted to hear. Not this night. Did I hear all of my favorites, no. But on this night, it didn't matter. Not to me or anyone else around me. Each song fit, each song was spot on, each song was a joy to hear on its own merit. The band is tight and fabulous. Bruce is a testament to how doing what you love keeps you young. While he was tired at the end of the show, the audience was exhausted… but fulfilled. This was a show to be remembered for a long, long time.
Bruce Springsteen and the E Street Band.
Set List:
Racing In The Street
Clampdown
Badlands
The Ties That Bind
Two Hearts
Frankie Fell In Love
High Hopes
Raise Your Hand
Quarter To Three
Stayin' Alive
Hearts Of Stone
Talk To Me
The Price You Pay
American Skin
The Promised Land
Jesse James
Shackled And Drawn
The Ghost Of Tom Joad
Radio Nowhere
The Rising
Light Of Day
Encore:
I'll Work For Your Love
Growin' Up
Born To Run
Dancing In The Dark
Tenth Avenue Freeze-Out
Shout
If I Should Fall Behind
Thunder Road
Review by Kath Galasso @KatsTheory