Catching Up with Jimi Jamison
When you grow up in the shadow of such legendary recording studios as Stax, American, Sun, and Royal Studios, one can only imagine what a young singer from Memphis might dream. Starting out singing radio jingles and playing in a band or two, maybe. Singing live in front of more than a million people, and millions more globally over the internet… well, most of us don't dream that big, let alone achieve it.
Jimi Jamison has.
The man who replaced Dave Bickler as the lead singer of Survivor, is currently back with the band, and sharing the vocal duties with Bickler, who returned to the group last year.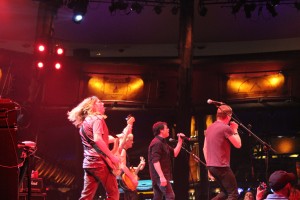 His first true taste of the rock and roll life occurred when Jamison, as part of the Memphis based band Target, recorded two albums for A&M Records. The band toured virtually non-stop in the late 70s, opening for bands such as Kiss, Black Sabbath, Styx, Robin Trower, Journey and Boston. From Target, Jamison joined Cobra and recorded First Strike for Epic Records in 1983. Soon after Cobra disbanded, Jamison was invited to audition for Survivor, when Bickler was forced to leave the band due to vocal issues. With Jamison as lead vocalist, Survivor then went on to record Vital Signs, which scored three hit singles.  Around this time MTV was changing the course of music history, and the video for "I Can't Hold Back," also off Vital Signs, was top in their rotation for several weeks, catapulting the band to another level of success.
After two more albums, Survivor went on hiatus, coming back with various different incarnations, both with and without Jamison. Over the course of his solo career, Jamison has released several  albums, including 2012's critically acclaimed Never Too Late.
Jamison rejoined the Survivor lineup in 2011, and the band toured in 2012. The next year, original lead singer Dave Bickler was invited back to share the vocal duties, and the lineup of Jimi Jamison, Dave Bickler, Frankie Sullivan (lead guitar), Walter Tolentino (keys,guitar), Billy Ozzello (bass), and Marc Droubay (drums), is gearing up for a full schedule of tour dates in 2014.
After wearing out several pairs of running shoes, I caught up with Jimi Jamison, and we talked about life, looking back, and of course… music.
Kath Galasso: First what I'd like to talk to you about, is your approach to vocals. When you're given a song to record, how do you begin the process of how you're going to sing it?
Jimi Jamison: I really don't form a judgment about it before I go into the studio and try to sing it. That's how you find out if it's something you want to do. I've been kind of lucky with the songs I've been doing. It's really not a pre-planned thing. I listen to the song before I sing it, of course, but I always get in there and just sing it like I would sing it. That's pretty much the only plan I have.
When you are writing a song, do you ever play to your vocal strengths, or is it just what comes into your head?
Just what comes into my head and my heart, It's all about the song. You've got to have good lyrics and a good melody, then you'll be able to sing it without any problem.
Obviously through the years your voice has gone through some changes. When you first started, say in the early days with Target, you'd just open your mouth and it would come out… it was a gift that you had. But as you get older, you learn the techniques. How did that transition fit in your mind?
I went through a transition and I'm glad I did because I think I sing a lot better than I used to. It's just something you learn, a craft. It's like working a muscle out, it gets stronger, but you have to sing a lot to do that. There's only one time that I used my mind to really hit a note, and that was at a concert when I first started singing "Eye Of The Tiger." I dreaded that high C note every night until one night, and I don't know how I did it, I just figured out how to sing it and be able to hit it every night. And from that night on, I looked forward to it. As for using my mind, that's the only time I've ever done it, and if I could write that down… I'd be rich. I'm just glad I've gone through the changes I went through. You learn a lot, you learn a lot of little things to do, little tricks you can use when you're singing to make it sound better, and I've learned a lot from other singers and producers, and being around the people I've been around all this time. I've learned a lot, that's what you do in time. Everyone learns from everyone.
You've done a lot of jingle singing in your day and you're still doing them.
There's a friend of mine that does little jingles here in town and I just go do them for him when I'm in town, and it's fun. I like going in and singing because I'm used to the guys, I'm used to the studio. I know the jingles, I know what they want.
Now do you think doing the jingles all those years helped you with learning different techniques?
Oh yeah, definitely. I was in the studio every day from 8:30 in the morning til 3:30, and then I'd take a break for about an hour, then stay in the studio until 7:30. I was singing every day, all day long, and when you do that and you're singing into a mic, you learn how to work the mic. You just learn so much from just the experience of doing it.
Talking about your last album Never Too Late, except for "Bullet In The Gun," all the vocals were recorded in Memphis, with the instrumentation recorded by Eric (Martensson, producer/writer) in Europe. Does that change the mojo, not having the band in the studio with you?
Yeah, it does when you don't have a band playing in there with you. It's a lot more fun when you have the band in there with you, than it is when you have the track, and you sing to the track. It's still a lot of fun just to sing a good song, but definitely, I'd rather have a band in there with me.
Let's go way back, to when MTV was playing videos and "I Can't Hold Back" went to the top of video rotation for a few weeks. How much did life change at that point?
Well, it changed the band's life immensely. It gave everybody a face. We actually got recognized on the streets. It was definitely an upswing for the band, a big one. It changed the whole scene for Survivor, it put us out there. MTV really gave a lot of people a big boost, and it did for us too. And it was such a great thing.
I've seen you play in moderately sized places, and some really small places. And then you've played at the Brandenburg Gate in Germany, in front of a million people, plus a TV and online audience. What's the difference of going out onstage, or is there one?
Yeah, it's totally different playing in a really small place, and playing in a place like the Brandenburg Gate, because the more people there are, the more excitement there is, and the more they want you to do good. But when you're playing in a small place… you've got to be good. You'd better sound good because you're naked to the world, and you've got to do the best you can. So I enjoy playing for a very small crowd just as much as I do for a real big one. It's just as much fun playing in small places.
What was the feeling in your heart when you walked onstage at the Brandenburg Gate?
I thought it was unbelievable. I couldn't tell there was a million people, they said there was,  I could look up and down each street, there were people behind buildings, all kind of places. There was a large TV audience too. I couldn't believe they asked us to do it, we were a new band (One Man's Trash,) me and Fred (Zahl). It was cold. It was very cold, but it turned out pretty good. It was a lot of fun standing on stage and just looking out over all those people.
A year or two ago you also did the Rock Meets Classic tour, where rock singers do some of their hits paired with a classical orchestra.
Yeah with Ian Gillan, Steve Lukather, Chris Thompson and Robin Beck. It was great, I enjoyed it. I like those people a lot, they were a joy to work with and it was a lot of fun.
Now technically you were a part of Deep Purple at one point, for about a week or so. Isn't it an interesting twist of fate that you end up on stage for the show finale, with Ian Gillan, and you're singing "Smoke On The Water" with him?
Yeah, it was interesting, that's a good way to put it. I love Ian Gillan. I've been a fan of Deep Purple and Ian. The first heavy music that we ever played was Deep Purple and that was when Ian wasn't even in the band.
But that was great being up there with him, we connected pretty much when we did "Smoke On The Water." We sang it kind of alike… but totally different. But I was always a big fan of his, and it was kind of strange after all these years to be doing that. And now he's back as the lead singer and Richie Blackmore's gone from the band. But it was great, I loved it.
You play guitar and piano, but you haven't played onstage since you've been with Survivor. Ever tempted to just pick up a guitar during a show?
I have with a couple of different bands, played guitar. Frankie and I have talked about it, he said I should grab a guitar and start playing onstage. But that's a lot of trouble. You've got to tune the guitar, you've got to carry a guitar around with you. It's a lot to do.
Has Survivor ever thought about doing an acoustic set?
We were just talking about that recently and we're planning on doing it. We did it once before at the Park West Theatre in Chicago. We opened up for the Doobie Brothers, and we did it all unplugged. And, it sounded better than we've ever sounded. I couldn't believe it, it was great. So we're talking about maybe doing a little bit of that in a set. We just don't have enough time onstage to do that. You need an hour and a half minimum to do stuff like that, maybe a little longer, and they're pretty strict on time.
What song have you never done live that you've always wanted to do?
Probably "Across The Miles."
And why have you never done it?
I really don't know. We worked it up, but we just never did it. And it sounds really good. I don't know why we never did it. I'd like to do that one though. We also used to do "Desperate Dreams," I want to start doing that again.
Growing up in Memphis, you had Stax, American and Royal Studios. Growing up that close to all that incredible music, were you aware of how much influence the Memphis sound had at the time?
Well I was buying 45s left and right from Stax music and Elvis, all the music that came out of Memphis… that's what I grew up on, that's what we played all the time in the band. We grew up on Soul music, and it was great because we had all that influence, all the time on the radio. They played a lot of Memphis music, whether we knew it was from Memphis or not. It really was from Memphis, all soul music. It was great stuff. We were pretty lucky to be growing up in this area.
What do you think you learned as far as the music business, growing up that close to all that great music?
I didn't learn anything about the business, nothing about the business at all. Just the art of it, is what I learned, and it took a long time to really know what's going on. How to learn how to sing a song, how to play a song. It takes a long time to copy somebody, to learn somebody else's song off the radio. The biggest thing I learned was probably the emotion of it, really feeling a song as you're singing it.
We are pretty close to the same age, and I remember when Martin Luther King Jr. was killed. I remember that era of all those assassinations so vividly.  You were probably sixteen, seventeen at that point.  What was it like to be living in Memphis during that time?
It was terrible. You've got this great leader finally turning things around and making people treat people like people, the beginning surge of it. It was a terrible thing, there were riots here. We were pretty upset, we didn't like it, we'd never been racists. We went out that night, we had to play that night right outside of town, but we never thought once that anybody would throw bottles at our cars or anything like that, and nobody did. It was a terrible tragedy. We were very young, we had our guitar player's father take us to the shows.
It put such a black spot on the city of Memphis.
Yeah, my god, especially here. That it happened here. To figure out to do it here, I don't get it.
I know you went to school with Alex Chilton of the Box Tops. It seems like he's finally getting his due with the Big Star documentary and other media focus. Tell me a bit about him.
Alex was a different kind of guy. I saw him change personalities about three times in our lifetime. We were in school and he was the kind of guy that carves his name in the desk, and not really care what was going on around him. Later on, he went to a different high school and got The Box Tops and they were really big. I didn't see him for a long time during that period, he really had some success with that band. Later on, when I started doing the jingles, my band Target would play at this club in Overton Square, and he would come down all the time and listen to us and we'd talk. That was at the beginning of his punk-rock thing. It wasn't really punk-rock, but that's where it really got started. And he created this cult following, especially over in Europe. He was a little wild at that point, then about a year later I'd do a show, and he'd come down and play with me, and he'd be wearing a suit, and be a totally different person. It was so odd, it was like he was a chameleon, changing all the time. But he was an original guy, I'll tell you that. We were good friends… we were great friends.
Second tour out with original lead singer Dave Bickler, what's the deal with that?
We get along great. We've got to come up with a couple of duet songs and figure out who's singing what, when and how. We need to write some songs that we sing together that are new. It's going to get better and better. It's always fun to sing with other singers.
A few years ago, you were part of a group of entertainers that performed for the troops in Kuwait. What was that experience like?
It was amazing. It was hot, and we were freezing to death. But it was hot, and I can't believe those soldiers were in all that stuff that was going on. We had to wear these bullet-proof vests that were so heavy. We were in the tame part of the country. We were shot at by something I think, but the soldiers said 'don't worry about it.' The wind blows so hard over there, it just blows the mortar off course. But we had to stay in these bunkers at certain times. It was very rewarding. We talked to a lot of soldiers over there and we asked them how they felt about being over there. And they said they'd rather be doing this over here than at home. And that pretty much sums it up. It was an experience for sure.
And just because I'm curious… is it mandatory for everyone from Memphis to do an Elvis impression?
It's not mandatory… but I do it anyway, just cause I love Elvis. He's the most famous guy in the world, you know. Musicians, artists, even kids in other countries… everybody knows who Elvis is.
Jimi Jamison is currently on tour with Survivor.
Interview by Kath Galasso @KatsTheory