Cheap Trick, Joan Jett and Heart in Indy, reviewed
The tour called "The Rock Hall Three for All –  the tenth show at the magnificent Klipsch Music Center in Noblesville, Indiana clearly indicates that Live Nation intends to break all records this season. With Disturbed, Jason Aldean, Dave Matthews, and Hall and Oates on deck yet this week, this is going to be a summer to remember. Last night, Indiana's largest amphitheater hosted three bands, all recently inducted into the Rock and Roll Hall of Fame.
Cheap Trick never disappoints, and Rick Nielson was especially animated, showing off one of his multitude of guitars with the neck sporting the words "Cheap Trick Hall of Fame". Vocalist Robin Zander took the audience through many songs and some old favorites, including "Surrender" which had people jumping up and down to the music. Younger people know this song as the theme from the hit TV series "That 70s show."
Joan Jett and the Blackhearts were up next, and Joan performed for about 50 minutes, ending with her signature hit, "I love Rock and Roll" (so put another dime in the jukebox, baby), and a beautifully done cover of Tommy James and the Shondells' "Crimson and Clover."
After a short stage change, which gave time for a restroom and beer run, Ann and Nancy Wilson of Heart took the stage and brought the capacity crowd to their feet. Noticeably thinner, Ann hit her stride from the second she grabbed the microphone. The short runway out into the crowd was often used, as she had quite a bit of interaction with the crowd. With sister Nancy supporting Ann with virtuoso guitar playing, Heart brought down the house.
Their one encore song, "Stairway to Heaven" has been a staple in their repertoire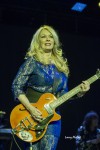 since they toured with Jason Bonham, the son of Led Zeppelin's drummer, and when Heart honored Robert Plant at the Kennedy Center Honors in Washington DC in 2012. Cameras at that concert showed a very emotional Robert Plant with tears in his eyes. To read more on that particular performance, follow this link to our article that has been shared over 16,000 times:  https://www.onstagemagazine.com/the-real-reason-for-robert-plants-tears-during-stairway-to-heaven/