Easthills release 3rd Single today, "Holiday Women"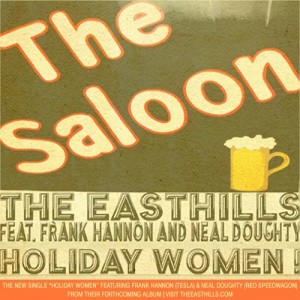 The Easthills release third single "Holiday Women" from forthcoming album
Song features special guests: guitarist Frank Hannon (of Tesla) & Neal Doughty (of REO Speedwagon) on piano
New single is available now thru iTunes, Amazon, TheEasthills.com & CD Baby
Indiana based rock band, The Easthills have released their latest single, "Holiday Women", which features contributions form Neal Doughty (REO Speedwagon) and legendary guitarist Frank Hannon (Tesla).
What starts out as some slow strumming remeniscient of a ballad by Rush quickly morphs into midwestern Rock and Roll, with Hannon's slide guitar licks and Doughty's honky tonk piano accentuating the Easthills' versatility.
Yes, it's midwest rock and roll, but it is not possible to pigeonhole the Easthills into one genre. Their first album, released just three years ago, "Death of a Salesman" took 17 years to complete.
Holiday Women speaks of "falling in love with my ego", and realizing that if that happens, creativity stops and that's the beginning of the end. This band, with their explosive career and guidance have experienced phenomenal success in the last three years, and there's more to come. The newest CD release is in one month, and I'm told has been sold out for weeks. Stream it right here, right now.   The official press release follows:
WordPress Link
(INDIANAPOLIS, IN – Jan. 26, 2016) The new, and third, single from Indiana-based rock band The Easthills is now available. "Holiday Women" features a special guest appearance by renowned rock guitarist Frank Hannon (Tesla) on both acoustic and slide guitars and classic rock legend Neal Doughty (REO Speedwagon) on piano. The song is available now for digital download through iTunes, Amazon, TheEasthills.com and CD Baby, and will be included on The Easthills' forthcoming full-length sophomore album Fear and Temptation, out on March 1, 2016.
"Holiday Women" is a departure for The Easthills and represents the bands classic rock influences. "Holiday Women" is released on the heels of the forthcoming album's first two released songs "Mothers & Fools" and "Snake In My Gut" (Caronline's Heart), both of which were issued in late 2015 and feature Doug Gillard  (Nada Surf, Guided By Voices) on guitar.
"We have been fortunate to serve as an opener for Tesla in Indy and on multiple shows for REO Speedwagon. During the recording of the new album we created this barroom style tune that had a very jangly guitar tone to it. We felt like it called for slide guitar and piano so we decided to reach out to both Frank and Neal who graciously obliged; of which we are most appreciative," stated Hank Campbell of The Easthills.
Fear and Temptation follows the band's critically acclaimed 2013 full-length debut album Death of a Salesman and the 2014 four-song EP World Class Prick. The new album promises another dose of indie-pop-rock-meets-classic-rock, additional guests in addition to Hannon, Doughty and Gillard will be announced soon. Additional singles will continue to be released digitally in the coming months after the album's release. The full-length album will be available in both digital and CD formats upon release on Tuesday, March 1, 2016.
The Easthills rounded out 2015 with shows supporting Cheap Trick and the Reverend Peyton's Big Damn Band and have a winter 2016 mini-tour on the books that includes stops on 1/29 in Newport, KY (near Cincinnati, OH) at the Southgate House Revival; 2/5 in Terre Haute, IN at The Verve; 2/20 in Dayton, OH at Blind Bob's; 2/25 in Columbus, OH at Ace of Cups and a special album release show on 2/27 in Indianapolis, IN at White Rabbit Cabaret that will also features special guests Miles Nielsen and Doug Henthorn.
Since the inception of The Easthills they have played multiple Midwest shows with REO Speedwagon, Fastball, Georgia Satellites, The Reverend Peyton's Big Damn Band and Here Come the Mummies while also serving as support for Cheap Trick, Tesla, Lynyrd Skynyrd, Ian McLagan (Faces) and Blues Traveler. The band has also appeared on several noteworthy music festivals playing alongside the likes of Flaming Lips, Weezer, Roky Erikson, Guided By Voices, Meat Puppets, Chris Robinson and many more.