Eric Anders/Mark O'Bitz "The Loss We've Won"
Eric Anders and Mark O'Bitz continue a prolific catalog of albums known for their social commentary and immersive moods with new full-length offering "The Loss We've Won", an album that bears the weight of existential uncertainty while turning inward to find some peace. From the haunting "Not At One" to the radiant lead single "One Life", there is a consistently potent, timely songwriting coming from this musical partnership.
For Eric Anders, the lyricist,"the loss we've won" is all we've won in life, which then leads to all that is lost in the end–so the loss we've won is all that we've won and then have to give up in the end. There is no "winning" without "losing" if all of life (and death) is taken into consideration."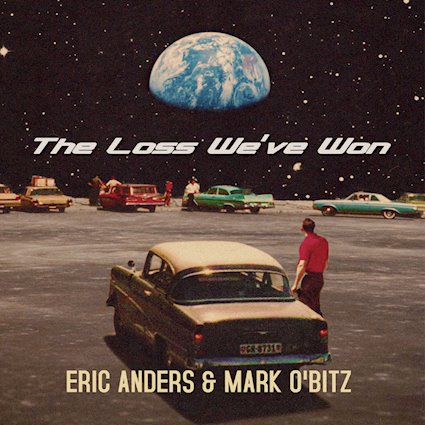 This is a concept album that has had the working title of "family songs" from the beginning. This title was not just a reference to the second song on the album, "Family Song": all of the songs are "Americana songs about family, marriage, parenting, getting old … and human extinction," as Eric wrote in his blog post, "The Loss We've Won." Some of the songs are directly autobiographical for Eric – "Family Song" and "Young Eyes" especially – while the others may have some biographical elements …or none at all.
For this new collection of songs, Eric Anders and Mark O'Bitz partnered again with multi-instrumentalist and producer Mike Butler to make this 9-song album where all the songs are done in an Americana style.
"The Loss We've Won" reveals these expert songwriters at their most lyrically urgent, melodic, and warm as they meditate on universal themes.
Listen to "The Loss We've Won" on Bandcamp.
Listen to "The Loss We've Won" on Spotify.
More Info:
released May 13, 2022
Produced and Mixed by Mike Butler
Mastered by Jamal Ruhe
All Songs Written by Eric Anders and Mark O'Bitz
Except "Not At One," written by Eric Anders and Benedikt Bohm
Online:
Official Website
Instagram
Facebook
Twitter