Gimme A Little Drink from Exile: "Loving Cup"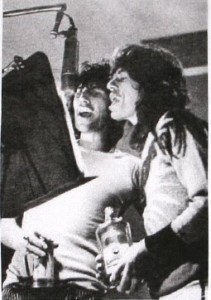 I'm a latecomer to Exile on Main Street. I mean….I've owned it since I was a kid, and listened to it a bit over the years. But I didn't quite get the hoopla. I was more about its predecessor, Sticky Fingers. I always thought that Sticky Fingers was the perfect balance of "fuck it all" attitude and listener accessibility all wrapped into one. It captures the best of what Jagger/Richards can accomplish with their hook-writing sensibilities, and also what the band as a unit can accomplish with its eloquently messy, boozy groove.  And it's a short, exciting, manageable listen in one setting. Songs like "Brown Sugar" and "Bitch" are irresistible numbers that swing like mad and incorporate the best of Chuck Berry and Muddy Waters while breaking new ground in the process. And "Can't You Hear Me Knocking?" is pretty much a master class in blues/rock lead guitar and saxophone playing, the likes of which has been seldom matched in both tone and execution. This is a safe place to mine for rock chops. So I always gravitated toward this album as the leaner, slicker Exile. But Exile was always there, ominous in its size and scope, bending from the pressure of critical acclaim. I didn't buy the hype for a long time. Then I got addicted to "Loving Cup" about three days ago. The repeats have been incessant.
As a casual listener of Exile, I was always passively aware of "Loving Cup" as a laid back, medium tempo love song that really had no discernible chorus besides the two-line catch phrase that is somewhat repetitive of the pre-chorus. It has the same sound as much of the rest of the album: elegantly sloppy musical performance; vocals thin, dry, and half-buried; bad intonation on the bass; gritty, flailing electrics; ever-present chugging acoustic guitar; horns creeping up as the song progresses, etc. But with the recent remastered release of Exile, I've been checking it out a lot lately as a whole. The instruments have better separation, and the vocals are up in the mix. The guitars are more articulate. And "Loving Cup" has crept up on me as a result. But what ultimately got me hooked was Nicky Hopkins' emotive piano intro. It's as romantic and sweet as any rock piano intro gets, yet it has a majesty about it that gives the song an aura of stately importance that clashes sweetly with the subject matter. Lyrically it's about a scoundrel with "a face full of mud" who plays "a bad guitar" and whose "car don't start." But he's addicted to a hot girl; with one sip from her metaphorical cup, his imperfections and life troubles are instantly erased by the "beautiful buzz." Vocally, Mick Jagger is at the apex of his range, which gives the song an exciting and dangerous edge. You think he won't hit the high notes, every time you hear it. But of course he does. And he likes to do a slurring "yaaaaaa" after particularly challenging notes, as if to say "fuck you, I hit it." All the while Richards is behind him, executing a drug-addled version of Everly Brothers high harmonies with surprisingly accurate phrasing.
That's been the key to the Rolling Stones' appeal for fifty years: it sounds like they're not trying, like anyone could pick up that guitar and bang out those grooves. But they are trying, make no mistake. Even the history behind the making of this album makes one think that it was all just a big fun jam. Rock and roll legend, and lots of books and bios, tells us that tracks for Exile were recorded at a rented mansion in the south of France called Nellcote, with the likes of Gram Parsons hanging out and doing drugs with Keith all day. Yadda yadda. The reality is often less exciting. Just because tracks were recorded there doesn't mean that the album was completed there. And the reality is that "Loving Cup" was recorded in its entirety at Sunset Sound studios in Los Angeles, and it took several months to complete. No wonder it stands up to scrutiny and analysis. The substance here is deep. And this doesn't come from throwing things together while wasted. These guys were intent on creating great music and myth all at once, and it worked in spades. It just takes a bit longer to find it on Exile because of the particularly ragged performances. On "Loving Cup," Hopkins' piano intro is an invitation into that process. The song features crafty writing, tight grooves, and an inspired vocal performance that in its imperfections contain the emotion that illuminates the spirit of the lyric perfectly. So if you're not yet a fan Exile on Main Street, let "Loving Cup" be your gateway to greatness. If you are already a fan, throw it on as a reminder. The song just makes you feel really friggin' good. It gives you those telling shivers. And that's been Mick and Keith's sole goal since 1964.