George Jones' Tribute Concert: Review
Everybody loved George. That refrain, repeated infinitely throughout the night by everyone from the show announcers to fans to Trisha Yearwood, became in a sense the slogan for the evening. It was, after all, the George Jones tribute show, so this shouldn't have been unexpected. However, it would be safe to say that nobody was expecting such an outpouring from the musical community. In fact, more than 100 acts showed up at Bridgestone Arena in Nashville to pay their respects. Lucky fans at this sold out event (and we mean sold out, we couldn't have found an open seat if you paid us to) saw nearly half the country music industry grace the stage at some point or another. For the most part, each band only played one song, but that gave a chance for fans to hear from the likes of Brad Paisley, Travis Tritt, Charlie Daniels, Reba McIntyre, and many, many more all in one night. Oh yeah, and Megadeth. They were there too.
With so many stellar acts performing in one night, what was a writer to do? I couldn't cover all of them, but I got a lot of them, and narrowed it down to my favorite five. This list is incredibly subjective, so I would like to personally apologize if you're top five list doesn't look like mine. As a reader, you're entitled to an opinion, and you can leave a comment if you become enraged at my refusal to consider Kid Rock top five material. It's just not going to happen. So, without further ado, enjoy the top five moments of George Jones' final no-show.
5. Eric Church
Country vocalistic Eric Church has done a lot this year. Between winning the CMA Album of the Year award for his efforts on Chief and racking up quite a few nominations, it's quite clear that Church has become quite the busy man. However, like so many others, Church took a night out of his packed schedule to celebrate the legend and memory of George Jones.
However, it was not the sacrifice of Church's time that earned him a spot on this list, but the crowd response. We should make it clear that this event was filled to the brim, and every artist got a fantastic crowd response, but none saw the level of enthusiasm and excitement Church did. For lack of a better word, the crowd erupted when Church took the stage, and stayed engaged throughout Church's cover of "Choices", one of George Jones' most popular tunes.
4. Brad Paisley
There's no denying the influence George Jones had on every person gathered under the dome of Bridgestone Arena last Friday, but Jones had a totally different brand of influence on country music start Brad Paisley. Besides the obvious influence on Paisley's music and writing style, the pair also became close friends that remained in touch for over 20 years, up until Jones death last May. Paisley, obviously touched at the passing of his friend, even released a short memo for his fans detailing the impact of George and Nancy Jones on his life.
So when Paisley took the stage to play his cover of "The One I Loved Back Then", there was a much different aura than the rest of the performers. Rather than playing a track by a beloved country music icon, Paisley played a song written by a friend, infusing it with all the heartbrokenness and trepidation one might expect after the passing of a close friend. Paisley was personal, powerful, and profound. One would be hard pressed to find an expression of love for George Jones that was more intimate than Brad Paisley's.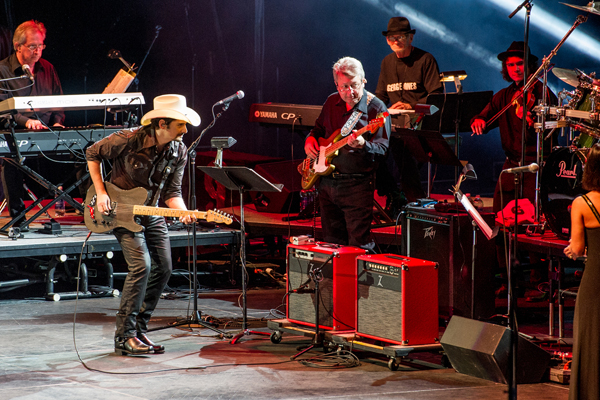 3. Big and Rich
Although the concert was a tribute to George Jones, it was not his funeral. The event alternated between heartfelt odes to George's memory and laughs about some of his more ridiculous antics. With that in mind, it felt totally appropriate for the night to begin with infamous country duo Big and Rich riding on to the stage on a pair of green lawnmowers. This was a clear reference to Jones' habit of riding his green John Deere lawn mower down to the liquor store when his wife hid his keys due to fear of him driving drunk. By the way, this happened to George with more than one of his wives.
Big and Rich played their George Jones cover, "Love Bug", exactly how he would have liked it: loud, fast, and fun. The pair immediately got the audience engaged and did a stellar job at setting things off on the correct foot. Furthermore, the cover itself was pretty decent, and definitely paid tribute to the musical and lyrical ideologies behind the song.
2. Vince Gill
If you've spent any time around Nashville, chances are you've heard Vince Gill's name mentioned in a hushed tone of reverence. The country songwriter, who first became famous back in the 1970's, is considered somewhat of a legend around here. Some musicians are famous due to their personalities, connections, or a lucky break, but others have built a reputation based on solid playing and versatility. Vince Gill most certainly falls into that second category, and his tribute to George Jones displayed just that.
Gill chose to cover "Bartender's Blues", a particularly fitting tune that deals with the hardships of seeing other folks slip up around you and the importance of finding a place a of grounding in your life. For many folks, including Vince Gill, George Jones was a source of grounding, and a voice of sanity and clarity when none other could be found. George Jones had a way of telling hard truths, and Vince Gill masterfully replicated that in his killer performance.
1. Megadeth
Okay, okay. The other entries in this list have something to do with the musician reflecting the life of George Jones or giving a jaw dropping performance, but that's not why Megadeth is making an appearance. Instead, Megadeth earned their number one spot on this list for merely showing up. On a night largely dominated by country, this four piece metal act was certainly the odd ball out. What's more, Megadeth didn't even play metal; Dave Mustaine and his compadres instead broke into a traditional cover of "Wild Irish Rose". It was definitely unexpected, but here's the thing: they totally nailed it.
It really took guts for Megadeth to leave their home genre and play a country cover in front of a sold out arena and hundreds of country music's top artists. This could have gone horribly wrong, and the band was visibly relieved with their warm crowd response. Despite being the unexpected but profound influence of George Jones on Megadeth, there's no denying this was a huge risk for the band. However, these are exactly the kind of huge risks that crafted George Jones into the legend he is today. These types of dire, hit or miss situations prompt some people to cower and hide, but others to step up and become the heroes we want them to be. George Jones was always the first to step up, and Megadeth proudly followed in that tradition.   (photo credit of Paisley and Megadeth:  Amy N. Harris)