GREENSKY BLUEGRASS SUMMER TOUR 2023
BLUESFEST IN AUSTRALIA AND CAMP GREENSKY ICELAND, TELLURIDE BLUEGRASS FESTIVAL, 4848 FESTIVAL, RED ROCKS, AND MORE!
For tickers and all up-to-date news, visit greenskybluegrass.com.
Greensky Bluegrass is known for its thoughtful lyricism, edgy and genre-expansive sound, dazzling live performances, and relentless touring schedule. 
However, that is only the tip of the complex tale of the five musicians that make up Greensky Bluegrass: Anders Beck [dobro], Michael Arlen Bont [banjo], Dave Bruzza [guitar], Mike Devol [upright bass], and Paul Hoffman [Mandolin]. The five are connected through a deep bond, just as they are seasoned road warriors, they're a band of brothers who have seen each other through decades of ups and downs, personal and collective highlights, and the moments when life turns it all upside down.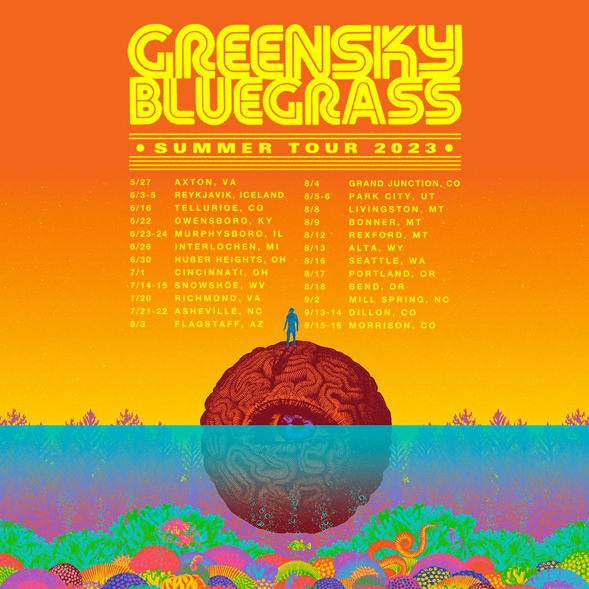 For the past century, bluegrass music has traditionally relayed real tales of American life, struggle, tragedy, and triumph. It gives a voice to the quiet, yet colorful stories woven into the fabric of the country. Greensky Bluegrass live these stories through their records and performances. 
"Greensky is and always has been unique in our world," says Paul Hoffman. "We put our love, energy, and focus into what we appreciate about our music. We come together as a band in a way that's organic. We take great pride in how we grow and challenge each other too. We're maturing together. I think we get more Greensky all of the time."
GREENSKY BLUEGRASS ON TOUR
Mar 31 @ WinterWondergrass Tahoe | North Lake Tahoe, CA
Apr 06 @ Bluesfest | Tyagarah, Australia
Apr 07 @ Bluesfest | Tyagarah, Australia
Apr-08 @ Bluesfest | Tyagarah, Australia
Apr-09 @ Bluesfest | Tyagarah, Australia
Apr-29 @ Whiskey Off-Road Community Concert | Prescott, AZ
May-27 @ Rooster Walk Music & Arts Festival | Axton, VA
Jun-03 @ Eldborg Concert Hall, Harpa | Reykjavik, Iceland
Jun-04 @ Eldborg Concert Hall, Harpa | Reykjavik, Iceland
Jun-05 @ Eldborg Concert Hall, Harpa | Reykjavik, Iceland
Jun-16 @ Telluride Bluegrass Festival | Telluride, CO
Jun-22 @ Romp Festival | Owensboro, KY
Jun-23 @ Weekend at the Cave | Murphysboro, IL
Jun-24 @ Weekend at the Cave | Murphysboro, IL
Jun-26 @ Kresge Auditorium | Interlochen, MI
Jun-30 @ Rose Music Center | Huber Heights, OH
Jul-01 @ Andrew J Brady Music Center | Cincinnati, OH
Jul-14 @ 4848 Festival | Snowshoe, WV
Jul-15 @ 4848 Festival | Snowshoe, WV
Jul-20 @ Music at Maymont | Richmond, VA
Jul-21 @ Salvage Station | Asheville, NC*
Jul-22 @ Salvage Station | Asheville, NC*
Aug-03 @ Pepsi Amphitheater | Flagstaff, AZ
Aug-04 @ The Amp at LC Park | Grand Junction, CO
Aug-05 @ Deer Valley Concert Series | Park City, UT
Aug-06 @ Deer Valley Concert Series | Park City, UT
Aug-08 @ Pine Creek Lodge | Livingston, MT
Aug-09 @ Kettlehouse Amphitheater | Bonner, MT
Aug-12 @ Abeyance Bay | Rexford, MT
Aug-13 @ Grand Targhee Bluegrass Festival | Alta, WY
Aug-16 @ Marymoor Live | Seattle, WA
Aug-17 @ PDX Live | Portland, OR
Aug-18 @ Hayden Homes Amphitheater | Bend, OR
Sep-02 @ Earl Scruggs Music Festival | Mill Spring, NC
Sep-13 @ Dillon Amphitheater | Dillon, CO
Sep-14 @ Dillon Amphitheater | Dillon, CO
Sep-15 @ Red Rocks | Morrison, CO
Sep 16 @ Red Rocks | Morrison, CO
Oct 08 @ Riverfront Revival | Charleston, SC  
* w/ Big Something