Help Dave Matthews fight hunger
FIGHT HUNGER & SUPPORT LOCAL AGRICULTURE WITH
DAVE MATTHEWS BAND 
PERFORMING AT KLIPSCH MUSIC CENTER  
FRIDAY JUNE 20 & SATURDAY JUNE 21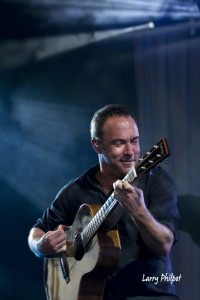 INDIANAPOLIS – Dave Matthews Band will return to Indianapolis for his 36th and 37th shows at Klipsch Music Center on June 20 and 21. Both nights will feature TWO sets from the band as well as a food drive to provide local, GMO-free produce to multiple food banks in the Indianapolis area.
•    Fans are encouraged to bring non-perishable food items (peanut butter, soup, pasta, baby food, canned tuna, rice, pasta sauce)
•    Donations will be collected outside the main gate.
•    Fans can attend the on-site Eco-Village to learn more about DMB's efforts to prevent hunger and support sustainable agriculture through the Farm-to-Family program.
•    The food drive is part of DMB's BamaGreen Project, a partnership with environmental non-profit REVERB, making DMB tours more sustainable since 2005. 
The band has been making stops at the Indianapolis amphitheater since 1996. During "A Very Special Evening with Dave Matthews Band," audience members can expect to see the band wind through numerous configurations – from electric to acoustic, from full-throttle numbers featuring the entire band to more intimate moments featuring small groups of band members – including a stripped-down pairing of Matthews with guitarist Tim Reynolds performing as an acoustic duo as they occasionally do when the band is off the road. 
In 2013, Rolling Stone put Dave Matthews Band on its list of the "50 Greatest Live Acts Right Now," observing, "Two decades in, DMB still know how to surprise their fans." The group's 2014 North American summer tour may be its most surprising yet.
Dave Matthews Band has sold a collective 37 million CDs and DVDs combined. The group has teamed up again with Rob Cavallo, who produced 2009's Big Whiskey and the GrooGrux King, to record a new album that will be released later this year. With Away From The World entering the Billboard 200 at No. 1 in 2012, Dave Matthews Band became the first group in chart history to have six consecutive studio albums debut atop the chart. The band ranked as the biggest ticket seller worldwide of the past decade and has sold over 19 million tickets since its inception.