Horse and Chariot EP 'Big Treble' Ready For Release After 30 Years

Horse and Chariot: Debut EP 30 Years in the Making
So let's think on this for a minute. Horse and Chariot is the name of a San Francisco band whose founder goes by the name of Mr. Immortal. It's taken 30 years for him to put out his music and though he says he has thousands of songs, his debut EP gives you only a taste of three. Oh, and he has no desire to tour or perform live. Mr. Immortal is a gardener by trade and his music uses very low guitar tunings based on the Fibonacci ratio. That is a ratio that occurs in the structures of plants.
At the very least, it makes for good copy.
Moon-feather Immortal drops his EP titled Big Treble on Friday, March 24th, and has released "Goin' Back Home" in advance of the release. Big bass, big sound, the song pulls out some classic rock roots, Molly Hatchett comes to mind, and delivers on it nicely.
The second song on the EP, "Live To Ride" begins with a little Zappa-ish intro then moves towards a more structured rocker. Lyrically, it's basic biker rock but stands up strong in the genre.
The title song "Big Treble," is at times, a fast and fiery instrumental in the Trans-Siberian Orchestra mode. There's a lot going on but when you take the pieces apart, it's quite compelling.
According to Mr. Immortal, "My greatest asset in this world is a large box full of cassettes that contain thousands of songs I've recorded over the years." It would be interesting to know why he only released three and why those three made the cut.
What's the old saying," It is a riddle, wrapped in a mystery, inside an enigma." Indeed.
Post by Kath Galasso @KatsTheory
Horse & Chariot on Bandcamp
Band Members: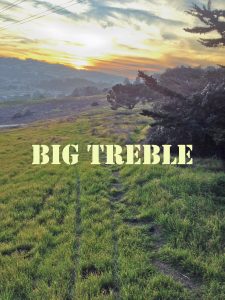 Michael Papenburg – Lead Guitar
Sim Cain – Drums
Moon-feather Immortal – Vox, Bass, Guitar
Track Listing:
Goin' Back Home, Minor Reprise
Live To Ride
Big Treble