JACKSON BROWNE ANNOUNCES 2023 SUNNER TOUR
MONDAY, JUNE 19, 2023
——————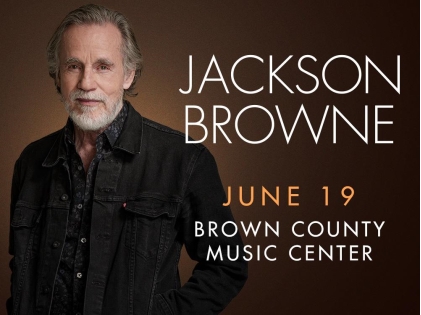 Tickets on sale this Friday, March 24 at 10 a.m.
BROWN COUNTY MUSIC CENTER
NASHVILLE, INDIANA
Nashville, Ind. (March 20, 2023) – Singer-songwriter Jackson Browne announces a 2023 summer tour with dates running from June through early August, performing songs spanning his entire career. The tour will include a stop at the Brown County Music Center in Nashville, Ind., on Monday, June 19, 2023.
Tickets go on sale this Friday, March 24 at 10 a.m. and will be available at www.browncountymusiccenter.com, www.ticketmaster.com, and at the venue box office (open Wednesdays through Fridays from 10 a.m. to 5 p.m. via outdoor ticketing windows and phone sales at (812) 988-5323). The box office is now cashless, and accepts debit and credit cards including Visa, Mastercard, Discover and American Express. Any box office related inquiries beyond purchasing tickets for an upcoming show should be directed to boxoffice@browncountymusiccenter.com.
Presale, Fan and VIP ticket information is available at jacksonbrowne.com.
Jackson Browne has written and performed some of the most literate and moving songs in popular music and has defined a genre of songwriting charged with honesty, emotion and personal politics. He was inducted into the Rock and Roll Hall of Fame in 2004 and the Songwriters Hall of Fame in 2007. Except for a brief period in NYC in the late 1960s, Jackson has always lived in Southern California. His debut album came out on David Geffen's Asylum Records in 1972. Since then, he has released fourteen studio albums, four collections of live performances, two "best of" compilations, two DVDs and several single recordings. Jackson's newest studio album, "Downhill From Everywhere" was released in July 2021 and GRAMMY nominated for Best Americana Album.
Browne is known for his advocacy on behalf of the environment, human rights, and arts education. He's a co-founder of the groups Musicians United for Safe Energy (MUSE) and Nukefree.org and a member of the Ocean advocacy group, Ocean Elders. In 2002, he was the fourth recipient of the John Steinbeck Award, given to artists whose works exemplify the environmental and social values that were essential to the great California-born author. He has received Duke University's LEAF award for Lifetime Environmental Achievement in the Fine Arts, and both the Chapin-World Hunger Year and NARM Harry Chapin Humanitarian Awards. In 2004, Jackson was given an honorary Doctorate of Music by Occidental College in Los Angeles, for "a remarkable musical career that has successfully combined an intensely personal artistry with a broader vision of social justice."
About the Brown County Music Center: Nestled on the banks of Salt Creek and located less than one mile from the largest state park in Indiana and the Town of Nashville, the Brown County Music Center is a visual and auditory masterpiece. Since its opening in August 2019, the 2,000-seat live performance venue has hosted artists spanning world-class rock, blues, country, pop, jazz, oldies, throwback artists, and more, offering an incredibly intimate experience for each show with the farthest seat from the stage only 106 feet away. Nationally renowned performers have included Vince Gill, Tanya Tucker, The Beach Boys, Jason Bonham, Graham Nash, Old Crow Medicine Show, The Reverend Peyton's Big Damn Band, Ben Folds, Emmylou Harris, Jamey Johnson, America, Pat Benatar and Neil Giraldo, Gladys Knight, Air Supply, YES, Sara Evans and many more. Please check www.browncountymusiccenter.com for the latest show updates and follow us on social media: Facebook | Instagram | Twitter About Brown County, Ind.: No matter what you're looking for, escape comes naturally in Brown County. Eclectic boutiques and galleries, breathtaking scenery, welcoming accommodations, and endless outdoor adventures await in one of America's original artists' colonies. From art to the great outdoors, there's something for everyone to enjoy, and for most, it's only a short drive away. Unplug from daily life and reconnect with one another as you experience the rustic beauty and artisanal charm of Brown County. Brown County is a place for many diverse tastes and interests. Plan your escape today