John Lennon and The Number 9
Mysteries related to the Beatles and John Lennon's use of the number 9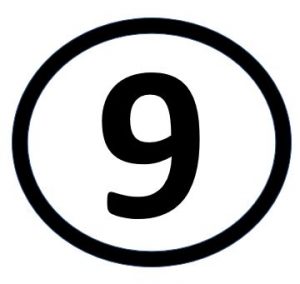 Before discovering numerology, John Lennon had been aware of the strong presence of the number 9 in his life but hindsight allows an examination into the odd ways it intersected The Beatles music, his life and his death.
"Revolution 9 was an unconscious picture of what I actually think will happen when it happens; just like a drawing of a revolution. All the thing was made with loops. I had about 30 loops going, fed them onto one basic track. I was getting classical tapes, going upstairs and chopping them up, making it backwards and things like that, to get the sound effects. One thing was an engineer's testing voice saying, 'This is EMI test series number nine'. I just cut up whatever he said and I'd number nine it. Nine turned out to be my birthday and my lucky number and everything. I didn't realize it: it was just so funny the voice saying, 'number nine'; it was like a joke, bringing number nine into it all the time, that's all it was."
John Lennon
Rolling Stone, 1970
Lennon was born on Wednesday October 9, 1940 at 6:30 PM in Liverpool, England.
The first home he lived in was at 9 Newcastle Road, Wavertree, Liverpool. Newcastle Road was his grandfather's house, and while living there Lennon later wrote One After 909.
"I lived in 9 Newcastle Road. I was born on the ninth of October. It's just a number that follows me around, but, numerologically, apparently, I'm a number six or three or something, but it's all part of nine."
John Lennon, 1980
All We Are Saying, David Sheff
Numerous events in his life took place on the 9th:
The Beatles played for the first time at the Cavern Club on February 9
Brian Epstein saw the Beatles perform for the first time on November 9
The Beatles played in the south of England for the first time on December 9
The Beatles' record contract with EMI was secured on May 9, 1962
The Ed Sullivan Show showcased The Beatles for the first time on February 9, 1964 and drew what was at the time the largest audience in the history of American television. Crime in America dropped noticeably that night, especially juvenile offenses.
They toured the United States three times: in the summers of 1964, 1965 and 1966.
John first met Yoko Ono on November 9, 1966
John and Yoko's son Sean was born on October 9, 1975
John's song #9 Dream peaked at number 9 on the billboard charts.
Lennon felt the number 9 was quite significant. He was happy that, after he changed his name to John Ono Lennon, his and Yoko's names collectively contained 9 O's
On the day he died, John Lennon had a photo shoot for Rolling Stone magazine in his apartment. John stripped naked and laid next to Yoko for some of the pictures, one of which was used for the January 1981 cover.
John was rushed to Roosevelt Hospital – on 9th Avenue (Roosevelt also has nine letters, as does Manhattan) where he was pronounced dead at 11:07 pm.
In 2006 during a retrospective issue, Rolling Stone described the picture by saying: "To our stricken eyes, this is a photo of a man saying goodbye to his beloved. John stripped his clothes off and clung to Yoko's side. Yoko, fully clothed, stared sadly off to one side, as if she were already missing him. He is already a ghost. Naked, bony, curled next to his wife he sometimes called Mother, he whispers reassurances from the Other Side as she gazes past him. Is it all a dream? He seems to weigh nothing. Her body doesn't register his presence. What is this picture saying to us? I am gone, you are dreaming me."