Leaders In The Clubhouse Debut Album "Won" Reviewed
Late last year, Spud Davenport and Charlie Recksieck got together in San Diego and started creating fun music filled with satire and written with a "jaundiced eye." It resulted in the formation of a band called Leaders In The Clubhouse (LITC) and a debut album titled Won.
Let's just say their music is a little quirky. At times, you could almost imagine a Seinfeld episode coming out of their song lyrics, but don't get the impression that they are about "nothing." Actually Won is about a lot of things, many which are extremely relatable: sex, technology, long-distance romance, getting along with your fellow man, and oh yeah, the end of the world.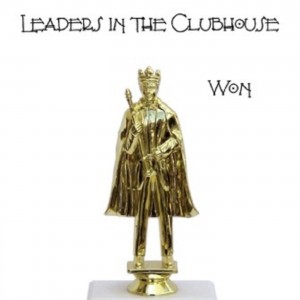 The opening track, "She Gets Loud," could easily feature Jerry and George having a conversation about their latest booty call and her flair for waking up the neighbors. As an opening track it gets your attention and makes you wonder what the hell kind of a ride is this going to be.
"These Goddamn Devices" is an anthem to our reliance on electronics and technology in general.  It's a love/hate relationship we all endure and "Devices" captures our feelings perfectly. Imagine Kramer using a smart phone for the first time.
"Law Of The Jungle" depicts another sentiment most of us have had from time to time, survival of the fittest, or why can't we get rid of all these morons?  I'll throw in a Newman episode right here, with his "postal" view of the world. LITC see their music as "Fun, chordy rock," and "Law Of The Jungle" is where you start to feel it. The melody is catchy with a nice beat and yeah, it's fun.
"Trophies" is a look at how society demands that we are all winners. It's about how we set up kids to fail because whether you win or lose, you are handed a trophy. Why the reward for losing, how does that prepare you for life, or make you a better human being?  Picture Elaine and Jerry at the soccer game of one of their friends' kids.
For me, "Museums" is the most interesting song on the album. With a Gerry Rafferty feel in words and music, the song offers a look at a West Coast-East Coast relationship where distance is little more than an excuse.  An easy drum beat and subtle guitar artfully blend the words and music.
The only song on the album not written by Davenport or Recksieck is a cover of Harry Nilsson's "Old Forgotten Soldiers." Their version is a little more upbeat, a little more ragtime. It's an interesting choice for their debut album.
The album ends with a look at the end of the world and how we would react to it. Run for the hills and hope for the best, or grab a beer and watch it all go down. Chances are it wouldn't matter so why get stuck on the highway with 6 million strangers experiencing fear and road rage. The song has a great chorus and some nice horns to finish off the album and take us out of this world. Kind of like the band playing while the Titanic sank.
Should you expect to see Leaders In The Clubhouse accepting a Grammy next year? Probably not, but don't hold that against them, hold it against the Grammys. Won is a lively, interesting record of common thoughts put to some well-done music. LITC say they've been described as Warren Zevon joining Weezer." You might also add a touch of Barenaked Ladies to that as well. While the lyrics are what will get you interested, the layers of sounds offer a nice ride for them to relax on.
While the album isn't for everyone, if your interest is peaked enough to sample, don't stop at one or two. There is some diversity among the tunes and the one that hits you may be a little farther down the track list. It's an album that demands you listen not merely hear, and worth your while to do so.
Leaders In The Clubhouse Website
Review by Kath Galasso @KatsTheory
Track Listing:
She Gets Loud
These Goddamn Devices
Hater
Law Of The Jungle
21/8 Bar Song
Trophies
Museums
Awkward Town
Old Forgotten Soldier
LawnChairs