Led Zeppelin – Isolated Tracks -"Ramble On"-Bonzo
John "Bonzo" Bonham set a standard for rock drumming that still resonates today.
ISOLATED TRACKS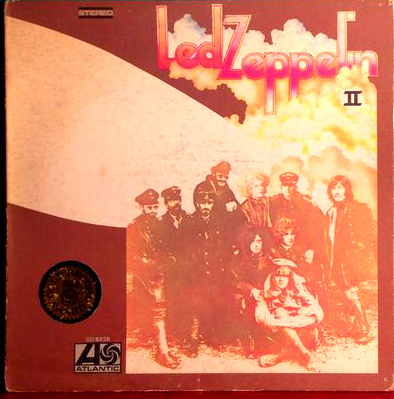 Isolating tracks allows listeners to hear a familiar piece of music in an entirely new way. The wealth of isolated Led Zeppelin material online is unreal – especially since so much of it focuses on the genius of John " Bonzo" Bonham. A lot of the isolated tracks online started popping up with the advent of the Guitar Hero video game because it required individual vocal and instrumental tracks from original recordings to function.
"Ramble On"is from the 1969 album Led Zeppelin II, and in their trademark style, Led Zeppelin explores a wide and dynamic range within a single song. At the time, there wasn't anyone playing drums like John Bonham. The Who's, Keith Moon, was the most frantic drummer of the time, but Bonham was clearly the most powerful.
Bonzo's signature style relied on booming, thunderous claps from his snare drums and working the bass to replicate the rumbling sounds of charging buffalo. However, in "Ramble On," Bonham illustrates that he's not just about big, forceful, power beats by using his bare hands to tap out those 16th notes on an empty guitar case. Bonham combined his behind-the-beat approach with the magical tone he got from his Ludwig tubs to claim his place as one the greatest drummers of all time. Though it was never released as a single, "Ramble On" was ranked #444 on Rolling Stone's list of the 500 Greatest Songs of All Time.
BackStory:
John "Bonzo" Bonham was the eldest of three children by his parents Joan Isobel Sargent and John Henry Bonham.
According to John's parents, his enthusiasm for drumming was evident when he was still a small child of five. He would transform handy household objects laying around into percussion instruments. These included bath salt containers, pots, and pans from the kitchen and a coffee tin which he would beat with knives and forks as a substitute for drumsticks. At the age of ten, his mother bought him his first piece of drumming equipment: a snare drum. Purchasing a drum kit for a teenager can be an alarming decision for any parent to make, but John's parents believed their young son had talent . John received his first full drum kit at 15. He later recalled: "It was almost prehistoric… Most of it was rust."
Influences
John Bonham struck up a friendship with a fellow drummer who lived nearby named Garry Allcock. Garry was a few years older than John and had already played with orchestras and was into jazz. John made his first acquaintance with Garry by turning up outside his house and introducing himself. " Allcock recalls: "I never gave him lessons as such – I didn't teach him at all – but we'd sit in the front room with sticks and a practice pad and I'd show him a few things. It was just a case of: do you know this one? I remember him playing on one of my snare drums and me saying, 'For Christ-sakes, John, take it steady!' I thought he was going to knock it through the floorboards. He certainly hit hard."
According to John's brother Michael, John found inspiration when he watched the 1956 biopic film, 'The Benny Goodman Story' which starred Gene Krupa, the swing-era master, playing the drums. Michael recalled that "John went to see the film with his dad" and that for John, "Gene Krupa was a god." John also liked the scene in another Gene Krupa movie 'Beat the Band' (1946), where he plays with the sticks on boiler-room steam pipes.
John was an ardent listener of music on the radio and records. Amongst John's favorite British groups were: Johnny Kidd & The Pirates, The Hollies and The Graham Bond Organization with one of his drum idols Ginger Baker on drums. He was also a listener of American Jazz with drummers such as Buddy Rich, Art Blakey, Max Roach and Louis Bellson.
Led Zeppelin
John met Robert Plant in late 1965 when he joined The Crawling King Snakes (Robert sang lead vocals) in between his two spells of playing with A Way of Life. Meanwhile, Jimmy Page was playing lead guitar with the successful group The Yardbirds which he joined in 1966. John was recruited in 1968 to play drums for Led Zeppelin by then manager, Peter Grant.
On September 24, 1980, John was picked up by a Led Zeppelin assistant that took him to breakfast, where he allegedly downed 16 shots of vodka. After rehearsal, the band slept at Jimmy Page's house. The next morning, John Bonham was dead of alcohol intoxication, after choking on his own vomit. His death resulted in the split of the band. Jimmy Page, Robert Plant and John Paul Jones,  have all stated many times, Led Zeppelin wouldn't have been half as good without Bonzo.