Lord Sonny the Unifier Releases "The Starman," New Single/Video
In advance of their upcoming debut album Final Notice, Lord Sonny the Unifier has released their new single, along with a video that will make you think about the world we live in.
The Brooklyn-based band features Greg Jiritano on guitar and vocals, Tyler Wood (keys, percussions, backing vocals), Derek Nievergelt on bass, Carmine Covelli (drums, percussion, backing vocals), and Amy Gordon (backing vocals). Jiritano, the founder of the band has weathered a good amount of adversity to get to his first album release, including losing his recording studio to a fire. Determination kept the goal in focus and it looks like Final Notice will soon get its overdue notice paid in full.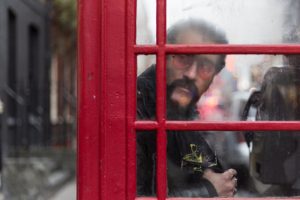 The new single and accompanying video is for a song titled "The Starman." Have you ever looked at the world today and thought that if extra-terrestrial beings were watching life on Earth they might never want to make contact with us? Well, that's the premise of "The Starman." The band describes the narrative this way. "Throughout history mysterious people have appeared to come from places beyond the scope and consciousness of this earth. They are the prodigies, prophets and mystery men and woman of the future, advising people with cautionary tales, directions that need to be sought, paths that need to be taken or even redirected towards a higher way. They are the ones bringing new technological or scientific advances that far out shine those before them.  Of course there are some who are misunderstood and shunned from society as well as those who come but their gifts do not reach fruition for various reasons. This is a video of one such Starman who came and was too overwhelmed with the realities of the human experience in 2019 to begin to cultivate any changes. He came and he saw the madness around him and left."
The concept makes for a bit of a chilling feeling and not a stretch of imagination at all. The video was directed by BD Pironti, and follows the Starman's journey from arrival and through rural locations to finally ending up in Times Square. Doom in neon lights.
The song itself is a little vintage psych rock mixed with some metal guitar and prog influenced backing vocals. "The Starman" stands on its own merit without the video, but getting the concept on film is a great enhancement.
Post by Kath Galasso @KatsTheory
Lord Sonny the Unifier website
Lord Sonny the Unifier facebook
Lord Sonny the Unifier on Soundcloud