LYLE LOVETTE AND HIS LARGE BAND LIVE at BROWN COUNTY MUSIC CENTER
ON SALE DETAILS FOE NEW SHOW JUST ANNOUNCED
LYLE LOVETTE AND HIS LARGE BAND CONFIRM SUMMER TOUR DATES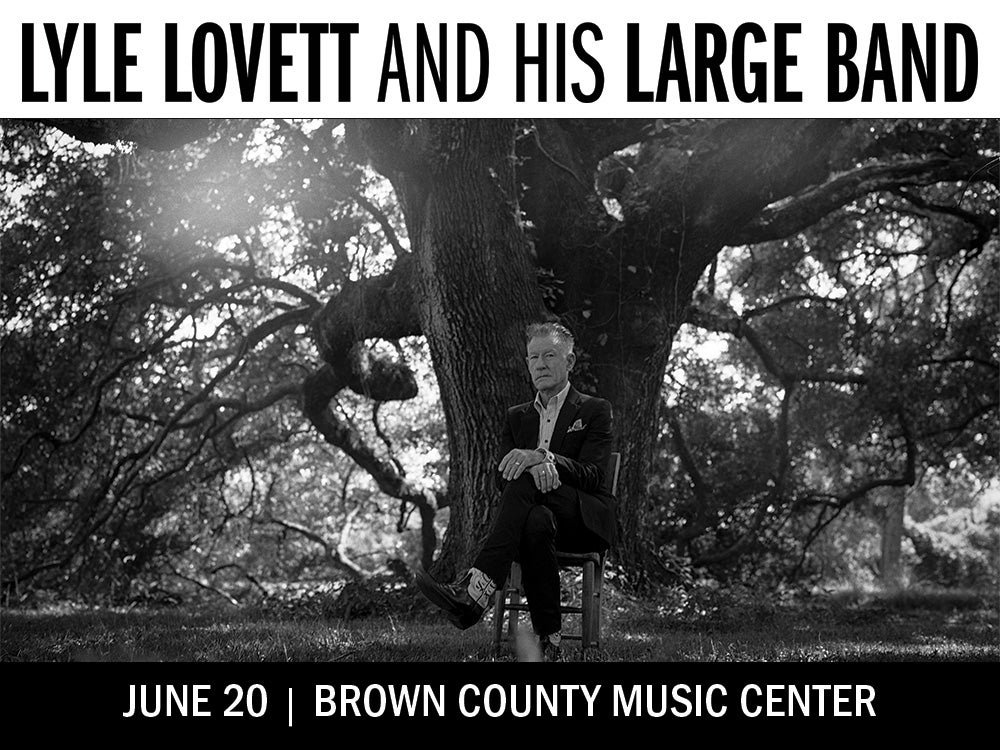 TUESDAY JUNE 20, 2023
——————
BROWN COUNTY MUSIC CENTER
NASHVILLE, INDIANA
Tickets on sale this Friday, April 7 at 10 a.m.
Nashville, Ind. (April 3, 2023) – Four-time Grammy-winning singer, composer and actor Lyle Lovett confirms new nationwide summer tour dates with his renowned Large Band, including a stop at the Brown County Music Center in Nashville, Ind., on Tuesday, June 20, 2023. An Evening with Lyle Lovett and his Large Band will feature an arrangement of Lovett standards, as well as songs from his critically acclaimed album 12th of June. Watch the band perform on PBS' "Austin City Limits" last fall.
Tickets go on sale this Friday, April 7 at 10 a.m. and will be available at www.browncountymusiccenter.com, www.ticketmaster.com, and at the venue box office (open Wednesdays through Fridays from 10 a.m. to 5 p.m. via outdoor ticketing windows and phone sales at (812) 988-5323).
The box office is now cashless, and accepts debit and credit cards including Visa, Mastercard, Discover and American Express. Any box office related inquiries beyond purchasing tickets for an upcoming show should be directed to boxoffice@browncountymusiccenter.com
12th of June was released last year on Verve Records Produced by Chuck Ainlay and Lovett, the album features a mix of new originals, standards by Nat King Cole and Dave Frishberg, and a Horace Silver instrumental, representing Lovett's dynamic live performances with his Large Band. Coupled with his gift for storytelling, the new album continues to highlight Lovett's ability to fuse elements of jazz, country, western swing, folk, gospel and blues in a convention-defying manner that breaks down barriers. Of the album, The Wall Street Journal hails, "Few artists can bring all of these moods and sounds into one place and put a personal stamp on them all; Lyle Lovett does that."
Lyle Lovett has broadened the definition of American music in a career that spans 14 albums. Whether touring with his Acoustic Group or his Large Band, Lovett's live performances show not only the breadth of this Texas legend's deep talents, but also the diversity of his influences, making him one of the most compelling and captivating musicians in popular music. Since his self-titled debut in 1986, Lovett has evolved into one of music's most vibrant and iconic performers. Among his many accolades, besides four Grammy Awards, he was given the Americana Music Association's inaugural Trailblazer Award, was named Texas State Musician and is a member of both the Texas Heritage Songwriters' Association Hall of Fame and the Texas Cowboy Hall of Fame.
About the Brown County Music Center: Nestled on the banks of Salt Creek and located less than one mile from the largest state park in Indiana and the Town of Nashville, the Brown County Music Center is a visual and auditory masterpiece. Since its opening in August 2019, the 2,000-seat live performance venue has hosted artists spanning world-class rock, blues, country, pop, jazz, oldies, throwback artists, and more, offering an incredibly intimate experience for each show with the farthest seat from the stage only 106 feet away. Nationally renowned performers have included Vince Gill, Tanya Tucker, The Beach Boys, Jason Bonham, Graham Nash, Old Crow Medicine Show, The Reverend Peyton's Big Damn Band, Ben Folds, Emmylou Harris, Jamey Johnson, America, Pat Benatar and Neil Giraldo, Gladys Knight, Air Supply, YES, Sara Evans and many more.
Please check www.browncountymusiccenter.com for the latest show updates and follow us on social media: Facebook | Instagram
About Brown County, Ind.: No matter what you're looking for, escape comes naturally in Brown County. Eclectic boutiques and galleries, breathtaking scenery, welcoming accommodations, and endless outdoor adventures await in one of America's original artists' colonies. From art to the great outdoors, there's something for everyone to enjoy, and for most, it's only a short drive away. Unplug from daily life and reconnect with one another as you experience the rustic beauty and artisanal charm of Brown County. Brown County is a place for many diverse tastes and interests. Plan your escape today! You'll be glad you did.