MARTY STUART AND HIS FABULOUS SUPERLATIVES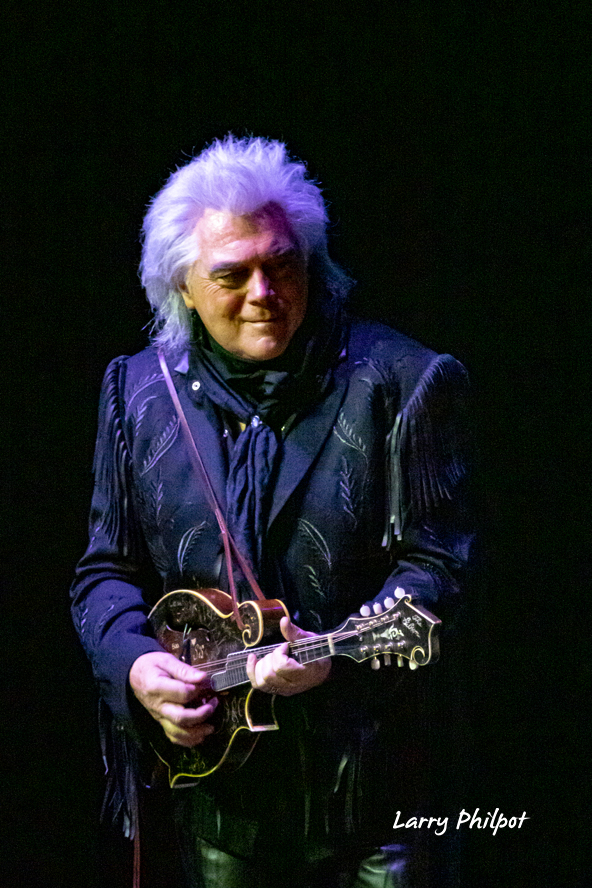 SATURDAY, JUNE 3, 2023
——————
BROWN COUNTY MUSIC CENTER
NASHVILLE, INDIANA
Tickets on sale this Friday, March 24 at 11 a.m.
Nashville, Ind. (March 21, 2023) – Country Music Hall of Famer, five-time Grammy-winner, and AMA Lifetime Achievement honoree Marty Stuart and His Fabulous Superlatives will be live in concert at the Brown County Music Center in Nashville, Ind., on Saturday, June 3, 2023.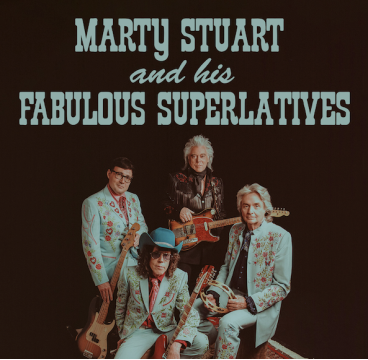 Tickets go on sale this Friday, March 24 at 11 a.m. and will be available at www.browncountymusiccenter.com, www.ticketmaster.com, and at the venue box office (open Wednesdays through Fridays from 10 a.m. to 5 p.m. via outdoor ticketing windows and phone sales at (812) 988-5323). The box office is now cashless, and accepts debit and credit cards including Visa, Mastercard, Discover and American Express. Any box office related inquiries beyond purchasing tickets for an upcoming show should be directed to boxoffice@browncountymusiccenter.com.
Marty Stuart picks up where he left off on Altitude, his first new album in five years, exploring a cosmic country landscape populated by dreamers and drifters, misfits and angels, honky-tonk heroes and lonesome lovers. There's a desert flare to the music here, a sweeping, spacious feel that conjures up wide-open horizons and endless stretches of two-lane highway, and the production is raw and cinematic to match, tipping its cap both to Bakersfield and Laurel Canyon as it balances jangle and twang in equal measure. While it would be easy for an artist as accomplished as Stuart to rest on his laurels, Altitude instead showcases the work of a searcher with an insatiable appetite for growth and reflection, one whose ambition, much like his keen wit and rich imagination, only seems to grow with each and every release.
Born and raised in Philadelphia, Miss., Stuart got his start in bluegrass legend Lester Flatts' band at the tender age of 13, and by 21, he was working in the studio and on the road with Johnny Cash. Though Stuart built his early reputation backing up royalty, it wasn't long before Nashville recognized him as a star in his own right, and over the course of more than 40 years as a solo artist, he would go on to release more than 20 major label albums, scoring platinum sales, hit singles, and just about every honor the industry could bestow along the way.
About the Brown County Music Center: Nestled on the banks of Salt Creek and located less than one mile from the largest state park in Indiana and the Town of Nashville, the Brown County Music Center is a visual and auditory masterpiece. Since its opening in August 2019, the 2,000-seat live performance venue has hosted artists spanning world-class rock, blues, country, pop, jazz, oldies, throwback artists, and more, offering an incredibly intimate experience for each show with the farthest seat from the stage only 106 feet away. Nationally renowned performers have included Vince Gill, Tanya Tucker, The Beach Boys, Jason Bonham, Graham Nash, Old Crow Medicine Show, The Reverend Peyton's Big Damn Band, Ben Folds, Emmylou Harris, Jamey Johnson, America, Pat Benatar and Neil Giraldo, Gladys Knight, Air Supply, YES, Sara Evans and many more. Please check www.browncountymusiccenter.com for the latest show updates and follow us on social media: Facebook | Instagram | Twitter
About Brown County, Ind.: No matter what you're looking for, escape comes naturally in Brown County. Eclectic boutiques and galleries, breathtaking scenery, welcoming accommodations, and endless outdoor adventures await in one of America's original artists' colonies. From art to the great outdoors, there's something for everyone to enjoy, and for most, it's only a short drive away. Unplug from daily life and reconnect with one another as you experience the rustic beauty and artisanal charm of Brown County. Brown County is a place for many diverse tastes and interests. Plan your escape today! You'll be glad you did.
###
The Brown County Music Center | 200 Maple Leaf Boulevard, Nashville IN, 47448
Visit browncountymusiccenter.com for more information.
All dates, acts and ticket prices are subject to change without notice. Ticket prices subject to applicable fees.
MEDIA CONTACT for the Brown County Music Center:
Jessica Redden @Elevate | jessica@elevate-supportservices.com