Digging Deep: Here Come The Mummies Q&A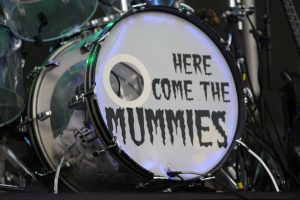 When I first found out that I had been granted an interview with the Mummies, I wasn't quite sure what to expect.  I wasn't quite sure how to prepare. I wasn't even sure what I should wear.  But mostly, I was not sure how I was going to cross the language barrier of hieroglyphics, Coptic, wall drawings and grunts.  So I gathered up a Rosetta Stone and a tablet, and the Rosetta Stone (software) and a tablet (laptop), and made my way to current tomb holding Here Come The Mummies.  Much to my surprise, it was well stocked by craft services.
There I was greeted by two mummies.  Thankfully, they also brought along a very helpful interpreter named Garrett.  But even with Garrett's help, I think some things got a little lost in translation as our conversation went on.  I thought the one mummy was trying to tell me that I was the reincarnation of Momma Cass (and quite frankly I wasn't sure how to take that as he had never heard me sing and I certainly don't think I resemble her).  But then I realized he was trying to introduce himself.  He was Mummy Cass.  The other was Midnight.



File Photo: "Here Come The Mummies" performs in Indianapolis, Indiana in 2018. Used by permission, (Photo Credit: Tommy Combs)






File Photo: "Here Come The Mummies" performs in Indianapolis, Indiana in 2018. Used by permission, (Photo Credit: Tommy Combs)






File Photo: "Here Come The Mummies" performs in Indianapolis, Indiana in 2018. Used by permission, (Photo Credit: Tommy Combs)



How did you become Mummies?

Mummy Cass: If only it had been a choice.  

Midnight: Now our foul rags have fused with the human jerky underneath and we are forever screwed. You heard me.

How did this band start (aside from it being discovered in an unknown hidden tomb buried somewhere deep beneath Vanderbilt University)?  

Mummy Cass: Baby, we got cursed by the Pharaoh for getting a little too chummy with his daughters. Now, we are cursed to walk the Earth forever. 

Midnight: But, we're kinda having a good time with that, so… 

Was it meant to be satirical at first?  Or did it start as a serious band but have trouble getting booked for gigs, etc.?  

Mummy Cass: Well, we used to play 3-4 day-long weddings and such in ancient Egypt. So, we've always taken playing seriously.  

Midnight: But we are depraved lunatics, and it kinda slips out in the lyrics sometimes.  

You mentioned playing weddings, so tell me, where/what is the most interesting gig you have ever played?

Mummy Cass: There's no doubt it's the one where we got cursed by the Pharaoh for getting too chummy with his daughters. We've been wandering the Earth ever since. 

Midnight: We had a hoot playing at Suwanee Hulaween- and our recent Colorado shows were super fun. 

Mummy Cass: We opened for Mavis Staples last year for a raucous crowd in Peoria. We've gotten to do so much cool stuff. Somebody pinch us. 

Whose idea or how did it become a band with such a large horn section? 

Mummy Cass: Three isn't really too large a horn section. Sometimes Midnight chimes in on Bari, maybe it makes it seem larger than it really is.

Midnight: We are larger than life.  

Okay, let me clarify something here, there may only be three players (actually by my count four – Ra, The Flu, The Pole and Mummy Yo, and five if you count Midnight, as he just said Midnight will play baritone sax once in while), each of those players often play more than one kind of instrument – and sometimes play two of them at the same time – so there can be two players literally playing four instruments.  And there is even a sousaphone.  Now how is that not a large horn section? 

I hear the influences of (nee I say sampling) P-Funk, Rufus, Stevie Wonder, Earth Wind & Fire, Kool & the Gang, War, Sly & the Family Stone, have I missed any?

Mummy Cass: We haven't done any sampling, but we do like all of those folks, and we pay homage often by referencing (stealing) certain things. 

Midnight: You missed Franz Shubert, who admittedly is not at the very top of the list, so you may be forgiven. 

What was your first big break? When did you finally hit mainstream?

Mummy Cass: We would be delighted to "hit the mainstream," and hit it hard. Maybe we can talk again if that happens. The Bob & Tom Show definitely went out to a lot of homes, especially over WGN in the middle of the night, and that gave us a certain boost way back in '09, but it hardly catapulted us to stardom. 

Midnight: It catapulted my love-life to stardom, so…

 I know that Bob & Tom were a big part of "putting your name out there", so who was it that actually discovered you? I'm guessing Bob, because we all now Tom runs mostly with vampires – not that you don't mix.   Or was it that rascal Dean Metcalf?  He's been known to walk with all life forms. 

Mummy Cass: We don't actually know, so that must remain forever shrouded in mystery. It is certain that they offered us a much bigger audience on a platter. 

Midnight: And for that, we're forever grateful. 

Were you ever afraid you'd be seen as just a "Halloween Band"?

Mummy Cass: Nope. We're like orange juice. Not just for breakfast anymore. 

Midnight: So, drink up!

I understand there is a new album in the works?

Mummy Cass: Well, baby, we always have new stuff in the pipeline. Our current project is gonna be all-new songs, all-live. 

Sometimes it's good to shake things up a little.  

Midnight: At the moment, we're playing "Freeway," and "Shag Carpet." Brand new, never before recorded. 

Mummy Cass: "Telescope" and "I Spy" are next.  

When will the new album be released?

Mummy Cass: We're hoping to put it out later this very year, baby.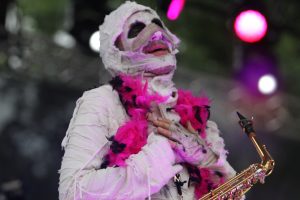 What I learned about the new album is that they are hoping to release it in October 2018.  It is actually recorded live at every show and then they will pick the best versions of each song from the entire set of recordings and that is what will be put on the album.  So while each song is live, the album was not recorded entirely at one concert.
Friday's concert at the Indiana State Fair was one of those that was being recorded live.  One thing to be said about an HCTM show is that everyone is always on their feet from the first song (My Party) to the end (Single Double Triple) and of course they always scream for an encore! Friday was no different.  The Mummies come out strong groovin' and dancin' and the crowd goes right along with them.  The fun thing about HCTM concerts are not only the lyrics of the songs, but a lot of times it's the visuals that go along with those songs.  Quite often their songs are full of double entendre and it is seeing it performed live that just makes that song even better.  Take, for example, one of the new songs we were treated to Saturday, "She Loves Dick".  Now, I am in no way going to spoil this by explaining it at all.  But you have to see it for yourself.  This is my new Mummies favorite!  We were also treated to Freeway and Flying Solo.  Great new songs from this band.  Of course, they also played what seems to be the current crowd favorites, Ra Ra Ra, Fenk Shui, Friction (visually another one of my favorites!), Pants, Attack of the Weinerman and of course the fan anthem, Freak Flag.  They ended the night with an encore of Booty.  This was the second year in a row that HCTM have played the Indiana State Fair and the second time in a little over six months that they have come through Indianapolis.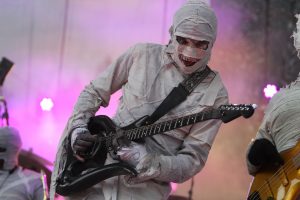 I seriously cannot talk enough about the talent of this band.  This is what I would describe as a true out and out funk band of the highest caliber.  (It is rumored that it is made up of Grammy award-winning musicians – just rumors mind you.)  Why this band has not hit "mainstream" I will never know.  They have a massive fan following.  Every show seems to be sold out wherever and whenever they play.  So why are they not more widely known?  More importantly, why do they seem to be sort of content with that?  They brand themselves as "Terrifying Funk from Beyond The Grave."  I wouldn't call it terrifying.  I would call it addictive.
Meanwhile, check them out whenever and wherever you can. No one ever leaves upset wishing they had not come.
I guess I'll have to venture back to the tombs a few more times to try to get to the bottom of this.  I did discover on this trip that at least one mummy, or perhaps more, has a penchant for brightly colored (neon) athletic shoes.  I guess that bodes well for me since I have a closet full of them.  Perhaps next time I go, I should offer them up as a gift to the mummy gods…
Photos courtesy of Kurt Anno.