Neil Diamond's "America"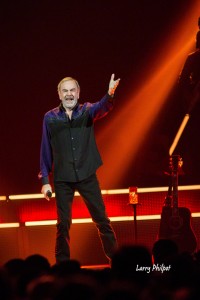 " America " came out on The Jazz Singer soundtrack in 1980 as a tribute to American Immigration. It starred Neil Diamond as a young Jewish man who must defy his father to follow his dreams of becoming a singer. Laurence Olivier and Lucie Arnaz rounded out the cast in the remake of 1927's classic The Jazz Singer with Al Jolson.
Diamond wrote "America" for the movie pulling from his experiences growing up in Brooklyn, New York, where many European immigrants had arrived. His grandparents were immigrants: on his father's side they came from Poland, and on his mother's side from Russia.
Unlike the original, the film received mostly negative reviews. Roger Ebert from the Chicago Sun-Times, awarding it one star out of four, said that the remake "has so many things wrong with it that a review threatens to become a list."
"America" was a major hit for Neil Diamond the following year, hitting Number 8 on the Hot 100 and securing its place on 4th of July playlists for years to come. The song has been used in a number of contexts, including as a theme song for Michael Dukakis' 1988 presidential campaign and in the promotion of the 1996 Olympics. Diamond also sang it at the centennial rededication of the Statue of Liberty.
Diamond announced he is retiring from touring following a diagnosis of Parkinson's disease earlier this year. He released a statement saying, "I plan to remain active in writing, recording and other projects for a long time to come," he said. "My thanks goes out to my loyal and devoted audiences around the world. You will always have my appreciation for your support and encouragement. This ride has been 'so good, so good, so good' thanks to you."