Nothing More Gives Nothing Less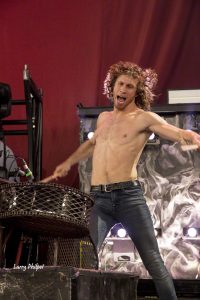 After being repeatedly screamed at to "stand the f#*k up" by the opening act, and basically being shamed for 20 minutes, I really didn't know what to expect of the following acts Friday night at Ruoff Music Center. Okay, I'll admit I'm not a metalhead, but that doesn't mean I don't appreciate a good band when I see one. (But that also means I don't need to be continuously screamed at for it to be considered "metal" or even close to good!)
So when Nothing More took the stage, I was more than pleasantly surprised when they actually started playing music. And it was a great testament to the talent of this band because they were plagued with technical problems the entire set. Not that it was noticeable to any of the number of fans who were admittedly first-time viewers, or long-time fans. Unfortunately, it's things only someone like me spots from years of viewing show after show.
I had heard really great things about the stage presence of Nothing More and the visual show that they put on during their concerts. I felt bad when I noticed that they were relegated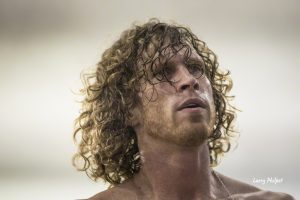 to a very small amount of stage space during their set, which I don't know was a choice by the venue or if this was how the tour had been designed all along. But it didn't damper the energy displayed by lead singer, Johnny Hawkins, although he kept losing his earpiece during the entire set. But again, neither he or the band once sounded off key, although it was very obvious he was struggling to hear himself. To be able to stay in tune when you can't hear through the earpiece and you keep requesting the monitor to be turned up, that's amazing vocals people.
The band (Mark Vollelunga on guitar, Daniel Oliver on bass, and Ben Anderson on bass) came out strong though, with Do You Really Want It, Let Them Burn, and Don't Stop. They are currently touring in support of their latest album "The Stories We Tell Ourselves" and they played Go To War and Just Say When from this album. They also played their hit Jenny, which was written about Hawkins sister and also about being in denial.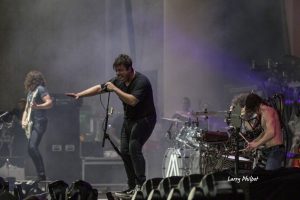 I mentioned the technical issues for a reason earlier. Now I had heard really cool stories (and seen photos) of the infamous "scorpion tail" that was built by bassist Daniel Oliver. This is a 400-pound, 14-foot tall structure made from scrap metal and salvaged auto and motorcycle parts. Maybe I misunderstood, but I thought this scorpion tail was either brought out at the beginning (so photographers can shoot it since we have a 3 song limit), or that it at least is utilized for more than one song since it is a really massive piece. Again, I don't know if it was the space limitation, time limitation, or what, but it was not "unfurled" until almost the last song and if I'm not mistaken, it was not set to it's full size. I saw it sitting on the stage the whole time and it looked rather small (I assume that is for moving purposes).  When it was finally used (which I had been waiting the whole set to see) I was kind of disappointed. I mean the sound from it was great and it still made a visually unique performance.
Overall, Nothing More put on an amazing show both visually and vocally. I loved the energy that Johnny Hawkins brings to his performance, along with his band mates. Like I said, it was too bad to see them have the issues they were having, but considering even my photographer said he didn't notice it, well there you go. That's the true talent of a band who can work right through that.  (Gallery, below)