Ol' Rattlebones release single 'My Love' ahead of new EP "Rise Chapter 1"
Hard rock grooves come alive in the capable hands of Taunton, MA-based Ol' RattleBones and their unhinged new single "My Love". The band are on a prolific creative tear as they prepare to release the first of 3 EP's, "Rise Chapter 1" on December 2nd. 
Fans will recognize the no-nonsense hard rock influence of 60's/70's bands like T. Rex and Black Sabbath coupled with Blues Rock and modern Alternative sounds. Throughout "Rise", the quartet conjure up a fiery, impassioned signature sound brimming with reverence and enthusiasm for all things rock.
Ol' Rattlebones was founded on friendship and mutual musical passion. The EP features heavy guitarwork by Whitey (Mike White) and powerhouse vocals from Chris Emond, who also wrote all the drum lines on the debut album. Currently, the band features very talented Derek Dutra on drums and Darrell Vitali on bass.
"Rise" is a group of 13 songs which was written during the height of the pandemic. It is an expression of anger, frustration, and an overall perspective of what we were all going through at the time."
Websites:
Official Website: olrattlebones.com
Facebook:https://www.facebook.com/olrattlebones/
Instagram:https://www.instagram.com/olrattlebones/
Spotify
Youtube Channel
Artist Contact Email: olrattlebones@gmail.com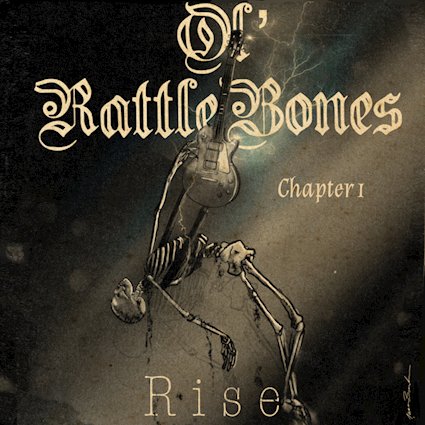 Artist Biography: 
Welcome to Ol' RattleBones! We are an all original music rock band from
Taunton Ma. Our sound will give you rock, early heavy rock/metal, blues and modern rock all mixed up in an amalgamation of all of our influences. It's wrapped around ripping guitar from Whitey (Mike White) and powerful vocals from Chris Emond who also wrote all the drum lines on the debut album now giving way to the very talented Derek Dutra on the skins and Darrell Vitali (bass) keeping it all together in rhythm section.
Ol' Rattlebones formed as a group of musician friends wanting to make original rock music to grip your soul. All members have been playing since a young age with a passion for music that has been burning for decades.
Our debut album dropped on Jun 26th! "My Love" single was released September 30th 2022 and we have one of 3 upcoming EP's dropping Dec. 2nd 2022!