Paul Lewis & Romeo Rage release new album, 'Sky's Rust'
Paul Lewis & Romeo Rage channel rocking vibrations through a chameleonic David Bowie and Prince influence, restlessly blurring the lines between the theatrical, rebellious, freaky and provocative on their unruly new album "Sky's Rust", out November 18th via award-winning alternative label Realize Records. Prolific singer/songwriter/producer Paul Lewis, the film composer behind feature films such as Days of Power, combines his eclectic vocal, guitar and keyboard writing style with technical drumming and jazz fusion-inspired John Sanders on drums to create something wholly fresh and greater than the sum of it's parts. Ultimately, this is the sound of a band at the top of their game, doing exactly what they want to do creatively, experimenting freely with the cinematic and gothic while leaving caution to the wind.
"Romeo Rage is what happens when two guys boldly blur several genres and marry West Coast riffs with East Coast edge. The result is a sort of controlled chaos that makes for a unique audio journey," comments John Sanders.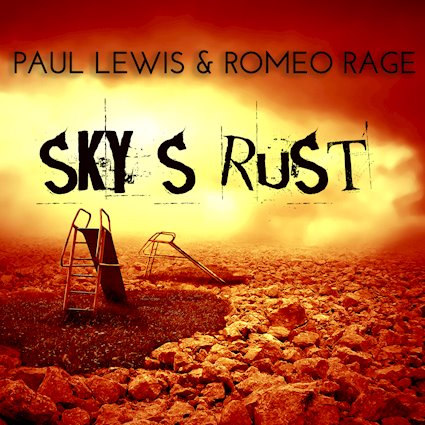 The new album comes quickly on the heels of Romeo Rage's three-song contribution to the soundtrack for the independent feature film "Dark State" which was released in AMCTheatres across the country in 2021. The songs were co-produced with Lewis and Emmy award-winning sound mixer Robert Venable.
"The pandemic shook the world and affected everything that I do, so out of that came most of these tunes. Some of them I had written and hadn't done anything with until this new idea came. I've always wanted to play edgier and darker material yet still having a pop sensibility about the tunes. I found some amazing musicians to play with and now we are ready to bring it." – Paul Lewis

On his songwriting and lyrical approach, Paul adds: "Some of the tunes have been based on dreams. Lyrically especially. Some are based on a turning point in my life where I had to decide if I was even going to start a whole new project. I had already written half of the tunes and then while scoring a film I was inspired even more and just kept writing. I'm feeling very satisfied and if success is upon creation…then I'm there."
Dark, cinematic and brimming with genuine emotion, "Sky's Rust" is a must-listen for fans of anyone from The Foo Fighters and Arctic Monkeys to Peter Murphy and Type O Negative.
Tracklist:
Rips
Send Letters 
Black
Ghost Town
Slip Away
Little Bit Of Rain
The Shift 
In The Pines 
Accolades:  
– Grammy entry list multiple years.
– Won a songwriting award for a song written for a feature film for Days of Power – We Are Waiting
– Honorable mention by Actor, Writer, Director Nicholas Pegg who wrote The Complete – David Bowie…i.e… " The Bowie Bible" about a cover he did of Breaking Glass.
 " There's a great version of Breaking Glass by Paul Lewis. It is both quirky and unexpected." – Nicholas Pegg
The Film Beyond The Bombs which features Paul won Artist Spirit Award at Film Festival

Websites:
www.paul-lewis.com
www.romeorage.com
www.realizerecords.com
Official Website: www.paul-lewis.com
Facebook:  facebook.com/paullewisrr
Twitter: twitter.com/paullewismusic
Instagram: instagram.com/paullewismusic
Spotify:  Paul – https://open.spotify.com/artist/72nAiHHbtAmers2gdZvdKN
Romeo Rage – https://open.spotify.com/artist/0xi4RknOBXCSzdo01zqLGi
Youtube Channel: https://www.youtube.com/user/PaulLewisTV
Artist Contact Email: paul@realizestudios.com
Biography:
Prolific singer/songwriter/producer Paul Lewis, the film composer behind feature films such as Days of Power, and lead singer of Maryland-based band Y-NOT?! has enjoyed international recognition for his role in the entertainment world. Y-NOT?!'s debut recording, A Thrilled Voice quickly climbed the Billboard charts as they performed to sold-out shows before Lewis began a solo career in Los Angeles. Lewis' three solo albums, Get On With It, Trading Horror Stories & Bag of Rain received critical acclaim and led him into scoring and producing songs for film and television along with writing and producing top-charting releases for other artists.
His work as an actor and musician has been featured in media such as Variety, Music Connection, LA Times, Moviemaker, Sirius XM, and Pandora Radio, and after performing over 5,000 live shows and being named one of the top front men to come out of the Mid Atlantic area, Lewis has returned to the stage with new songs. The performances come on the heels of his soundtrack and scoring contributions to the feature film Dark State, released in AMC Theatres across the country, and the upcoming film On The Battlefield. Lewis is also featured as himself in the new movie Hammerjacks The Rockumentary. His new project Romeo Rage finds him partnered with veteran session and tour drummer John Sanders. John's love affair with technical drumming legends and jazz fusion combined with Paul's unconventional and dynamic flair make for an impactful audio journey.