Paul Rodgers @ Bergen Performing Arts Center
Paul Rodgers is a rock star.
With a weather forecast predicting rain of biblical proportions, and the temperature closer to mid-October than the end of April, the crowd arriving at the Bergen Performing Arts Center in Englewood NJ, was delighted to get to their seats before the deluge began.
The older crowd was ready to rock. I know this type of crowd very well. They want it loud. They want it to rock, and they want it to rock hard. They were not disappointed.
Opening for Rodgers was the New Jersey based Matt O' Ree Band. When an audience filled with seasoned concert goers stays in their seats and gives props to the support act, you know the band was firing on all cylinders. O' Ree on guitar, got his influences from the blues masters, but drop kicks rock rhythms like ashes flicking off the end of a cigarette. Pairing his guitar with Eric Safka as he uses and abuses his B3 organ, and you could see heads nodding in approval while feet were keeping the beat. The band was good and the crowd was sure to let them know.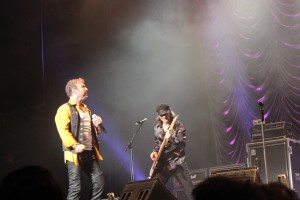 As former Free, Bad Company, and Queen vocalist Paul Rodgers took the stage, the crowd was already standing. Taking the mic, Rodgers made eye contact with the audience then began to sing.
From the start of "The Sky Is Burning," it was evident he hasn't lost a thing. Vocally, the distinct timbre is still there. Physically, he looks like he hasn't eaten a cookie in his life. Commanding the stage with every step, Paul Rodgers is still a rock star.
Rodgers then settled into another Bad Company song, "Live For The Music," before moving to the side of the stage and the piano for "Running With The Pack." Even sitting, Rodgers still held court.
It soon was time to get into his new stuff, which is really… old stuff. Rodgers new album was recorded down at Royal Studios in Memphis, and is made up of some of the best blues-soul songs from that earlier era of Memphis music history. While we won't try and compare his version to Sam & Dave's, Rodgers take on "I Thank You" is more than respectable. The same held true for Albert King's "Born Under A Bad Sign," which was the other song he did off The Royal Sessions. While his interpretation feels more sultry than soulful, it works.
While a mandolin began the introduction into "Feel Like Making Love," Rodgers and his twirling mic stand delivered punctuation to a melody already filled with drama. Inviting the crowd to sing along, Rodgers was clearly delighted by the response.
Encouraged by Rodgers, the crowd singing would continue through the next song, Bad Company's hit "Shooting Star." When you have had a career as successful as Paul Rodgers, chances are he won't perform a few songs you were hoping to hear. And while hearing "Seagull" or "Heavy Load," would have been a bonus, the bang, bang effect of "Rock And Roll Fantasy," and "Can't Get Enough," were more than adequate.
But wait, there's more.
Coming out for the encore, Rodgers again took his seat at the piano. As he played the familiar opening notes of "Bad Company," you could hear the crowd buzzing their approval. Along with a first class performance from his three-piece backing band, it was nice to see a quality light show as well. And while the smoke machine added effect, this night was all about the music.
After a solid version of "All Right Now," the band left the stage for what most thought would be the final time, but without the theater lights going up, no one was eager to leave. Patience was rewarded as Rodgers and the band came out for a Hendrix medley of "Little Wing" and "My Sweet Angel." A perfect way to send everyone on their way, and a perfect ending to a superb show.
Paul Rodgers is a rock star.
Review by Kath Galasso   Kat's Theory of Music