Blues Guitarist Quinn Sullivan on Life and the Midnight Highway
 "Life's been good to me so far."…Joe Walsh
For Quinn Sullivan, it sure has. The seventeen year-old guitarist from Massachusetts first gathered attention when he appeared on The Ellen DeGeneres Show over ten years ago. But it was when legendary Chicago blues man Buddy Guy took him under his wing that Quinn's musical chops started turning heads.
In the decade since, Quinn has played all over the world with the elite of the music universe. Clapton, Richards, The Roots, Tedeschi-Trucks, Bonamassa, are just some of the royalty with whom Quinn has shared the stage. B.B. even let Quinn share a 'conversation' with "Lucille." Mighty heady stuff for a seasoned artist and definitely a mind-blowing adventure for someone trying to survive being a teenager.
Quinn Sullivan's third album, Midnight Highway, was released last week. Recorded in Nashville with Grammy Award winner Tom Hambridge producing, the album is a big step forward for Quinn in terms of expanding his comfort zone. The album is still blues oriented but moves into the rock and pop genre. He is also upping his songwriting game with writing credits on three of the tunes on the album.
Onstage spoke with Quinn on the eve of the record drop about the album and why life has been good to him so far.
Traveling on the Midnight Highway
Kath Galasso: Your new album, Midnight Highway drops tomorrow. While there is still plenty of blues on it, you've also spread out into some more rock and pop songs. We know your blues influences, who are some of your rock influences?
Quinn Sullivan: There's a whole bunch of people. Lately I've been listening to a lot of the Tedeschi Trucks Band, Alabama Shakes, John Mayer, I love James Bay, Hozier is an inspiration of mine, Ed Sheeren, those are a few guys that I really love and listen to quite a bit, especially lately.
Midnight Highway was produced by Tom Hambridge and again you've recorded down in Nashville. You're a Massachusetts kid with a mentor who hails from Chicago. What is it about Nashville that works for you in the recording studio?
The last two records before this one were done in Nashville. I think it wasn't really by choice. The first two were kind of given to me…ok you're going to record in Nashville. We tried it out and it was great. So we decided to record this new one at a place called Blackbird Studio.  I was totally happy when Tom gave me the word that we were going to go in and cut the album there. Definitely really cool and fun and a great experience for me, not only to record at Blackbird, but to be with such great guys in the studio.
I had Tom on drums, Rob McNelly playing guitar, Bob Britt playing guitar. Reese Wynans playing keyboards, he used to be in Stevie Ray Vaughan's band a while back, and Tommy McDonald and Michael Rhodes on bass. So there's a whole bunch of really, really great musicians playing in the studio. It definitely added a lot to the album to have those guys on there.
You may have had a lot of Chicago blues schooling, but the album's title song, "Midnight Highway" sure does pull out some southern rock roots. Tell me about that song.
Basically it's kind of a path that I've been on for close to ten or eleven years now. I've been touring for a long time, I've made a couple of records before this one, been touring a lot with Buddy and by myself as well, so it's kind of an accumulation of everything I've done. It's a metaphor. You're riding on this highway and you're going to keep going and rolling no matter what anybody says. You're going to keep going until you reach where you want to reach. That's kind of what that means to me.
It's actually written by Tom Hambridge, and when he brought that song to me it made total sense to put that on the record. When it came time to decide what we were going to call the record, it also made perfect sense as well. That song is one of my favorites on the record because of the message it send out to me and I think a lot of other musicians that are trying to do the same thing I'm trying to do.
You've done some writing on this album, "Going," "Lifting Off," and the acoustic "Eyes For You." How would you describe your growth as a writer over the past few years?
I think my growth as a writer in the past few years has changed a lot because I've experienced obviously a lot more being 17 going on 18 now versus when I was 10 or 11 years old. The writing process for me is, I have my iPhone where I quick record occasionally when I can when something comes to mind. Whether it's a melody on a guitar or me singing into the phone just the melody I have in my head, whatever the case may be. That's kind of how the process goes.
A lot of times I just put it away for a bit then go back to it. If it still sounds pretty decent to me then I'll continue writing and working on that melody. But yeah, it changes all the time. A lot of times you listen to a record and it can motivate you and influence you how you write. Other things for me is just everyday life, experiencing new things, whether it be personal or public. Different things influence my songwriting for sure.
You are a Beatles fan. Was that through your parents?
Absolutely. My whole family actually. I remember when I was three years old, my uncle gave me an mp3 like cd of twenty Beatles songs and that was the first music that I was listening to. It completely drew me in from the first song which was probably like "Twist And Shout," or something like that. That was really my introduction to music. Most people have the idea that I just got brought into the blues world but it was really The Beatles, The Allman Brothers and the Grateful Dead. Those were the three bands that my parents were really turning me onto.
When it came time for me to get a guitar, I was just playing along with the records. And a lot of visual things too, like watching the Ed Sullivan Show, watching live performances of the Allman's and the Grateful Dead. That music was so, so there when I was three, four, five years old. I'm very lucky to have great parents that turned me on to some pretty good music.
On Midnight Highway, you cover "While My Guitar Gently Weeps," and took great pains to nearly recreate The Beatles version. I'm curious, as a guitarist, why do it as a tribute as opposed to putting your own signature on it?
I think me and Tom both agreed that it was best to stay true to the original record. I'm so into putting my own thing on different covers that I do, but I felt that this one just needed to stay true to what the original was. Not so much copy it, just try to make it to what the original was. Tom went into the studio with this idea. I remember being there when he was tracking the drums and literally, he looked up where they placed the mics and all different things like that which you can find all that stuff online today. I've been playing that song since I was like six. That's a special song to me and one of my favorite Beatles songs.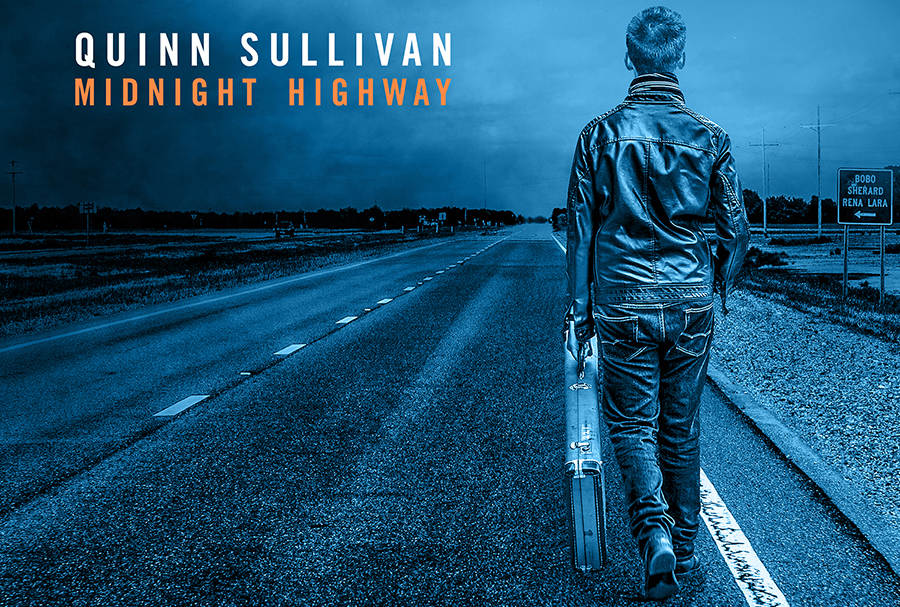 Looking back and moving ahead
You'll be turning 18 this spring. There will come a time in your career when your age won't be a topic of discussion, but there are a few things I'd like to ask you from your perspective right now.
You've already accomplished so much on a professional level. How do you keep from getting ahead of yourself and just enjoy the ride?
The thing that I always keep in mind is to have a level head about it all. You're right, a lot of stuff has happened to me and I am totally thankful for it. I grew up listening to these artists and bands, they used to be on my wall and to say that I've gotten to meet the majority of my heroes is something that I never thought I would ever say or do. So that in itself to me is insanely cool. Having great parents and great friends that keep you grounded, that really don't let you get ahead of yourself, that's helped me a lot.
Just having those people in your corner is really important to me. People that care about you not care about your success. And Buddy's helped me too. Buddy is a great example of someone who never really got ahead of himself, just really kept doing it because of the love for the music. That's so important, that's what I do as a player and as an artist and songwriter. I always tend to think about what's happening in the moment. Sometimes you can overthink things if things aren't working out the way you want it to. Obviously you have those times when you completely doubt everything, but for the most part I think I keep a pretty good level head about what I'm doing and think about the positive things that are going on.
What part of your career has become easier and what's become more difficult?
I think the guitar playing has always been the easy part for me. When I was four or five years old, I was just learning how to play guitar but it seemed to come easy for me. I don't really know why. I know a lot of guys and girls today that, when you're starting out you get callouses and your fingers tend to hurt when you first start playing. Normally that's what happens, but mine never really hurt. I guess I just always knew by the feel of it, the right pressure to put on the strings when you play it. So I think that came a bit easier.
The part that became a bit difficult I think was singing. Recently, obviously my voice has changed. When I was around twelve or thirteen my voice was cracking a bit when I was singing and I figured I should take some voice lessons to fix the problem. So that was really helpful for me. I'm still learning everyday new ways to sing and how to keep your voice in check. So I think the singing I'm more conscious of, and try to do vocal warm-ups before every gig. So yeah, the voice would be the harder part and the guitar would be the easier part.
You were part of Crossroads at the Garden, you've played with B.B, Clapton, Richards, and all over the world. So far, what has been the one show that has stood out over all the others?
Yeah, I can say being able to play at Madison Square Garden with Buddy at Crossroads Guitar Festival in 2013 was my all-time favorite memory of a show. The amount of love on that show was so real and the people that were there, I grew up listening to. It was really surreal to be a part of that. It was really a moment where you can't describe how great it was because it was such an in-the-moment type thing that you look back on and think, I was just thirteen years old and I got to do that. I am so, so lucky and honored that I got to do that. And it was thanks to Buddy. So I remember getting that call in the summer. I was playing Lollapalooza in Chicago and Buddy's manager came up to me at the gig, and he was all excited about it and he said that Buddy wants you to play Crossroads with him, and he wants you to be his guest. I almost fainted. There's been a lot of moments like that where you're like "is this really happening?" It did end up happening and it was one of the greatest moments of my life to be able to do that.
You're turning 18, have a new album coming out…what's on the wish list for Quinn Sullivan?
The wish list. I hope it gets nominated for a Grammy. I have really high expectations for this record. We're going to be doing a lot of touring this summer into next fall because I'm a senior this year, so I graduate. This is what I'm doing for the duration of my life. We're going to Mumbai, India for this festival called the Mahindra Blues Festival and I'm headlining the first night. We did it two years ago with Buddy and they asked me to come back and do it. In May, we're doing the Baden Festival in Switzerland, then in the summer we're going to tour North America, then I think we're going back to Europe as well.
Interview by Kath Galasso @KatsTheory
Quinn Sullivan website