Red Wanting Blue: What You've Been Wanting.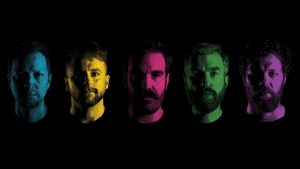 I have been fortunate enough to have been following Red Wanting Blue for a few years now.  Not for the full 20 plus years that they have been around, but for quite sometime now.  I first met them the final year of the now-defunct W.A.R.M. Fest. For me, they had turned out to be one of the better highlights and I have tried not to miss a show since.  So when they passed through Indy at the Vogue the last night of June for the last night of their most recent tour in support of their new album "The Wanting", I was really expecting the same thing I had seen all the previous times I've gone to hang out at one of their shows.  I never expected to write this.
I walked in the Vogue expecting to see what I had seen numerous times before.  But it was all missing.  No gnome (although I do suspect he was hidden somewhere up there and I just didn't see him.) No construction paper trees, garden store owls, no deer, no dollar store knick-knacks, none of it.  In its place was an actual lighted backdrop.  The stage was set with an actual light show.  I was taken aback.  Gone was the eclectic "cutesiness" of a band who came out just to play for the sake of playing because the fans love it.  Here was a more mature, grown-up band who came to play music, put on a show, and command the respect they have long deserved but have seemed to lack. After all, this is a band that will be making its 7th appearance on The Rock Boat this coming February. Bands normally only make 3 appearances on the cruise, so they have surpassed that for a reason.  For those of you keeping track, yes they did sit out this year while they were releasing the new album but will be on Rock Boat XIX.
When they started playing that night, the most notable thing about this Red Wanting Blue, versus past RWB, was I could actually HEAR them.  The sound was finely tuned and for once, the band was actually heard over the crowd.  This was one pet peeve I always had about their shows.  No matter what, the crowd sings along so loudly (and often drunkenly and very out of key) that you can't even hear the band at all.  No joke.  I have even stood off to the side of the stage and have seen Scott Terry literally scream into the microphone just trying to be heard (through the monitor) because the crowd is so loud.  I don't understand what it is about Red Wanting Blue versus any other band/concert/show I have been to, but I never experience that at any other show.  I mean, come on, do you really think Prince, Mick Jagger, David Bowie or Bruce Springsteen would put up with a crowd trying to out-sing them? No, they'd shut it down and walk off stage.  Why do people feel it's acceptable?  But I'll come back to that later.  They started the show with High and Dry from the new album, followed by Ulysses and Younger Years.  One thought kept running through my head – one word in particular – mature.  This was a more mature version of this band.  The sound was more mature.  The show was mature.  The music was more mature.  Even as they sprinkled in the favorites, those sounded more mature.  I was deeply impressed.  It was as if the name of the album was a self-fulfilling prophecy in some way.  I talked to both Greg Rahm and Scott Terry briefly after the show that night, but then I caught up with Scott a couple of weeks later for a more in-depth conversation about the new album and the tour.
Apparently, I wasn't the only one that night who thought the vibe was different that night.  Scott said he got the guys together after the show to discuss how he thought the sound was, well, more grown up, mature.  I personally think it helped that they were playing in the better-suited venue than they been recently, or the last few visits.  (My opinion).  Scott and I had a very lengthy conversation (my sincerest apologies to his lovely wife!) about the album, how this one differed from the others, about the tour in general and the Indianapolis show.

The songs on this album were written by all five members of the band, as opposed to just Scott, and hence the cover with 5 hearts.   Each heart represents a member of the band (Scott Terry, Mark McCullough, Greg Rahm, Eric Hall, and Dean Anshutz), and the heart they poured into this album.  I know that sounds simple, but it's actually a very profound statement coming from a band and lead singer/songwriter who always felt the need to put "himself all over his songs".  This shows great growth in this band to realize that they are acting as a cohesive group to produce the sound that we have come to love from them.  Scott noted that High and Dry was the first song they wrote after their album "Little America" and one he is very proud of.  (This is where I'm conflicted to write so much of where our conversation took us. You see, while Scott went into great detail as to what some of these songs mean, and mean to him, I still feel when you listen to music you take away your own interpretation of what the song means to you.  I know he agrees with me, because of a couple of comments he made, which I will share.)  It was written because for them, the boys were saying they were going to make it with or without a label, with or without a publicist, with or without representation, and they were doing it on their terms.  We discussed "When We Choke", which turns out to contain some of Scott's favorite lyrics ("Every day with you is a weekend"), but for him is the hardest to sing melodically.  If you listen carefully, the base piano line is a completely different tempo and tune than the main melody of the refrain.  Maybe that's why it turns out to be my favorite.
I'll admit this album does seem to contain some simpler songs (for lack of a better term) than some of their others.  I can't help to harken back to seeing a Facebook live video on this tour where someone asked a question live if "Younger Years" was "written by a 5-year-old because that's what it sounds like."  Harsh comment, I would say, because if you were basing that on repetitiveness or minimal words, I would have chosen a couple of different songs from the album.  However, Scott explained on this album (songs) versus past, since he didn't feel the need to "put himself all over the songs" it was more that the songs spoke for themselves this time.Besides, he said it makes him feel really good when someone comes up to him and says that they have taken a song like "Finger in the Air" (from a past album) and explain that they have overcome some hardship in their life (cancer, divorce, etc.) and that has been their "fight song".  He said that's really the reason why you write music, isn't it?
So I think this tour and the aptly named latest album was actually what we have all been Wanting all along.  By the way, the gnome was on the bus.