ROY ORBISON & BUDDY HOLLY ROCK 'N' ROLL DREAM TOUR
BASE HOLOGRAM PRESENTS
ROY ORBISON & BUDDY HOLLY
THE ROCK 'N' ROLL DREAM TOUR
TUESDAY, Oct. 29, 2019
THE MURAT THEATRE AT OLD NATIONAL CENTRE
ON SALE FRIDAY, JUNE 21st at 10 AM at Ticketmaster.com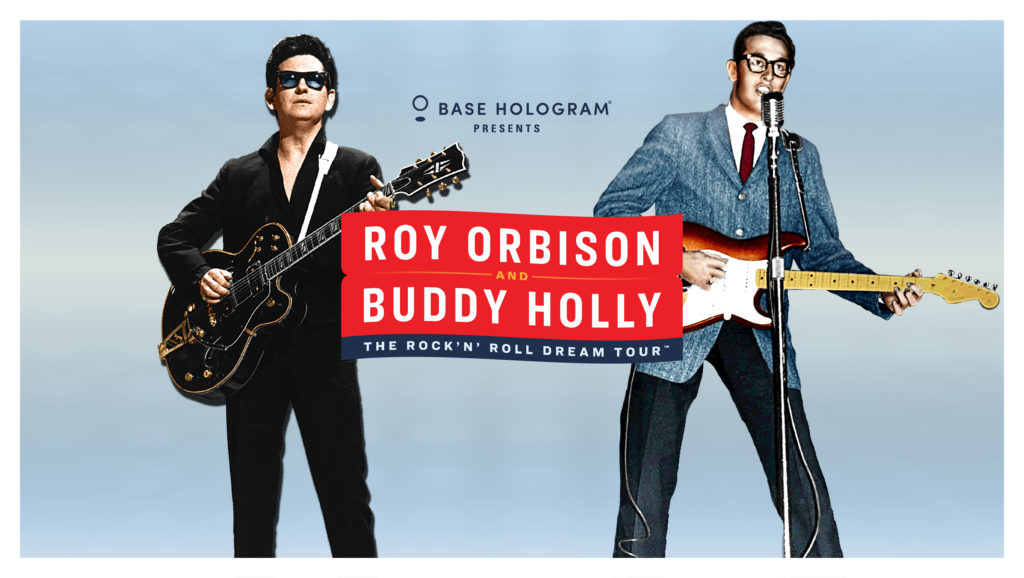 INDIANAPOLIS (June 18, 2019) – BASE Hologram will bring their cutting-edge holographic performance featuring remastered audio from legends Roy Orbison and Buddy Holly to the Murat
Theatre at the Old National Centre in Indianapolis on Tuesday, Oct. 29 as part of their national tour. Accompanied by a live band and back-up singers, this unforgettable show will take audiences back in time to experience rock 'n' roll magic. Showtime is 7:30 p.m., doors open at 6:30 p.m. Tickets go on sale this Friday, June 21 at 10 am at Ticketmaster.com, OldNationalCentre.com, and at the Old National Centre Box Office.
BASE Entertainment has developed, produced, and presented live theatrical, concert, and spectacle entertainment and platforms to audiences worldwide. Combining holographic realism with live entertainment, their latest production "Roy Orbison & Buddy Holly: The Rock 'N' Roll Dream Tour" brings these two legends to the same stage for the first time. "These two men…defined the genre of rock and roll, from writing to recording to the standard band configuration, and they influenced everyone from Elvis to The Beatles," said Brian Becker, Chairman and CEO of BASE Hologram.
ABOUT ROY ORBISON & BUDDY HOLLY: THE ROCK 'N' ROLL DREAM TOUR
Rock 'n roll pioneers Roy Orbison and Buddy Holly will perform on stage together for the first time on the Rock 'N' Roll Dream Tour by BASE Hologram. The show will feature remastered audio
from both icons accompanied by a live band and backup singers. This cutting-edge holographic performance will transport audiences back in time as Roy Orbison and Buddy Holly hit the stage
once again with their greatest hits. Orbison's son and president of Roy Orbison Music, Roy Orbison, Jr., told Rolling Stone Magazine, "Being able to reopen his legendary songbook and
again hear his voice bounce off great concert hall walls is both a transcendent and cathartic experience." BASE Hologram partners with leading artists, cultural and educational institutions,
media companies, and other investors to entertain crowds. They produce unique holographic productions designed to tour with live artists or stand alone.
For up to date information and to purchase tickets, please visit basehologram.com.
From Our Archives:
https://onstagemagazine.com/clearchannel-blacklist-iheart-media/