SF Folk Duo Wax Moon Release 'Hello Morning,' First Studio LP
Indie acoustic Folk duo Wax Moon's first studio release, Hello Morning, shows that stripped down doesn't mean bare basics. John Blatchford and Paul Kimball, the SF Bay area musicians who make up Wax Moon, weave harmonies and layers of instrumentation in ways which produce a sound that is full and subtle at the same time.
Wax Moon has previously released two live EPs. Ready or Not came out in 2015, followed by Cool Blue Heat in 2016. Hello Morning took 3+ years to complete, as the duo took time to write, perform, and grow as a band. Add a little extra delay c/o the global pandemic, and it seems Spring is the perfect time for their refreshing sound.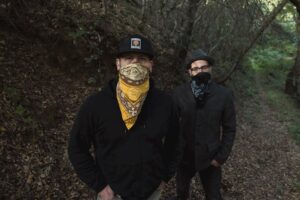 "Our first LP is also Wax Moon's first "studio album," recorded in the garage of John's Outer Sunset apartment over the course of 2 years [and held up for another due to the global pandemic] . We leaned on John's strengths as a recording engineer and multi-instrumentalist, as well as bringing his songwriting and lead vocals (on 5 of the 9 songs) up front. It's a substantial shift sonically, though the through-line from our earlier EPs is also clear; harmony singing and interlaced acoustic guitars are still key elements of our sound." – Paul Kimball
The full-length release begins with the title track. It sets the tone for the album with a song of full harmonies. Listen more than once to appreciate how delicately the voices work. The sweet violin added by Ryan Avery pulls it all together.
"Mountain Road Girl" is Americana with Bluegrass as a side dish. A front porch tune ready for "pickin' and grinnin," it's slow and sweet as molasses. "World Of Trash" shows how we can't change the past but we can look at it through a different perspective. It's melancholy and graceful with the harmonies played down slightly.
"Can't Afford To Fall" picks the tempo up. There's some nice imagery and allegory in the lyrics while taking a look at the realities of life. The guitar works add tension as the song progresses. It's one of the few tunes on the album that is stripped down to mainly guitars, creating a singular flow to the narrative.
"I Wanna Believe You" is just what you would think it is. A song of pain and betrayal, trying to hold out hope but with your gut knowing what your eyes refuse to see. It's a sad tale that is all too familiar. If you think there should be violins playing, there are.
Hello Morning ends on a livelier note with "Keep On Walking." After a pandemic and 8 songs of varying messages, "Keep On Walking" is an ideal way to end this project. A look at a global world, at all our differences and all our similarities. Really nice guitar play and harmonies that fit like a glove. The play-out of the instruments matches the idea to keep on walking. It's a nice attention to detail which can be found through the album.
Post by Kath Galasso @KatsTheory
Social:
Musicians:
John Blatchford: vocals, guitar, dobro, banjo, keyboards, clarinet
Paul Kimball: vocals and guitar
 Ryan Avery: violins 
Paolo Gomez: acoustic bass on several tracks
Jesse Sotelo: drums
Track List:
Hello Morning
Montana
Mountain Road Girl
World Of Trash
Feather From A Gun
Can't Afford To Fall
In Control
I Wanna Believe You
Keep On Walking