The Real Reason for Robert Plant's Tears During "Stairway to Heaven"
On December 2, 2012, the surviving members of Led Zeppelin were among the artists celebrated at the 35th annual Kennedy Centre Honors in Washington, D.C. Among the musicians chosen to pay tribute to Led Zeppelin's enduring musical catalogue were Ann and Nancy Wilson from Heart. Along with a massive ensemble that featured a choir and orchestra, the sisters delivered an authentic, moving rendition of "Stairway to Heaven," Led Zeppelin's signature song. In the footage of the performance, a camera periodically shows the facial expressions of Robert Plant, Jimmy Page, and John Paul Jones as they watch it all unfold. About halfway through the song, tears start welling up in Plant's eyes and eventually overflow as the choir kicks in and the song crescendos.
The Youtube video featuring this performance (and accompanying emotional display) has been viewed over 5 million times, and the Wilson sisters have since been showered with praise and accolades about how their version was so good that it made Robert Plant cry. But why exactly did Plant shed a tear? Is it so cut and dry that it was simply the intensity and emotion of Heart's delivery, or was there something more at play in Plant's reaction?
Joining Ann and Nancy Wilson for the Kennedy Centre performance on drums was Jason Bonham, the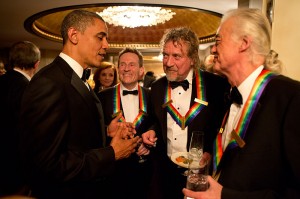 son of the late Led Zeppelin drummer John Bonham. Hailed by many as the greatest rock drummer of all time, Bonham died in 1980 at 32 years of age from asphyxiation as a result of excessive alcohol intake. Upon his death, it was decided among the remaining members that Led Zeppelin would not continue on as an entity without him. Despite collaborations among the members and a few performances throughout the decades, Led Zeppelin has not toured or recorded any new material. But when the members have played, their choice of drummer has primarily been Jason. His resemblance to his dad is eerie: beard, bulky frame, pork pie hat, explosive playing style, etc. So having Jason participate in the climactic number of the evening was an apt choice for the Wilson sisters to make.
One cannot fully comprehend what it's like to lose a longtime musical companion unless you've experienced it first-hand. A deep, lingering pain results from the reality that you will no longer create music together. Among the members of Led Zeppelin, it was Plant and Bonham who shared the closest personal connection. Born within three months of one another, in towns 30 miles apart, Bonham and Plant first met in 1964 when they were both 16 years old. Plant was singing with a group called the Crawling King Snakes. Bonham approached him one night in a Birmingham club and said that he thought Plant was good but that the other players in the band were shit. Of course, Bonham soon ended up in the band. After playing together for a while, they eventually went their separate ways before teaming up again with Jimmy Page and John Paul Jones in late summer 1968. Page saw Bonham perform in London and was very interested in getting him in Zeppelin, which at this point had the working name, "The New Yardbirds." Bonham had a steady gig and was reticent to join, but Plant convinced him it was the right move.
Back in the same band again, they found themselves in America several months later replacing the Jeff Beck Group on a tour opening for Vanilla Fudge. Both barely 20, recently married, and severely homesick, they were inseparable during this tour. Mick Wall, in his 2008 Led Zeppelin biography When Giants Walked the Earth, describes this early bond between lead singer and drummer: "Plant and Bonham huddled together in those first days like two shipwrecked survivors clinging to the same driftwood. They not only shared a room together, they would refuse to turn out the light and go to sleep until they were both tucked safely up in bed."
Of course, this tour broke them in America and sowed the seeds for worldwide success in the coming years. But in the immediate moment Plant and Bonham were mere teenagers in a strange world, clinging to one another for dear life and in the process forming a bond that lasted a lifetime. For Bonham, that lifetime would only last another 12 years – leaving Plant to carry the tragically severed bond forward in the decades ensuing.
In 1977 while Zeppelin was on tour in America, Plant received news that his five-year-old son Karac had suddenly been stricken with a viral illness and, within a day, died. Devastated, Plant cancelled all remaining shows and flew immediately back to England. The only member of the band to join him was Bonham; the other members chose to stay Stateside to pick up the pieces of the cancelled tour. From their arrival back in England to the funeral and afterwards, Bonham never left Plant's side. In a 2005 interview, Plant recalls: "During the absolute darkest times of my life when I lost my boy and my family was in disarray, it was Bonzo who came to me. The other guys were [from] the South [of England] and didn't have the same type of social etiquette that we have up here in the North that could actually bridge that uncomfortable chasm with all the sensitivities required…to console."
When Bonham died in 1980, John Paul Jones sought solace in his own family. Page holed up in his house, reeling from the fact that Bonham had died under his roof. But Plant instinctively went straight to Bonham's wife and family to console and comfort them. And it was Plant who first announced to the press in the following weeks, "We can't go on without Bonham." There was no question in Plant's mind that Bonzo was irreplaceable.
Even Bonham's son Jason is well aware of his failure to ultimately satisfy Plant as a worthy replacement for his oldest, dearest friend. Jason, in a 2012 interview with somethingelsereviews.com, admits that Plant told him in no uncertain terms: "It doesn't matter how great you are on the drums, Jason. I love you to bits, and you play absolutely amazing. But John was the drummer in Led Zeppelin, and John was part of me and Jimmy and John Paul. We shared something very, very special. I struggle sometimes, just thinking about trying to create some magic again when he's not there. He was a very, very dear friend of mine, that I miss every day."
Therefore, it is important when watching Robert Plant shed tears at a rendition of "Stairway to Heaven" to consider that this may be more than just an emotional reaction to a great performance. There are deep personal roots behind these songs – especially "Stairway to Heaven" and Bonham's outstanding drum track on that original recording. It's not a stretch to think that the image of Jason Bonham, eerily reminiscent of his dad behind that kit (as the members'  Zeppelin IV symbols appear on the video screen), may have been just as probable a trigger of the tears as any level of emotion put forth by Ann and Nancy Wilson that night. There is no question that the performance was excellent; there is no minimizing that. But when you look a bit closer at Plant's face in that footage (namely at 4:31-4:34 and 5:06-5:11) as his tears become harder and harder to hide, you will see an expression that's a million miles away from that hall in Washington D.C., – perhaps back in the annals of time to 1968 when he clung to his musical brother for dear life as they ventured into a musical landscape that they would both irreversibly alter.
Bonham's shadow has clearly loomed large in Plant's life since his passing 33 years ago. And his tears primarily express that truth – transcending the choir, the orchestra, Ann Wilson's voice, or anything else going on in this celebrated tribute performance. Granted, the experience as a whole is responsible for making Plant cry. But those tears are being shed for the one person missing on that balcony beside the others, the one who never got to see Led Zeppelin's influence blossom to incalculable heights as a result of his immeasurable musical contributions behind the drums. For Plant, Bonham's absence is as acute in 2013 as it was on that fateful day in 1980 when the world lost a great talent – and Plant lost his best friend.
—————————————————————–
[Plant with Band of Joy, 2011 photo credit: Egghead06 at en.wikipedia (CC-BY-3.0)]
[Black and white photo credits: Dina Regine (CC-BY-SA)]
[President Obama with members of Led Zeppelin photo credit: Pete Souza (White House (P120212PS-0870)]